The stained-glass image of a lamp held by Christ over the stage of Calgary's Central United Church let the pink of the setting sun colour the strands of country singer-songwriter Amy Nelson's hair. Early in the evening on the first official day of the 2019 Sled Island Festival, Nelson, along with her band, delivered a foreboding, stormy set of ballads. Thundering drums and lightning bolt lap steel brewed around Nelson as she derided her lover with a stinger from her song "How Long Blues:" "Loving you is like losing a bet."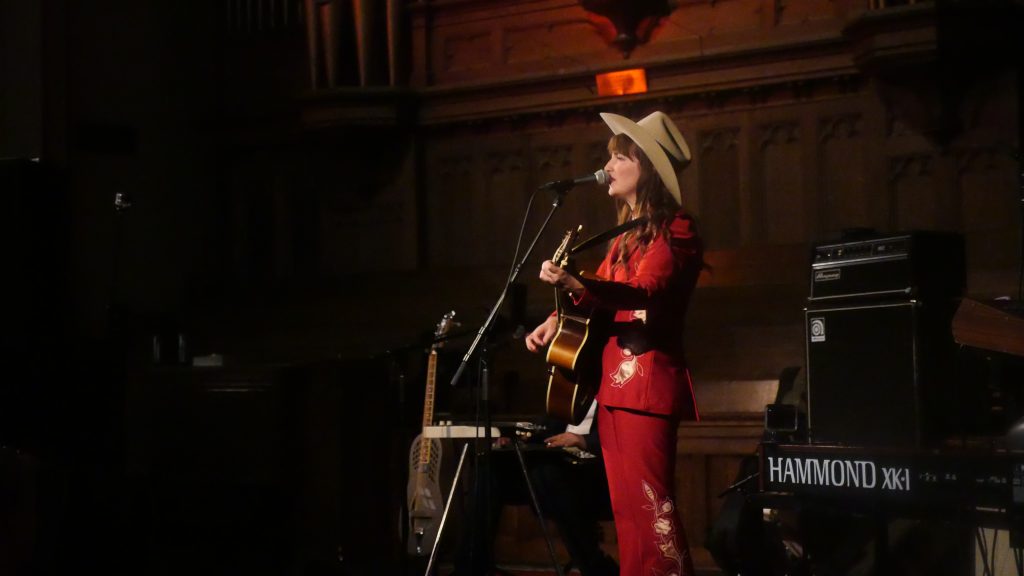 Nelson's songwriting is quite incredible, adopting a machismo and reflective stoicism in her storytelling, while still allowing her emotions to break through during the climactic moments of each song. During a quieter moment in the set, percussion switched from drum kit to washboard, and during a cover of Alison Krauss's murder ballad "Wild Bill Jones," the audience was invited to clap the beat. Nearer the end of the set, Nelson dismissed the other members of the band to take the stage alone, allowing her piercing voice to penetrate the souls of the audience, without dilution or distraction. With her band joining her once again for the end of the set, Nelson introduced one of the final songs as "a collaboration between the dead and the alive," and left the audience with a final message: "We all carry a heavy load / Being cruel don't make much sense."
With the room grown ever so slightly darker, Edmonton crooner Jom Comyn took the stage with his six-piece band, complete with a dual-drum set up for maximum percussive inventiveness. Comyn generated a dark, evocative soundscape, with his almost lullaby vocal delivery creating an anchor of safety against the whirling tidal pool instrumentation. Occasionally, flourishes of noise shone through the soundscape, with warble and screeches adding great excitement when they rose above the other instrumentation.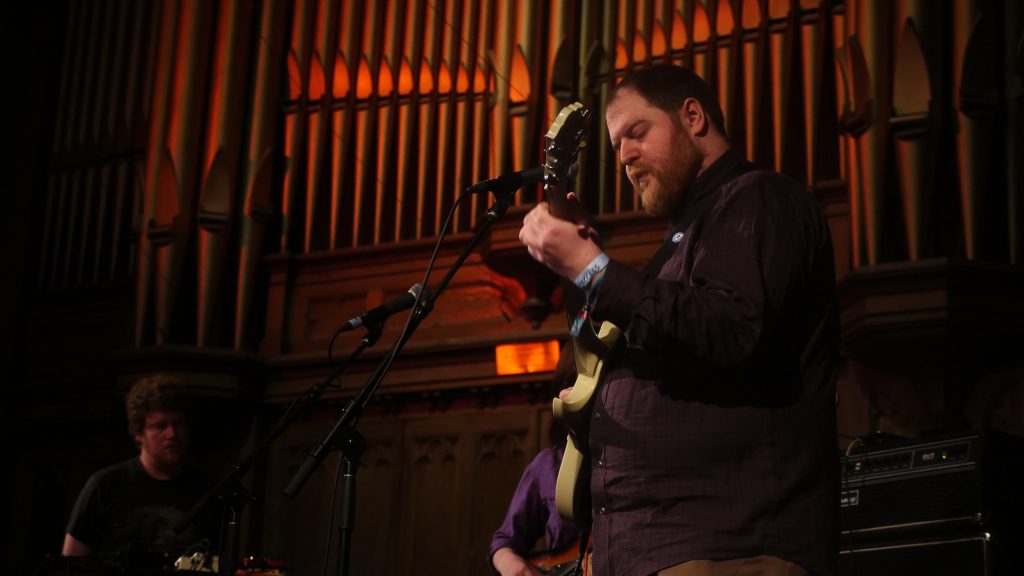 There was such incredible depth to be found in the music, with the size of the band enabling a deep and complex blend of instrumentation. Comyn's rich and poetic lyrics seem formulated to sink deep into your heart, like the opening lines from his song "New Feeling:" "Walking grey and brown / Spill the light inside of you / Thin air wrapping in a mist for you." 
During a standout track, one drummer held the beat while the other ran a drumstick across a cymbal, creating a rising clawing noise that built to a wonderful climax. None of this is to say that Comyn created any sort of racket — his songs are invariably pretty and often strikingly romantic. The last song of the set, "Change Your Mind," came from Comyn's upcoming record and ended the set on an energetic and upbeat note, as if Comyn wished to bring us a rainbow after the beautiful rain shower he had just given us.