On the website for Hotham Sound, the geographic place after which the label is named is described before the label itself. Hotham Sound is a sidewater of the Jervis Inlet, located on the South Coast of British Columbia. This prioritizing of information says a lot about Hotham Sound's focus and inspiration.
Hotham Sound releases the work of experimental electronic artists from the Cascadia region. Their catalogue is atmospheric, textured and cinematic, boasting nine releases from the likes of Mount Maxwell (a project by label founder, Jamie Tolagson), Khyex, KR75 and others. Although each release has its own personality, they make the listener feel that they are suspended in dark waters or laying in an evergreen forest at dusk, grainy synthwork and eerie samples painting sonic pictures of the Pacific Northwest.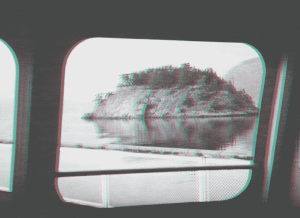 When Jamie started the label in 2015, he didn't expect it to flourish as it has. This year alone, he has released four cassettes with another one on the way. This success is, in part, due to the coincidental conception of Hotham Sound. Jamie met friend and fellow artist Kristen Roos (one half of KR75) bonding over music. Within one week of meeting, they were talking about  how to release their sounds. "[The growth was] exponential because every new person that gets involved brings with them this whole little community," says Jamie. And so, like the seedlings of one tree planting several others, that one connection has spawned a rich discography in less than three years.
It might seem enigmatic to emulate nature with electronic music, but Jamie thinks otherwise. "To me, electronic music has more of a connection to nature than acoustic music," says Jamie, "It's all sinewaves, all processes. It reminds me of natural processes. That seems to be a big mental block for some people; electronic music is [associated with] clubs and nature is [associated with] guys with acoustic guitars."
The label is run with an unwavering vision: "I want it to feel like a place." Jamie continues, "I've had a lot of submissions that I really liked, but they were more suited to a dark, cavernous space in Berlin, overtly synthetic. I have no problem with that, it's just not what I'm looking for."
This attention to detail extends beyond the music itself; Hotham Sound's aesthetic is also neatly maintained. The website is sleek and minimal, featuring no photos of the artists themselves, and Jamie works at length with the artists to design the graphics for their releases. It's not only the music that's experimental, but also the operations.
Jamie works on a contractless system, splitting the cassette releases 50/50 with the artists, with all digital sales going directly to the artists. Another unusual aspect of the operation is that Hotham Sound offers its musicians exposure but not publicity. Jamie wants the listeners to share in the same experience of discovery that inspires the music. "I let the artists know that it's not the kind of label that will be marketing them. It's almost a hidden thing, something I want people to stumble upon at 2AM and say, 'What is this?'"
One of the more unorthodox projects in Hotham Sound's repertoire is the MMR Broadcasts, four hour-long sound collages. Each ambient soundscape is composed by a group of artists and decorated with radio static and dialogue samples from old films. Another is The Mondrians, a sound compilation based on the works of Dutch artist and theoretician, Piet Mondrian. The project seeks to re-imagine Mondrian's abstract, geometrical grid paintings as graphic scores.
Scientists know more about the surface of the moon than the bottom of the ocean. Jamie Tolagson is no scientist but Hotham Sound is a sort of laboratory, and the artists on the label are its crew. Where the average, big-time label seeks out stars, Hotham Sound and its roster are much more interested in the depths, what's underneath the surface of music. Together they pose the question, "What better way to learn than to experiment?"
X

The Mondrians is set to release in October 2018, and is still accepting submissions. For more details and to listen to Hotham Sound sounds, visit hotham-sound.squarespace.com.