EDITOR'S NOTE: Alicia Marie Lawrence is a longtime Discorder contributor and artist based in Victoria, British Columbia. From July 13-15, Alicia attended Rock The Shores in Colwood, and returned with some notes and interview clips. This Web Exclusive is a companion to short interviews with artists, Kytami and Fox Glove that air on BB's Disco Party on Tuesday, August 14.
Alicia's intention at Rock The Shores was to document bands that predominantly feature women, recognizing that music festival lineups in British Columbia are still largely imbalanced and male-dominant. This year, Rock The Shores' main headlining bands—Brian Wilson, Social Distortion, X Ambassadors—were exclusively comprised of men. Alicia's multimedia focus on Kytami and Fox Glove, their experiences as non-male artists, is in its own way a gesture of defiance that we support.
One final note, a message to music festival organizers: If your lineup lacks diversity in gender and cultural representation, don't even bother sending Discorder your press release.
Keep scrolling for more illustrations and short selected transcripts from the audio interviews.—BB
x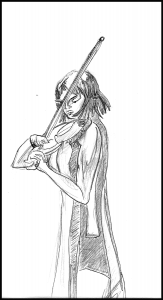 INTERVIEW WITH KYTAMI FROM JULY 13, 2018
Alicia Lawrence: Will you talk about what it's like to be a woman pursuing a solo career in the music industry right now?
Kyla LeBlanc: I think being a woman in the music industry is probably the same as it has always been, and even though there's been a lot of awareness about things recently, I kind of don't know if it's going to change all that much. […] I think [patriarchy] is more embedded. The majority of people I deal with are men — in management, in agencies, or promoters.
AL: What is the future for Kytami?
KL: I would definitely like to keep on learning more in the studio about recording, […] pushing boundaries of what I can do with the violin and songwriting. […] I would really love to get some songs signed to a label that might have more international distribution. […] I think the key is to get my music out to a wider audience, and then I'll be able to record for a wider audience.
Edited for clarity
x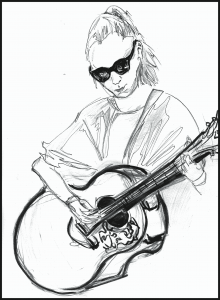 INTERVIEW WITH FOX GLOVE FROM JULY 15, 2018
Alicia Lawrence: What it's like to be an [all-woman] band working in Victoria?
Chelsea Kanstrup: The industry here is wonderful. Atomique Productions has just signed a pledge […] for music organizers to have gender parity at their shows. The fact that that's a thing that needs to happen is unfortunate, but it makes us really happy that they're working towards that and getting more female role models for younger musicians coming up. Being able to see yourself represented on stage, I think is really important, as it is in every field. If you're a young woman, seeing female engineers or doctors is important, but in music, it has been something that has been a long time coming. It's nice to see our local industry be very supportive of us, no matter [our gender].
AL: What inspires your music?
Renn Madeleine Bibeau: We definitely write from a very personal and emotional place. […] Obviously we don't lead the same lives, so something will happen and we'll experience it as a group, and then each contribute something. Whether it becomes a piece or a whole album, it becomes a collective experience. 
Claire Butterfield: As we write a song, we will bring in events from our collective lives to build the story. Everybody has experienced heartbreak in their lives. Everybody has experienced grief of some kind. Everybody has experienced love of some kind. 
Edited for clarity
x