Discorder talks teamwork, representation, and the pros and cons of boxes with the creatives behind one-woman Fringe show Self-ish.
x
In bringing the solo show Self-ish to the stage at this year's Vancouver Fringe Festival, three individuals will stack moments from the life of Esther — a 30-something Korean-Canadian woman stumbling through the aftermath of a recent tragedy — one on top of the other. Starring Diana Bang (who will also be appearing in The Lady Show), directed by Dawn Milman, and written by Kuan Foo, Self-ish takes audiences through Esther's exploration of what it means to be human, with the help of a set of cardboard boxes.
In a café, amidst the sounds of muffled conversations and sharp clinks of coffee cups, I sit down with the three one afternoon for a glimpse into the year and a half that's gone into constructing Self-ish.
"I guess this goes back a bit," Foo begins. "Diana and I have been in the sketch comedy troupe [Assaulted Fish] for the last fifteen years and I'd been looking to branch out into writing more longer-form plays […] So I said to Diana, you know, if you ever have the opportunity, I'll write something for you."
This opportunity turned out to be the 2017 Toronto Fringe Festival, where Self-ish would first be performed.
"And then Dawn came on board… about two or three months before?" Foo says, as Milman nods.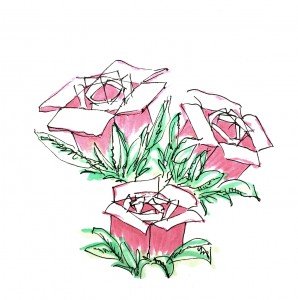 Settled into a corner of the room, the three glance at each other, smiling. Bang takes a sip of her coffee, as I ask about their motivations and the ways in which this project stood out to them.
"It kind of relates back to a conversation that we had," Foo tells me, "when we were first putting Assaulted Fish together. We'd seen other Asian-American and Asian-Canadian sketch comedy troupes [do sketches] about how Asian actors couldn't get good roles. And if they did, very stereotypical roles. And, I don't know, there was a part of me that just said I'm not really interested in doing sketches about that — I'm more interested in [actually] creating good roles."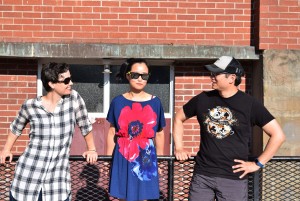 Bang nods, leaning in slightly.
"Honestly, so when I did [Self-ish] in Toronto the first time," she says, "I was in a little bit of a funk with acting […] but I felt this need to do something that I had a little bit more control over. And I really felt that after doing it, it just gave me the confidence to go back and be like, 'Okay, I can do this.'"
"Yeah, I remember [asking] Diana," Foo adds, "what is something that you'd like to do that you'd never had the opportunity to do? And she said, 'Well, I'd like to get a role that survives something, that's been through something.'"
"Been through life!" Bang declares, smiling a little. "It's like, where something really sincere and tragic is happening, but you're laughing because it's so sad and ridiculous and hilarious — those are the moments that I crave in any kind of art that I see or do or spend time on at all."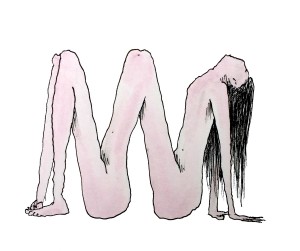 Since the three seem so in sync creatively, I'm curious to know if there had been missteps along the way.
"Well, I wanted to use balls instead of [cardboard] boxes," Milman says. "That was about a half a second."
Bang laughs, "And I was like, I don't know, because Esther — she's so stagnant in her life… balls? So dynamic."
"But, yeah, the biggest false start was originally it was supposed to be a two-hander," Foo says, after a pause. "Diana had a friend and they were going to do it together [but] then she had to drop out, so I had to go back and rewrite it. And, interestingly enough, that's when the story came out. […] You start by going, 'Oh, I'm kind of embarrassed by that aspect of my life, I can't write about that.' But stuck for time, you know, a lot of those filters come off."
Milman adds "it's such a great thing, to have such a generous writer willing to give over that. That's all I could ever ask for as a director — it's amazing. And I imagine as an actor, too, to have that generosity."
Foo jokes, glancing at Bang, "no, she's like, I hate it. Be more selfish."
"Yeah, be more selfish," she says, grinning.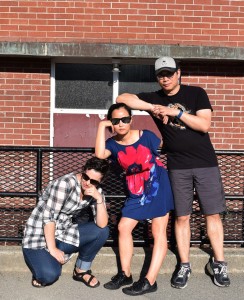 I wonder aloud how such a word became the title for their play, and Foo nods.
"Well, I mean, selfishness is actually a quality that I really don't like," he explains. "But nowadays people are always saying something 'ish'… so you look at the word ['selfish'] and it [could] mean, 'Self. Ish.' Which kind of means not quite yourself. And I would like to think that, when we're being selfish, we're not really being quite ourselves. It was this idea of exploring what would cause somebody to become selfish."
"But one thing about writing this was just that Esther is an unreliable narrator," Foo says, almost as an afterthought, "as we all are unreliable narrators. We see things through our own selfish point of view — and what I'm hoping is that, by the end, we'll see that how she perceives the world is not necessarily the truth of how things are actually happening around her."
He pauses. "But that doesn't mean she's wrong either."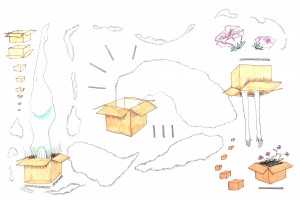 Self-ish will be playing at The Revue Stage on Granville Island from September 7 to September 15 during the Vancouver Fringe Festival – see the Facebook event for show times and grab tickets here.