Brigitte Naggar of Common Holly has a lovely voice. It pulls at your emotions and nostalgia in all the right ways— a sentiment echoed in almost every piece of writing I've read about her. However, it's quite clear that there is something else happening in her music: an ebbing tide of emotion, production, and surprises that can't be summed up by just addressing a voice and a guitar.  
I met with Common Holly outside a coffee shop in Calgary during the 2017 Sled Island Festival, and it became quickly apparent that to label her as a "singer-songwriter" would not only be a disservice to the music itself, but even a personal affront. Naggar was born in New York City, but has spent the majority of her time in Montreal. She began playing music when she was sixteen years old—what she describes as a typical "hiding in my bedroom with an acoustic guitar and whispering to myself" type of exercise. Her first full album under Common Holly, entitled Playing House, comes after a self-described period of  "total music atrophy." "I went to university and didn't play at all, and as soon as I finished I felt some massive inspiration and thought I'd use the opportunity to try it a little more seriously and see what happens, give it a year and if that worked another year and so on," she recalled.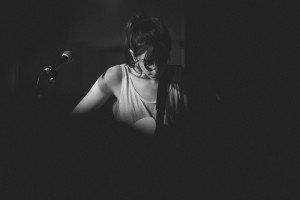 In the two years since, Naggar has tapped into a vein of what she calls dark folk: "I can't tell people that I'm a singer-songwriter – I say that I'm a musician and that I play dark folk, with experimental production and textures."
In her thinking of what images and sounds reflect the music, the project Common Holly was born. Naggar studied religion at McGill University, which influenced the project's name: "There is some symbolism. Holly is an old pagan symbol and I'm interested in how people make meaning out of things. It's a surviving plant, it has these pretty red berries but it has a pretty spiky leaf, I think it is a bit emblematic of a lot of my subject matter." There is a pointed and piercing way in the writing of the songs which she says is "important if you're going to make this type of personal music." When I listened to the album on the road to Sled, it became quite apparent how personal the songs actually were, with many alluding to a pain of someone no longer there.
Though Naggar has a five piece band she plays and records with in Montreal, Common Holly is generally a solo act on the road. This was her first trip to Sled Island, and after playing an LA show earlier in the new year, touring out west may be in the cards.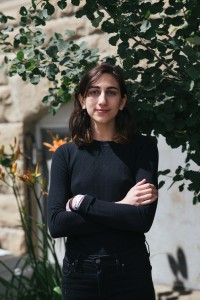 As our conversation spun unto comparisons between Montreal and Vancouver, we took to discussing the diversity between the two cities rather than the differences between music scenes. I was curious of what Naggar thought of the cultural representation in Montreal, since both the east and west coast music scenes have had their fair share of white-male domination. In Naggar's mind "there are definitely a number of movements out east that diversify the music community (Slut Island being one), and I think Montreal is still suffering." She continued, "There is a serious amount of effort, there's a good space for it, it's still in the minority but there's a lot of fire under those movements." Naggar was genuinely excited about the time and space she's in, looking at the potential for change to the status quo of arts and culture. "There is so much power and fire. The women and the queer community and other minorities want to be represented in the music industry,  and they will be," she asserted.
Naggar recently signed with Solitaire Recordings, based in Australia/New York, making Common Holly their first Canadian artist. After Dan Rutman (half of Solitaire Recordings) was sent some of Naggar's recordings he was instantly connected to the music, and after speaking with them both, it is clear that they share a similar energy and drive for the music. When asked whether it was a clear decision to go with a smaller indie label, there was no hesitation in Naggar's reply: "I felt like I struck gold with Dan. He's really passionate and involved with the project, is such a genuinely nice person and has some great connections in the industry. We're both really hardworking, so it's a great match."
With no immediate plans for a west coast tour, you'll have to make do with the album and keep your eyes and ears open for when Common Holly makes an appearance in Vancouver.
x
Playing House will be released on September 4, 2017.