When we listen, where are we, and where is the sound? What does it mean to listen to others and have an experience of a space that has no physical location? These are questions asked by Gabi Dao, media artist-in-residence at the Western Front, an artist-run centre known for its new media cross-platform and multimedia exhibitions, residencies and workshops.
When I meet Dao, the artist is articulate and energetic despite having spent the morning toiling over grant applications. Dao chuckles that the process has prepared her well for answering questions about her practice.
Dao's installations make use of both visual and sculptural elements, as well as sonic and interactive ones. "I'm interested in sound, and how it exists ontologically." Dao describes her practice as one that is responsive, in active dialogue with a given context. "No matter how psychedelic and affective and deep from your intuition [ideas] come from, I feel like they are always responding to what happens in real life."
Dao's artistic preoccupation with space and location has long roots. As a second-generation Chinese-Vietnamese immigrant, both of her parents were affected by displacement following conflict throughout the '70s. Dao herself has the experience of growing up at the intersection between the traditional culture imparted by her upbringing, and her day-to-day experience absorbing and creating culture in contemporary Vancouver.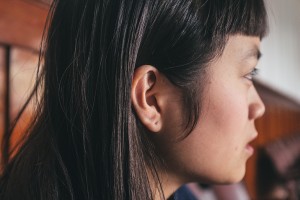 She moves through her practice with a keen awareness of how identity and culture is constructed and tied to place in the sense both of current location, as well as more abstract spaces, removed in time and distance, whose effects are nevertheless potent in individual consciousness. "My practice looks at these conditions, these forces, that shape values — families, governments, cultures — and how layered they are, and how they intersect […] Identity is this really contingent thing, hinged on external factors. As well, what are the forces that make culture and determine what it is, which determine what culture is good and what culture is bad? Different experiences, especially aesthetic ones, are so controlled and mediated by the social landscape that humankind has created for itself."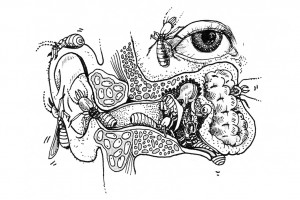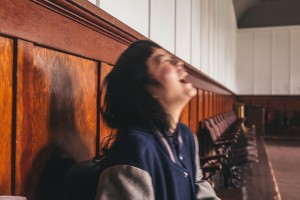 The Western Front is a weathered wood-slat heritage building which stands in humble contrast to the modern condo housing on the opposite corner. We enter the Grand Luxe Concert Hall, the setting of Dao's Slow Wave, a festival that has featured unconventionally intimate performances by Yu Su and Scott Gailey, Soledad Muñoz (alongside Samira, Prado and Nvrsne) as well as a sound workshop hosted by Tom Whalen (Tommy Tone).
Unlocking a door I had never noticed before, she leads into a narrow corridor stuffed with audio equipment and old cassettes — the Front's archive — and then on to two smaller rooms, both equipped with rippled modular wall-mounts: sound dampers. This is the recording booth and audio-editing suite where Dao spends much of her time — granted 24-hour access as a condition of the residency —  at work on the production of a podcast series Here Nor There which is in dialogue with the concert series.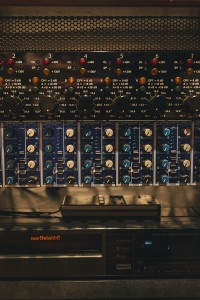 I ask Dao what her partnership with the Western Front and New Media Curator Allison Collins, has lent her in terms of resources. On top of the equipment for recording and editing, as well as curatorial input, Dao exclaims, "The camaraderie! The staff are all so generous and knowledgeable, it's like a family restaurant here. I'm constantly humbled. And I'm not expected to produce anything, necessarily. I can use this time to just workshop, think and talk to people I wouldn't get to talk to. It's a lot about feeling supported."
Dao describes her intentions for the podcast as producing a forum "to discuss what's happening in the community through what people are doing, their relationships with what they're making, and with the city."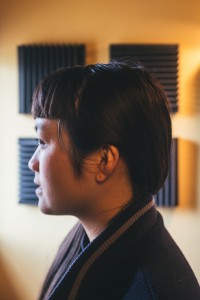 During and now after her time at Emily Carr University of Art + Design, Dao has been involved in the studio-cum-gallery spaces Avenue and DUPLEX. As such, she has witnessed and dealt firsthand with the difficulties that weigh on creative individuals in metropolitan centres, especially emerging artists. Finding and maintaining cultural spaces means facing the constant menace of rising housing costs, development and rezoning, dilapidated infrastructure and personal burnout. "It's a dire time," Dao observes, "and it always will be."
However, Dao has faith in the capacity of artistic practices and objects, stating what is needed is "a place for visibility. For me, that means that [the art] can now elicit a conversation […] We as artists, as artistic labourers, need to go into the world and exchange and dialogue and have real effects, make something happen in a direct or indirect way."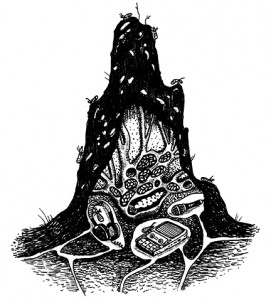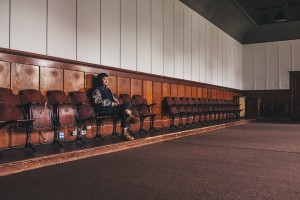 Through podcasting, Dao hopes to create a space not for just for visibility, but audibility. "Dialogue and discussion have this great capacity, and listening is so hinged on community. You're always listening to someone else. Sound is this social architecture, this structure for congregation. It literally builds something — it's so present, but it's in the air at the same time, totally ephemeral."
"It's hard here," Dao states, "and I just realized that we just need a place to talk. I'm asking what the role of a voice is, what it means to talk and give space to voices, and what it means to listen. Space is a resource! And that is something that I have hoped to extend to others through my residency."
X
Gabi Dao is artist-in-residence at the Western Front for Spring and Summer 2017. Her residency will conclude with a public exhibition this Fall. More information at front.bc.ca/events/gabi-dao.