<Plintor Drax> Fuzzy, soft, pink, stinky, strong, squishy, warm, wet, covered in slime …
<Lounge Vistior> Alive?
<Plintor Drax> Germinating relic lounging together in sliding spaces rounded out cave bulbous pebbles scattered under invisible water pulsating warmth and glowing carnelian
<Lounge Visitor> But alive?
<Plintor Drax> Soliloquy faucet posture lily vein milk pooling lightly under beams follow gestures barren field wind blowing dust gathering in crevices
<Lounge Visitor> In what world?
<Plintor Drax> The future is already full; It is much older and larger than our present; and we are the aliens in it.
Puddle Popper's works are the aliens of our future; they are playful, challenging, colourful and alive. Collective members Juli Majer, Sonja Ratkay, Mel Thibodeau and Sarah Davidson create works that invite the public into the worlds they are building, allowing people to interact with their art and, in doing so, they become another character in a room full of unfolding stories.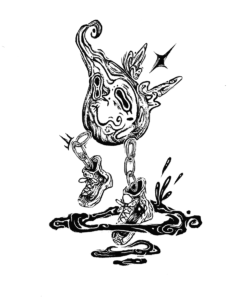 Majer, Ratkay, Thobodeau and Davidson met in 2015, after graduating from Emily Carr. Their first show, Puddle Popper, at Dynamo Arts Association, left them excited and eager to continue working together, as they have now done for the past six years.
"We talk about our work in terms of world building, and things that can be interacted with," Davidson shares. "There's references to bodies, human bodies, but also non-human, non-specific, alien or animal forms […] we all have independent practices where that comes into our work in different ways."
"Playing with the things that we've made and also making them collaboratively, that's a big part of our process," Ratkay explains, "That's how we learn."
Installing work is an engaging, lively, and intuitive practice for Puddle Popper. "It's not like we ever have a set intention," Thibodeau offers, "The process is part of the end result, in an important way."
Majer describes the energy that breathes life into Puddle Popper's installations: "We all make our own things within our personal lives, we create it on our own without the other seeing, and then we get into a room and we just release them and we let them all mingle and have a little party."
The little party benefits the artists as much as it does the art: "I get to know my work better by seeing it with Davidson's or Thibodeau's or Ratkay's," Majer says, "It's nice to sort of relinquish that control and kind of let everything be together."
"It's very validating," Thibodeau agrees.
Ratkay notes that installation spaces and the art within them are activated by the works' proximity to each other, with some works even touching. Puddle Popper has been known to take apart a work during installation and rebuild it around the work of another collective member.
"It gets wild with the install!" Ratkay jokes.
The works become characters in the space: interacting, living, storytelling, inviting.
"Everything is entrenched with stories and with information," Majer states. "There's the dandelion you see — it had a whole process of becoming. It's in-itself its own character, and they're all players."
Just as their works are physically layered on top of one another, simultaneously playful and intentional, so too does the work of Puddle Popper invite a child-like abandon in appreciating  the sensually delightful, a careful  self-reflection, the environment, and our relationships to each.
"I always think of our work as trying to understand ourselves and each other by thinking through our vastly different ways of being," Majer reflects. "Trying to break down our conceptions of living, and humans, and environment, and trying to build up these imaginary characters or worlds or surroundings."
Puddle Popper's work can be challenging as much as it can be joyful. "I'm really interested in complicating ideas of natural history," Davidson explains, "So, when I have forms in my work that could be bodies, to me, [the lack of clarity regarding] whether they're human or non-human, or what scale they're happening on, it's something that makes the way we've been taught to understand what is 'natural' complicated, and maybe less straightforward than what the colonial Western view would have us see."
Thibodeau notes that viewers occasionally  experience discomfort when engaging with Puddle Popper's work. Perhaps this is because these works boldly sit in the liminal spaces where nothing is determined; the uncertain, unknowable and unfamiliar pervade these spaces. Viewers are inherently challenged.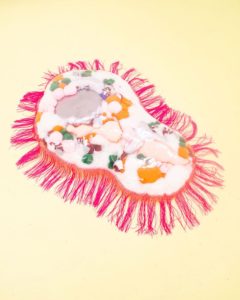 "I'm interested in the idea of things being biomorphic, for lack of a better word," Davidson explains. "Which is to say that they suggest that they might be alive, but you're not totally sure. Or it's not clear what they are, but they seem to be organic [….] There's an element of something uncanny, or a little bit uncomfortable about it. It's not clear what you're looking at, but it seems to be alive. That somehow becomes grotesque very quickly for me, but I  think that's fascinating, and very generative to break down those distinctions — because they're totally arbitrary. Things are way more interconnected than [people] might have been told to believe."
Just as Davidson blends the boundary between human and non-human, Ratkay's work is interested in dissolving boundaries and exploring interconnections. Similarly, Majer uses their work to think through different forms of intelligence to counter the hierarchy humans have created, "smashing" different forms of technology together: "I like to draw natural, organic technology, and think  through the very complicated systems that organic material and beings possess [….] For me, that kind of intelligence and technology is moss.It's plants. It's all of these kinds of strange, weird, bizzare, bodily living things that we don't recognize because they're different from what we conceptualize as intelligence."
Puddle Popper's works not only encourage the viewer to reflect on imposed boundaries and binaries, but physically challenge the barriers and expectations surrounding exhibition space.
"It's interactive," Davidson enthuses, "People can touch it, and that's important to us — that it can be reconfigured by other people."
"That's one thing I like getting from the audience," Majer agrees, "I like learning what they see. I like it to be open because whatever they see is part of their world, it's part of [their] language and symbols."
A visitor to a Puddle Popper exhibition is not simply a viewer, but an active character in the world the collective has built. They have their place in the story, just as everything else does.
Thibodeau feels that the world into which Puddle Popper beckons their audience (and that which they invite us to leave behind) is up to the viewer to determine.
"I don't like to give too much of a narrative," they explain, "[because] it's obviously very playful, and I feel like that's what I want folks to experience. There is some discomfort in some of the work too […] I don't like to define the world [that we build] too much […]because we're not fully in control of it. Definitely not."
"Everybody is like their own planet," Majer describes, "There's so much in it, and buried in it, that we don't know [about]. For me, I'm just slowly excavating. Digging at it and digging at it, and trying to take out whatever objects are buried in there."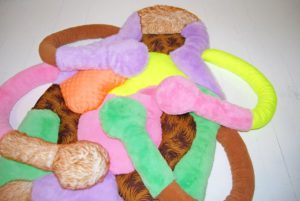 Puddle Popper's latest exhibition was presented online, and can be explored through their Virtual Lounge. The digital space has opened a new way of interacting with their work (not only through delightfully strange conversations with the lounge bot, Plintor Drax).
"Something I really appreciate about books and about our online project, is that you can engage with it on your own time and in your own space, and it just completely changes your relationship with it," Davidson reflects, "It gives you a different sense of comfort, and changes the boundaries."
"Obviously, digital space gives people the freedom to exist outside their bodies, in certain ways," Majer adds, "and to connect to people in ways that they can't through the physical — even through understanding yourself in a different way, when you may not feel part of your flesh."
In the strange and creative world of Puddle Popper, we can be sure that they will always invite us to step outside: outside of our flesh, of our boundaries, of our worlds, of our beliefs, of our bodies. And in that open, liminal space, they will be waiting for us, ready to build something new.
Puddle Popper is working on a collaboration with Peripheral Review, and are hoping to show the sculptures they made for Puddle Popper Lounge in person! Stay posted.
Where to follow Puddle Popper:
www.puddlepopper.com
Lounge.puddlepopper.com
@puddlepopper 
Collective members  websites/instagrams:
Sarah: sarahdavidson.ca / @triceradee
Juli: julimajer.net / @julimajer
Sonja: sonjaratkay.com / @destructiveapple
Mel: melthibodeau.com / @armpitfreak