In the world of theatre, Amanda Sum is what one would call a "triple-threat". She will dazzle an audience equally with a monologue or a number. But in Sum's family, triple threat has another definition. Together with mother Linda Sum and sister Sarah Sum, Amanda is part of a brilliant trio of creatives that mark her humble beginnings as an artist. Each woman in this "sum of Sums", as Amanda endearingly calls it, has the artistic chops to hold their own. Linda is a self-taught pianist and theatre performer and administrator. Sarah is a performing artist who is carving a space for herself in the antiquated genre of opera which she was trained in. And finally, Amanda is a performer and creator who dances between the world of music and theatre. Together, the Sums have infiltrated the Vancouver creative community for years with their flair.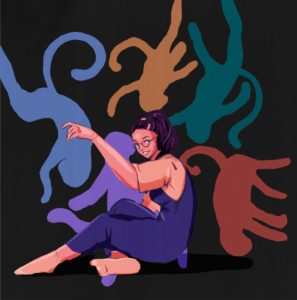 When Linda reminisces about raising Amanda and Sarah, she recalls how the two have been artistically inclined since day one. "[I] determined at a very young age that they were both very musical. To me, my job was just to give them the opportunities to do what they wanted…to expose them to things and see if they develop the passion for it," Linda reflects. Not having been formally trained herself, Linda identified piano lessons as a key foundation for Sarah and Amanda to build upon. "I didn't like them, but I'm very grateful", chuckles Amanda, while recalling her piano lessons. Linda jokes that because all she had was a "lousy law degree" she wanted Amanda and Sarah to have more support in pursuing their creative passions. From a cultural standpoint, Linda's support of her daughters' artistic endeavours was a welcome anomaly. "There's this idea of being in an Asian household where you're supposed to pursue a certain path or…steer in the direction of some sort of academic endeavour. And so I feel very lucky and privileged that that wasn't imposed on us," shares Amanda. Sarah felt similarly when her mother encouraged her to pursue music in university. "I do feel very privileged that we're able to pursue this — even encouraged to pursue something more creative," says Sarah, who was faced with choosing between a major in music or writing, at the time. "Linda said I should do music because it's more interesting to me and I'm passionate about it. And I just always remember that encouragement. It feels like I'm doing the right thing," she continues. From a young age, Amanda and Sarah knew Linda and their dad would always show up for them. "I think there was also just an environment of growing up being really well supported by both of our parents. You would both always show up to every single show no matter how small it was. And so that really set the tone," Sarah reminisces. "Yeah, that was very special," agrees Amanda.
The daughters tease that Linda was sort of a stage mom, but not in an overbearing way. "It was a loving presence," recalled Sarah. In high school, Linda would help with costuming in productions that Amanda and Sarah featured in, but she also knew to keep her distance. "I don't know if either Sarah or Amanda detected it, but I was kind of conscious of that as well. Sometimes I would try to volunteer in an area where I wouldn't necessarily be right there, like pinning your shirt together or something like that," Linda reflects. She would ask herself, "Is this too much?" Am I being a total stage mom?" Amanda giggles at her mother's reflection with delight. Though she felt a bit embarrassed as a teen, Amanda has fond memories of Linda supporting her school productions. "I kind of loved it. Now I love it even more. I think it's so funny because our relationship is mother/daughter, but it's also kind of a friendship. The more embarrassing it is, the more entertaining it is to me," chuckles Amanda. "We attempt to embarrass each other sometimes," admits Linda. They all laugh in unison. According to Amanda, Linda was "always around" in high school and she continues to be. "Now that's our joke, she's the number one groupie," Amanda jests. Linda's relentless support of her daughters and the arts is a major inspiration for Amanda. "Our mom being so musical and supportive of the arts, that kind of fed why I wanted to go into it. Because I wouldn't have been as gung-ho about theatre if she wasn't volunteering and performing in things when we were young — which meant we would always go see either the shows she was in or the shows she was volunteering for," reflects Amanda.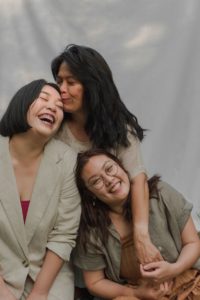 Since Amanda's high school days as a theatre kid, cover singer, and tap dancer, she has focused her efforts on theatre and music. Diving into the creative industry, Amanda noticed something was missing. In theatre, she was often the only woman and/or person of colour in the room. When Amanda had more agency in creating her music, she was determined to have a different approach. "I knew once I started making my own things that I wanted to not have anyone that I brought on have those same feelings [that I had]…feeling like they're a token of some sort in whatever identity that they hold. I wanted to make a space where the immense joy of feeling like you are represented and that you belong in a certain crowd or group [was present]," says Amanda. Having witnessed the artistic brilliance of her mother and sister, Amanda set out to showcase the talents of Asian women, including her own. Drawing on her theatre training, Amanda designed the creative process to reflect the product. "[T]hose experiences from me as an Asian woman are the backbone of a lot of the songs, so I wanted the process to reflect what the product was saying and what the product was doing," Amanda contemplates. "[I wanted to] mak[e] sure I wasn't speaking and writing lyrics that reflected my identity as an Asian woman while having it b[e] made by white men — which is a lot of what the industry is. And I just thought that it wouldn't line up and it wouldn't make sense and I wouldn't be able to stand by it," she continues. While Amanda takes her creative work seriously, she is also a proud goofball on and offstage.
Amanda is a lover of puns and all things silly. On Instagram, she has a dedicated photo series called "Sofa, So Good" featuring photos of herself in various outfits that resemble an array of couches she's found on the internet. (And yes, it is as entertaining as it sounds.) To the unobservant, Amanda's refreshing silliness may be a reason to dismiss her and her work. But years of training and sacrifice have proven that she is not to be overlooked, even if she likes to poke fun at herself on occasion. Amanda explores this very tension between her unassuming personality and her artistic capabilities in her recent single "Hot Headed Egos". She sings "Try to rope me in / with the juveniles / but you don't know my secret / I could do your job / in an hour less. / Take me for what I don't know." What others mistake as inexperience or naïvete is actually a reflection of Amanda's down-to-earth creative approach: a delicate balance of wit, astuteness, and quirk. Most recently, Amanda's solo performance in White Rabbit, Red Rabbit at the Cultch showcased her adaptability and tact. Whether it's grappling with the transgressive nature of theatre or the heterogenous experiences of Asian women, Amanda always does so with grace and a sprinkle of whim.
Even if strangers do not comprehend Amanda's work, her mother and sister have always had an intimate understanding of her creative practice. Living together up until last year, the three have learned how to support each other creatively in the same space. "[T]he artistic practices that we do are contingent on being alone sometimes. Solo practicing. If I'm practicing a monologue, I get self-conscious if anyone is in the house, even if I'm locked in my room by myself…[W]e kind of need to know each other's schedules and respect them. [We] give each other the space and support where we can," says Amanda. Conversely, when Sarah needed to practice opera, Amanda and Linda knew they needed to leave the house. "Whenever she was practicing I knew I had to take my hour-long walk and be out of the house," Amanda shares. "That's right! We got kicked out a couple of times," Linda chuckles.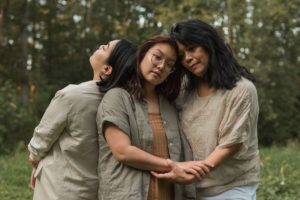 Amanda and Sarah are not the only ones who enjoy solo creative time at home. "Other times the two of them would leave the house and I'm going "Oh yeah! I can sit at the piano and sing really loud and no one's gonna hear!"…You know, you don't want to sing Céline Dion at the top of your lungs when everybody is around," Linda confesses. While supporting each other's independent practices, they also enjoy jamming together. "[W]e sometimes sit around the piano and all sing together. [I]t brings me joy to do that…So we do our own thing but we also had the opportunity to sing stuff together, which thrills me," shares Linda. This delicate domestic dance between three artists primed them to understand one another's work profoundly. When speaking of Amanda's growth as an artist, Linda and Sarah have nothing but kind words to offer. "I've always loved watching her theatre performances. Watching her grow as a musician and songwriter has been really interesting. I think if you look at her new songs and compare it to where she started, there's definitely an evolution. And it feels like she's settling into who she's becoming as an artist," says Sarah. In classic parent fashion, Linda starts by saying how proud she is of both Amanda and Sarah. She then proceeds to share how Amanda has made inclusion intentional in her work. "There's a lot of talk about giving opportunities and being inclusive, but what I see in Amanda's — not just her writing, but her process — is really putting it into action. I'm really proud of that…You know I think she's a great example of just doing it…I think Amanda has proven that, you make it an intention, you will make it happen," she says. Though Linda and Sarah may be biased, Amanda's work speaks for itself.
Considering the talent that runs in the family, I was curious to know if the Sums have ever collaborated on a project together. Sarah shares that in 2003, the three had performed in a local production of The King and I. While I did not have the pleasure of witnessing the mother daughter trio performing together, I wonder if, perhaps, their greatest collaboration is the mutual support they've shown one another over the years. As Linda, Sarah and Amanda continue to trailblaze the local creative scene, I will be keeping my eye out for when the sum of Sums strikes again. Fingers crossed.