It's nighttime on a road leading out of the University Endowment Lands, the forest leans over the road and Roxanne Nesbitt is riding her bike through the shadows cast by foliage caught in intermittent streetlights. She's singing softly as the wind catches her dark hair.
This is how I imagine Nesbitt writing songs for Wander / Weave, the second album she produced for her experimental music project, Graftician. Nesbitt began writing Wander / Weave as she completed a master's thesis in architecture at UBC. With intentions of focusing solely on design entering into the architecture program, Nesbitt says, "I found that I couldn't quit [music], and I was writing songs on the back of my drawings and singing in the bathroom and on my bike ride home."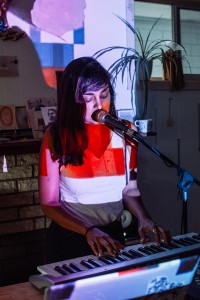 I meet Nesbitt in a candlelit bar on Commercial Drive, and it's hard not to be intimidated by the musician's talent and wide-ranging accomplishments. On top of her impressive architecture thesis (which Nesbitt later tells me she will begin to build during a residency in Berlin next year), she is also trained as an orchestral double bass player, has participated in an artist residency at the lauded Banff Center, and is already a notable performance and multimedia artist. When I sit down with her, I realize she's really silly, and really committed to her work.
"I shot a music video at New Brighton pool recently," she tells me. "I was at home editing it and I was thinking, like, high-school-Roxanne would be pretty impressed with adult-Roxanne."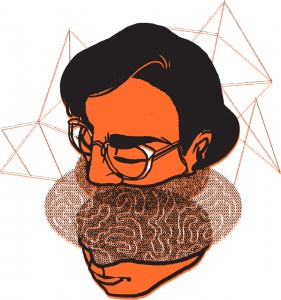 Graftician's eponymous debut was released two summers ago, a collection of songs that she produced entirely on her own. Nesbitt's technical skill is evident in her masterfully produced tracks, though Graftician is anything but classical. Nesbitt's music is ambient, with elements of musique concrete featuring samples she records from her environment, infused with Nesbitt's jazzy vocals and spoken-word-poetry-esque lyricism. Graftician pushes aural boundaries, the beats leading the mind through a maze of unexpected sounds.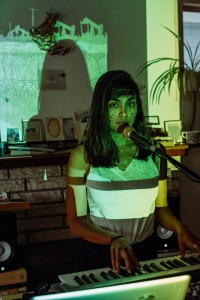 "In music school you learn that you can do whatever you want," Nesbitt says, laughing. "My hierarchy is kind of like: sound and texture, then emotional reactions to the sound, and then lyrics. I don't care that much about [stuff like] harmony! I was thinking that I should just sit down with all of my favourite songs and kind of pull them apart and ask what they're made of instead of just doing whatever I want all the time."
Graftician's second album, Wander / Weave, released in July, features guitar by Craig Aalders and percussion by Ben Brown. "I wanted it to be more collaborative as a way for it to be less of me being obsessed in my bedroom by myself, and more of a social [thing]. And in a way, that didn't work. [Wander / Weave] took longer than I wanted it to [because] I had to consider other people's schedules, and then I started working on a movie. I ended up taking more ownership of it in the end."
Wander / Weave is Graftician with experience. Nesbitt's clear vision for her sound becomes more precise and her skills sharpen in this second album."It's a response to the cleanliness of architecture," she says of writing the music while studying. "[A response to] how restrictive and logical I kind of had to be in school. I just realized that [Graftician] had to be about design and music. It made everything more difficult, but it also made it richer and more worthwhile."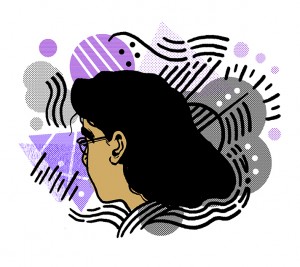 "I've always been kind of a weirdo, I guess. I've always made a lot of stuff," says Nesbitt of her prolific creative life as an architect, musician, multidisciplinary artist and filmmaker. "I feel like some people are made to make things, and if you don't, then you get artistically constipated. I didn't feel good when I didn't make things."
"I've gone through a lot of phases of making. I made books for a long time. I made paintings and collage, but I don't really anymore. But all those investigations inform videos [for Graftician], I feel better having them be videos than about them being art objects." Her drive to continue to have a creative outlet is what led Nesbitt away from architecture and into the more flexible schedule of the film world. "While I'm waiting at work, I'll work on a video or something," she says with a big grin.
modern girls live_Graftician from Roxanne Nesbitt on Vimeo.
Nesbitt has incorporated visuals into her live performances since November 2015, and has already created videos for many of her songs, including one for "modern girls" which is a recorded kaleidoscope of lipstick, keys, cigarettes and vitamins. "I always meant Graftician to be visual and sonic, but when I started I wasn't sure how that would happen," Nesbitt says.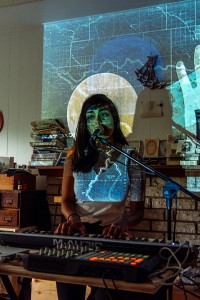 Making visuals for her music project was a defense mechanism for Nesbitt as much as it was a natural progression. "In November of last year I was procrastinating applying for architecture jobs," she recalls, "I made 10 music videos because I was scared of working 9-to-5 for the rest of my life, and scared of making condos, and scared of selling out. I was scared of being boring and doing something boring."
Going forward, Nesbitt doesn't plan on slowing her steady drip of creativity. Having found a kind of rhythm to her own desire to make and challenge herself, Nesbitt is planning the next iterations of Graftician. "I'm really excited to make new stuff," says Nesbitt. "I think for the next album, I'm gonna challenge myself to try making images first or try making them simultaneously. I want to push my own boundaries and my own process," she says. "I have been making music for dancers, and I've been joking with myself that I would just hire dancers as my band, but that they wouldn't make sounds."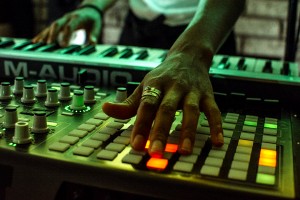 x
Roxanne Nesbitt is playing as a double bassist with Mine Agente at Gold Saucer September 14, and as Graftician at Vinyl Envy in Victoria September 23. Nesbitt is also playing with Rhoneil and the Sisters of Seance at the Emerald October 7. Listen to Wander / Weave at roxannenesbitt.com/graftician.