2015 is the first ISEA Canada has hosted since 1995 in Montreal. 1995's Electronic Art Symposium, with curation from Alain Mongeau, is now framed as a catalyst for the culture of sound-art in Montreal today. As a part of ISEA 2015, Alain Mongeau curated two MUTEK showcases, each with an attention for multi-media innovation. Mongeau was brief in speech that evening, having said his piece the first night. Now, I wasn't there the first night, I didn't hear his speech. So with cursory research, and bright millennial eyes, the evening distilled into a superflat phantasmagoria of audio-visual data, crystallizing into one question: how much Instagram fire was on-stage that night? Mucho, #Fam. Mucho.
The night's performances took the form of audio-visual art pieces, in two cases the product of artistic collaborations. artificiel (Alexandre Burton + Julien Roy) opened the night with a performance of POWEr, initially commissioned in 2009 for the 10th anniversary of MUTEK. The piece featured a custom tesla coil, with shocks of lightning synthesized into myriad electronic textures, each strike blown up onscreen.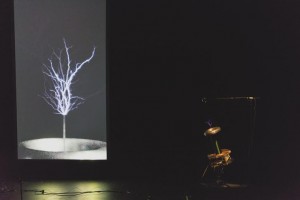 A stated theoretical interest is the de-subjectification of sound — with affective associations giving way to the purity of transmitting energy. POWEr's first movement was marked by this drive, furiously moving forward to experience each strike's shock of sound, motivated by uncertain beats towards segments of noise and broken rhythm. The second half, more romantic, moved in melancholic waves, with lightning arcs processed into weepy melodies tonally reminiscent of maudlin accordion music. It was a deflation shuttered by a final pulse of lightning, showcasing artificiel's sense of humour and the joy of their creation.
Set amongst a long table with acrylic panes and thin beams, Nicolas Bernier's frequencies (synthetic variations) consists of Bernier's manipulations of electronic sound in conjunction with their fixing to the aforementioned light structures. Scrapes and glossy crackles of sound would create dim withers of light, whereas high-frequency drones would find representation in stronger enlightenments. A stated intent of the project is to lend physical presence to the play of frequencies, and at its best there was a jaw-dropping quality to this arrangement. From impatient glitch textures, Bernier could push to the intensity of rapid-fire power electronics, with the dance of light signalling the precision and force of his composition.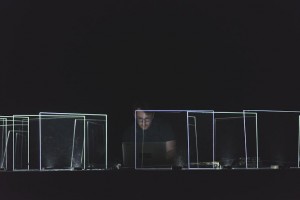 Processing melodies, and percussive reverberations, Maotik and Metametric's Omnis is a stated investigation into ubiquity. Featuring the occasional gong, and steady patient runs over a massive drum, one derived a meditative effect. The CGI visuals, moving in accordance with the sound, would segue from infinite sound-tunnels to breathing geometries, the impossibility of which lent a kind of spiritual dimension. Bright acoustic pulses and synth melodies made Omnis the night's most affirmative music. But staccato strings of piano, harsh walls of noise, and the whole piece's irregular progressions, detailed a complex mood, unified into a coherent visual logic and grace.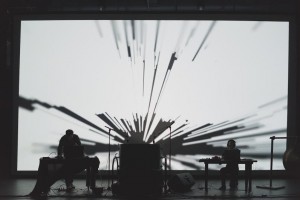 With text reading "a cluster of seismic readings and terrestrial frequencies culled from a variety of locations around the Globe will disrupt and impact the live performance," Kolgan's Seismik was an incredible piece of drone. It ended the night much like it began: with a veteran audio-visual innovator employing technology to invoke the sublime in nature.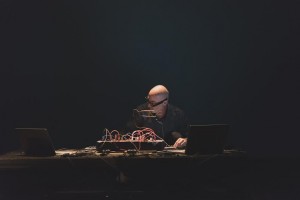 Radiographic topographies, digital overlays of location from which seismic data was being derived, established a computer positivism that disintegrated into confusion, static, and visual noise according to the drone's terrible weight. At times the audience saw gorgeous renditions of floating strata on screen, and at other times massive inclines of rock and vast valleys. These moments of sedation read more like indifferent beauty. Shocks of noise and terrible subversive energy challenged rational mastery, any solid ground to stand on, over an immutable and violent geologic turmoil.
Kolgan's performance, beyond its technical innovation, and sweeping scope, edified the death-fixed allure of nosier electronics. Each performance continued to point towards methods of understanding interdisciplinary and audio-visual juxtaposition. They will continue to be, amid the institutional concessions that much radical music must make, absolutely vital for new creative minds. Hence why I bootlegged the entire show, and will be streaming it on my Soundcloud as a custom work of art created from found audio.