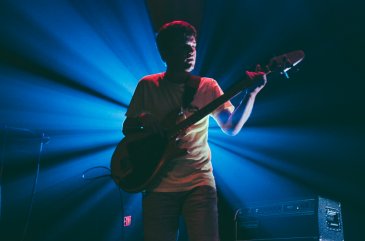 Every once in a while a group, or a musician, comes along and challenges everything society thinks they know about the youth of the day. Chubby Checker made the Twist cool just like Bird did 52nd street lifestyle. The King did the zombie and Madonna made him beg for it. Every generation can claim something from music.
For the current one, it's all are Dads the original hipsters? and cultural appropriation and other such chicken-egg discussions about who ripped off who first. But there is inevitably something that comes completely out of left field and derails conversations like these by doing something like placing a tenor sax centre stage, and thanking promoters, and turning the spotlight on the audience until we all say "cheese" before wylin'-the-fuck-out.
Sure, this review could go on about the music of Toronto instrumental-pop trio Badbadnotgood (or simply, BBNG), describing in tedious three-syllable adverbs what I, and a couple hundred others, experienced on August 12. But there are bigger issues that come to mind. Like the virtues of making seven-minute instrumentals filled with pop-poly-rhythms engaging to a generation that is supposedly losing its attention span to mobile convenience, or how a group of early 20-somethings are putting the names of Odd Future and Brick Squad members in the ears of scholarly musicians around the world. Or about how instead of giving the hard sell at the merch table, they suggested we all just download their album(s) for free?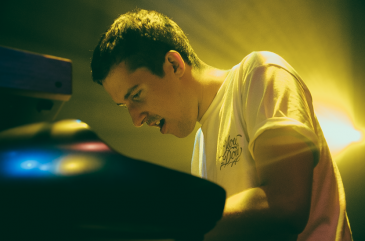 These achievements were only matched by the genuine admiration the band had for their fans and vice-versa. So I'd rather talk about how this unassuming trio of Humber College dropouts is completely changing the way we look at the limitations of pop and jazz music. Oh, and let's not forget hip-hop, dance, and punk, too.
What about how they were able to rouse affluent college music students alongside a second blank generation whose fascination with skateboards and urban design will forever have them pigeon-holed as "lazy"? First, understand that it's not laziness. It's that today's youth, just like so many before them, are simply going to do what they want. Just like Bird did; just like the King did; just like Madonna did. The difference is that technology is making it increasingly difficult to dissuade the youth of today — and BBNG are the first among a growing number to have harnessed their freedom.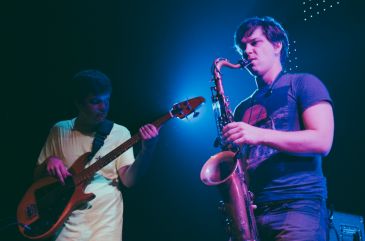 Nevertheless, acting like true jazz musicians, they showed respect not only for the art form, but their fans who came to enjoy the show. Band leader and tireless percussionist Matt Sowinski had the courtesy to introduce his bandmates Chester Hansen on bass guitar and Matt Tavares on keys as well as Leland Whitty, who joined them on tenor sax for a handful of songs, including a spotlighted "Confessions" and a raucous cover of Flying Lotus' "Putty Boy Strut." All this was added to the band's reputation as they repeatedly thanked both fans and promoters, proving that while these youngsters were going to do as they please, it would be done with a mark of professionalism and maturity that has long since gone astray in the self-absorbed sea of rock 'n' roll.