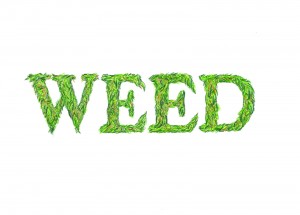 Across from me, the members of Weed are gathered to discuss their first LP, Deserve. Guitarist Kevin Doherty is chomping into a Big Mac and drummer Bobby Siadat is staring vacantly at the television close-captioned behind me. Why the sludge-fuzz rock band decided to conduct our interview at a McDonald's is beyond me, unless this is the only place where Siadat can get his WNBA fix, but along with Will Anderson (guitar) and Hugo Noriega (bass), the band seem to be a lot more comfortable here than I am.
It's been about a year since I last sat down with Weed — over their self-described "shit-fi" EP Gun Control. A band known for its d.i.y. aesthetic and a punishing touring schedule, not much seems to have changed between then and now besides a whole lot more of everything, including two tours with contemporaries Cascadia.
"It was intense … with seven people," says Noriega of their time spent in a van. "There were moments, it got claustrophobic for sure." No road trip is without its troubles, and Anderson is optimistic about their highway habits in the future. "We do two or three every year, and each one's been better than the last."

As if touring tri-annually around North America wasn't hard enough, Weed take it one step further by refusing to play shows with a strict age limit—a move that's more about being open to younger crowds than it is trying to avoid bar fees. Anderson is obviously the driving force behind the decision: "We used to play shows at [places like] 360 Glen, but we've tried to move away from shows that, while technically all-ages, aren't really accessible to young people … It's hard to find a balance between cool and accessible, but places like that can have a big role in young people's lives." Few bands are willing to put their ethos in front of their ability to stay on the road—particularly when broke and touring through Nowhereseville, Cleveland.
The band have come out of the woodwork on this occasion to talk about their long-awaited long-play, Deserve. It's not your traditional Vancouver record sampling — probably because Weed isn't your traditional Vancouver band. With half the members originating from south of the border, and stronger affinity for Cascadia than BC, the record hardly sounds like native fare. And, for a band whose ethos was so steeped in d.i.y. for their previous seven inches (all released under Anderson's label, Cruising USA), Deserve was a chance to step outside of their norm by stepping into a studio. Anderson found the change oddly comfortable.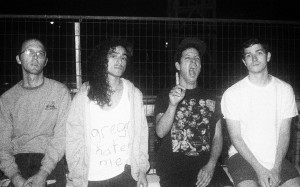 "We went out of our self-producing mode," he says, "and recorded in Redmond at the Old Firehouse. It made it a lot easier for us because we had four days, and that was it. Whatever came out of that, we were over it."
One might think that removing a band from their d.i.y. environment would feel limiting, but according to Doherty the opposite was true. "There's a lot we didn't get out of our previous recordings," he explains. "There's a big step up in quality, it's not as gritty … or as shitty."
While Anderson remarks that Deserve might be a "less intimate" record for the production invested, it's safe to say that he's happy with the finished product. "Yeah, of course I miss the fuzz," he ruminates, "but we made up for it completely. There's a certain amount that has carried over, as far as the distortion and the loudness is concerned."
And to be clear, Deserve sounds amazing. The ideal blend of muddy, fuzz-perfect guitar riffs and tight energy that was first demonstrated on Weed's fantastic single With Drug/Eighty finally makes a return, turning each of the nine tracks on the LP into anthemic lo-fi masterpieces. Take the perfect guitar-rock noisiness of Yo La Tengo's "Sugarcube," "Deeper Into Movies," or "Today Is The Day," add a Big Muff or three to the mix, and a dash of shits-and-giggles noise-making, and you start to get an idea of how Deserve will pick apart your brain. Every song on the record is sludgy and brilliant.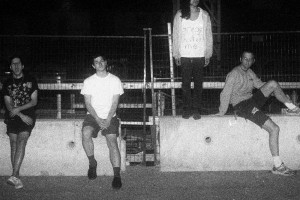 The 12" isn't without its head-scratching moments — particularly the walls of feedback that tend to intro and outro the album's catchiest songs. Anderson recounts, "In an earlier version of the album, there was a full three or four minutes of just feedback [at the end of opener "Heal"]. I loved it. I thought it was weird and abrasive. Maybe turn some people away, make them skip to the next song."
Turns out, trying to turn away listeners was an unpopular decision inside of the band. "We did have one giant internal band fight about that section of the song," he says. "We left the original version on a tour tape we made, but now it's nothing." There's still plenty of freak noise, scratching, and feedback left to satiate Anderson's masochism.
As the interview winds down and conversation wanders, Anderson has a habit of covering up the microphone and mumbling "Don't print that" over the gabbing. Considering we're talking in a McDonald's on Terminal, I didn't think there was much off the table, but for transparency, the list of unprintables is fairly small: straight-edge tattoos, parking lot shows, and border-crossing procedures.
There's not too much "off the record" to stack up against Deserve, as honest and raw a record as you'll find. And, whether you see Weed play in an all-ages alleyway in Vancouver or somewhere off the face of the Earth in Wisconsin, the delivery is similarly raw.