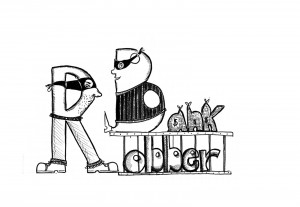 It's one of those Saturday afternoons when the weather just can't seem to get its act together — the sun peeks out on occasion, but a thin blanket of grey keeps the blue skies hidden. I'm sitting at a table outside of Marmalady Catering in East Van, across from Jordan Minkoff, singer and guitarist of the local group Bankrobber. The other members of Bankrobber, Tanner Matt (drums) and Aden Collinge (bass), are unable to make the interview, but Minkoff is confident that he'll be able to share enough lore about the Victoria-imported band.
We've just ordered a pair of sandwiches and he's telling me the origin of Life's Nutso, Bankrobber's first full-length and the latest upload to their Bandcamp page.

"The people that recorded [Life's Nutso], they really wanted to see things happen with it," Minkoff explains. Though the LP just had its online debut in August, the album itself has been complete for almost a year. Recording started in 2011 and while there was initial interest from a few labels and "some kind-of exciting stuff almost happened," the excitement wore off and Nutso got comfortable sitting on Minkoff's hard drive. In fact, having the release date on Bandcamp as January 2037 is a jab at how long the gap was between completion and release. "That was a joke because it's taken so fucking long."
The main reason why most labels were hesitant about releasing Nutso is simple: in order for an album to be profitable, the band has to tour. And it's difficult to tour when you're juggling being a part of three bands — especially when Minkoff is simmering in success right now from his other band, Slam Dunk, who will be touring with punk-rock idols Built to Spill later this fall.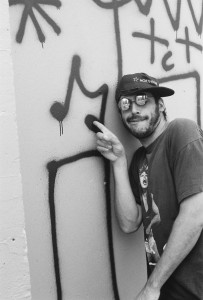 Like most musicians in Vancouver, Minkoff belongs to a number of different groups: there's Bankrobber, the Victoria-based rock outfit Slam Dunk (which he also sings and plays guitar for), and his solo project, Wetface, an act where Minkoff plays an old combo organ to the effect of what sounds like a full, cheesy '80s band. In Minkoff's words, the resulting sound falls "somewhere between Aqua and Leonard Cohen."
What strikes me the most about Minkoff is his noticeably goofy approach to his music and just life in general. Every time the conversation seems to steer towards a tone of seriousness, Minkoff counteracts with either a humorous story or light quip. It's refreshing to see someone take such a relaxed approach to music, even when it's your livelihood.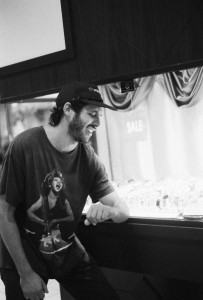 "I think I said it while at a Slam Dunk show at the end of a song. It's a funny line. I hate the word Nutso; it's stupid. But it's the best advice I could give someone who's having an existential crisis. Just lighten the mood. The album's a bit serious, so in my mind 'Oh, that sounds a bit serious. Better give the album a dumb title.' It makes me uncomfortable when things get too serious."
In some ways, Nutso was an album 11 years in the making. Since Minkoff was 15-years-old, he's been writing music, initially under the moniker Blank. A large chunk of the album had already been written before Matt and Collinge were even band members. And while Bankrobber has mainly been a studio project in the past, Minkoff still enjoys performing Bankrobber songs live because of the change of pace it offers from Slam Dunk's trademark rambunctious stage presence. "Everything's kind of like half-time. I like playing [Bankrobber songs] because they're more chill."
Though in the past Bankrobber has taken a backseat to Minkoff's other projects, with Nutso again collecting buzz, a potential keyboardist being added to the band's line up, and a release party in the works, the ingredients are present for the heist of the century.
"Bankrobber is back," Minkoff decrees near the end of our interview. "You didn't know it was gone, well now it's back."