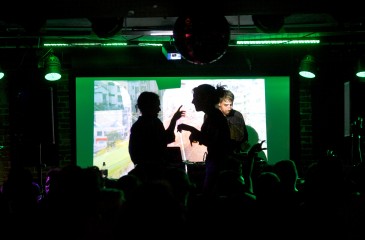 Warming things up for Gold Panda's second time playing to a Vancouver audience were two DJ sets. The first, by a man under the name of Olav, was filled with lush, dreamy electronic sounds that seemed to be lost on everyone else's ears but his own.
Following him, Calgary's Lorne B spun a contrasting set that gradually pulled most of the Owl's audience towards the stage in an irresistible urge to dance. His selection of bass-heavy tracks ranged from house to techno to left-field hip-hop, finding a place for cuts by quite a few Canadian producers in his set, including Jacques Greene's "Prism" from his brand new release on the legendary UK bass label 3024.

I needed a break after Lorne B's intense session, and as I walked back inside Gold Panda was already up on stage with a sampler and a MIDI controller at his hands curating the ambient swells that introduce "I'm With You But I'm Lonely." While the samples that he manipulated were instantly recognizable from debut album Lucky Shiner, the structure and progression seemed to be composed in an improvisational way, leaving room for suspense and surprise.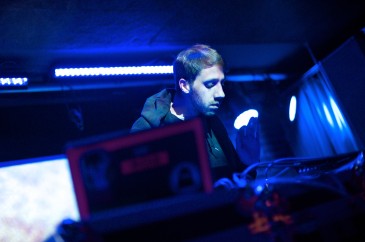 After collapsing his track into a complete aural mess, he followed by throwing in a sample of three simple words, "you," "and" and "me," which, when pitched up beyond recognition, and repeated rhythmically, can apparently make any crowd go bonkers. Following this gem, I anticipated hearing new material, but instead received flashbacks from earlier EPs, such as "Mayuri" with its quirky IDM beat that cooled down the dance floor to mere nodding at some points.
Ranging between psychedelic ambience, climactic drops and rhythms, Gold Panda was a chameleon. From the robotic 4/4 techno of "Vanilla Minus" to the loosely hip-hop based "Quitters Raga" to hyper-accelerated drum and bass on "Win-san Western," he adopted each with an equally compelling result.
As he left the stage after a sped-up version of that last track, I was surprised that he hadn't played any material released since Lucky Shiner, but wasn't disappointed. Instead he displayed a mastery of his own sounds that could only be performed by someone whose life almost entirely revolves around it. As he talked to the handful of fans that kept him from exiting, I got a humbling glimpse into the lifestyle of a solo electronic musician. With just three hours before his flight for Portland for his next show, there was no room for after-parties, just the cold facelessness of air travel, and dedication to his craft.