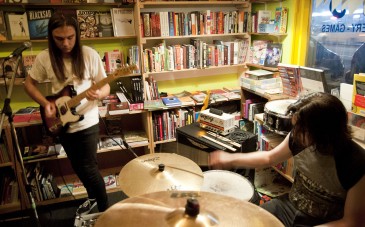 Main Street bookstore and September subject of Discorder's Venews, Lucky's Comics is titled with a light-hearted tenor.
Traditional comic nuances may suggest decorative Betty and Veronica cut-outs and echoes of the old Marvel vs. DC debate, but Lucky's stock is more elaborate. Besides filling shelves with an assortment of literature, on September 20, this cozy shop heard some exceptionally loud fiction.
Often classified as fuzz rock, local band Hemogoblin wrote chapter one in the early evening show. With Ian Kinakin on guitar and Chase McKenzie on drums, their two instruments repeatedly jogged and sprinted in a compelling punk dash. Kinakin's vocals segued between punching syllables and more tuneful bursts, though Hemogoblin's impressively thick sound should be credited as mostly instrumental.

Between quirky and unique tones in songs whose lyrics could be anti-establishment chants, were a few tracks with interesting themes. "Matthew Perry" commenced as a cover to the intro tune for Friends, while "Dukabours" offered a grungy take on Canadian history. Both songs contributed to Hemogoblin's awesomely destructive jams, while distinguishing Kinakin and McKenzie as genuinely creative songwriters.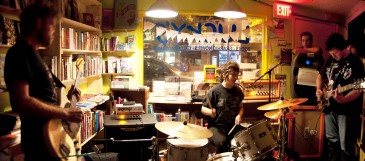 Vancouver trio Cascadia, with their Student Loan/Green Burrito cassette release only a month away, wrote chapter two with a definite element of suspense. A crowd of dark silhouettes were about to test the upcoming tape's reception. Dispelling the suspense suddenly, sludgy riffs began running in loops. Quick and heavy tearing rocked and lulled the room. Action sequences ravaged and then with careful timing, were relieved.
Lead singer Sasha Langford's light, Emily Haines-like vocal quality, embraced the audience with contrast in the spaces between screaming instrumentals. Like a conversation between lyrics and guitars, this back and forth propelled the set. The dynamic and constant interruption of drums by jagged, dense strumming was present in each song.
Dark, noisy, and swift, Cascadia was anything but chaotic. Their well-crafted frenzies brought the night to a satisfying conclusion, while in the lingering chatter and stuffy heat, Lucky's was filled with warm response. To those not in attendance, be warned: Cascadia's upcoming cassette won't sit on the shelf for long.