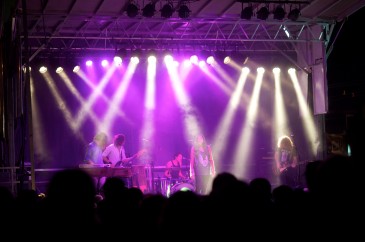 I arrived at the Waldorf at 6 p.m., expecting a hot crowd of drunk summer post-beach party people sweating to indie music, but finding a somewhat empty parking lot. The stuttering crowd peppered the pavement and formed a long line into the beer garden.
Openers Quest for Fire and Von Bingen must have had rough luck, since even Basketball performed to a sequestered 19-plus drinking area. Basketball sounded clean and thin, as opposed to the usual post-folk orgy that both crowd and band embody at their shows. While the sun set, people pounded back drinks, and a swarm of onlookers gathered atop a trailer in the back alley. This precursor to the end of the summer, the crescendo to the Victory Square Block Party, was typical Vancouver, with everyone amassed to see the local boys (and girl) that made good and play so rarely, especially in a venue worth attending. The all-ages crowd loitered on sweaty pavement, in denim, black, and '80s prints, while I played Spot-the-CiTR-DJ (and my dentist) in the crowd and waited for those who sold out pre-sales to arrive.

The show gelled after sunset, the audience decidedly against day shows, swelling to fill all spaces on the lot. Ladyhawk took to the stage, brightly lit against the blue sky and a skyline of fencing, used-car lot flags, warehouses, cranes and the mountains. It's taken me five years living in Vancouver to see a full set by Ladyhawk, a band I fell for on the local music shelf at Zulu Records during a Christmas escape from Abbotsford. Ladyhawk rocked out with a clean set, each member of the band revelling in his individual but collective experience, drawing the crowd in to the show. Each member sporting a different look, with a tee shout out to band Needles // Pins on the chest of drummer Ryan Peters, oft-time openers for Ladyhawk at various festivals.
Glory Days DJs spun the perfect mix of indie and retro in between bands from the beer tent, ushering in the stoner set by Black Mountain. Exuding a powerful sense of rock 'n' rock, Amber Webber in leather vest and eagle shirt stood in front with the beatific calm and soaring power vocals of the Virgin Mary. Echoes ricocheted through East Van with a performance worth repeating.