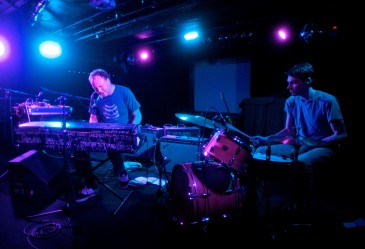 When Chris-a-riffic said hello to the crowd after his first song, he said hello to everyone, both personally, and by name. The Wednesday night early show hadn't attracted a massive audience, but it's still Chris's almost overbearing friendliness that keeps his performances so endearing. This time joined by a slightly bewildered Jay Arner on drums, Chris-a-riffic nailed his choice few songs, even if the roomy Biltmore Cabaret didn't do his intimacy justice.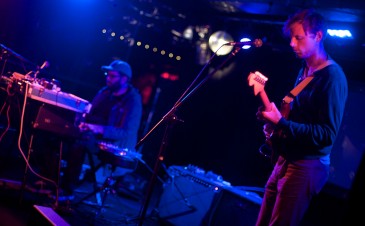 Hello Shark—a.k.a. Linc Halloran and friends, accompanied by Owen Ashworth of Advance Base on this occasion—played a set like a morose version of the Silver Jews, with melancholy lyrics pulled from the heart and aimed squarely at the crowd that survived their early '20s thanks to Ashworth's other endeavours, like Answering Machine Music by Casiotone For The Painfully Alone, back in 1999. Musically, the duo worked well together, with Ashworth lending quiet, thoughtful keyboard meanderings to Halloran's twangy fingerpicking. But, considering Ashworth outgrew this mopey emotionalism in CFTPA's 2009 release, Vs. Children, Hello Shark's nostalgia felt like a step backwards.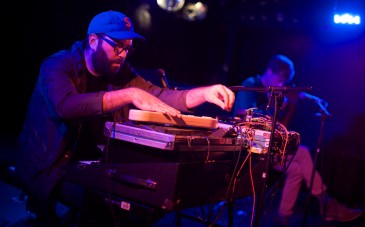 When the curtains were pulled back to reveal Advance Base, it was to see Ashworth and Halloran again in the same positions, but with vocal duties swapped and an autoharp substituted for the latter's guitar. Ashworth was quiet and humble, one of the few performers really capable of expressing how thankful he is for the people that enjoy his music. In between songs, the songwriter talked about Vancouver, took questions from the crowd, and only once raised his voice to tell a noisy table in the back to "take it outside." He quickly followed up with a heartfelt "thanks folks." While Advance Base may be best known for Rhodes keyboard melodies and a tinker-toy drum machine beat, the backing autoharp and occasional Omnichord solo added depth to Ashworth's frank, deeply personal lyrics.
The only real tragedy of the night, besides the one about estranged siblings described in "My Sister's Birthday," was that so few people were there to witness it. Considering Ashworth spent the last thirteen years making a name for himself in indietronica solo act Casiotone For The Painfully Alone, Advance Base really deserved more attention than they received on a warm Wednesday night.