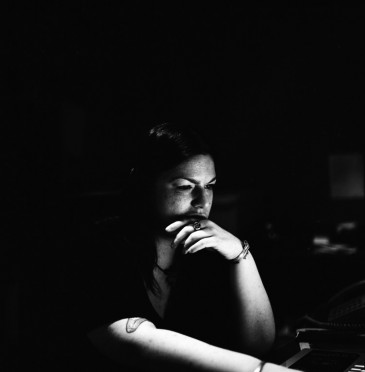 Anyone who has had the pleasure of tuning in to CiTR during the witching hour on Friday night/Saturday morning has no doubt been pleasantly surprised with the dark and industrial sounds of the Vampire's Ball. The show has been hosted off-and-on since 2002 by DJ, artist and engineer Pyra Draculea. Her tastes and set-lists are steeped in the traditions of early electro-industrial pioneers and the gothic traditions of artists like Skinny Puppy and Front Line Assembly. She also has her fingers firmly on the pulse of the local scene and has released three EPs as maQLu, an alternative synth rock solo project. By day, Draculea is the director of PR and A&R for Synthetic Entertainment, a local alternative label and management firm.
Discorder: Do you get many requests during your late-night time slot?
Pyra Draculea: No, and I actually tend to semi-discourage them. I don't give out the number because in years past I would get people calling in and wanting to talk to me for the entire show. Also I find I get some requests that are relevant and other times I'll just get people calling in to ask me to play the Smiths. No!
D: What has been your most memorable on-air moment?
PD: One night, I had Dave "Rave" Ogilvie of Skinny Puppy in, and he brought all this old classic industrial vinyl with him. I was having trouble with the mixer, or something, and he pulls out the perfect song for it: "Major Malfunction" [by Keith LeBlanc]. I was like, "How'd you know I needed a new theme song!"
D: Who has been your best guest?
P: It's always fun when I have Kaine Delay from Left Spine Down on as a guest DJ and we'll trade tracks, or I'll let him DJ and we'll blather in between. We also had a show last January with Kaine, Jeremy Inkel from Left Spine Down—he also plays in Front Line Assembly—and Kevvy Mental from Fake Shark-Real Zombie!, so we were doing the rotation where everyone got to pick a track. I can only think of a couple annoying guests I've had…
D: If you could only bring one album to a deserted island, which one album would it be?
P: The only things I've been listening to in my car, which is my primary listening space, are Nine Inch Nails' The Downward Spiral, Marilyn Manson's Antichrist Superstar, and, actually, the brand new Mother Mother album [Eureka].
D: What is your favourite CiTR radio show, besides your own?
P: I always had fun listening to [Luke Meat's recently retired] ANoiZE. Mondo Trash used to be loads of fun, but I guess they're off the air now. It was Eurotrash, electro dance stuff. They only went off the air recently and [former host] Maxwell deejays a lot of the west end clubs. I sometimes stumble on Caroline's show [Sexy In Vancity] and I think it's pretty good.
D: What does the future hold for the Vampire's Ball?
P: There's a bunch of quests that I'd like to get on. I've now had all surviving members of Skinny Puppy on [the program]. Thank God I'm done that obligation! [laughs]. The only people I haven't really had on are KMFDM and Trent Reznor, although I hear he's a lot less fun to talk to now that he's sober! And Marilyn Manson…[but] what's the point at this point? Other than that, just continue to find emerging talent.
Vampire's Ball airs Friday from Midnight to 4am / CiTR 101.9