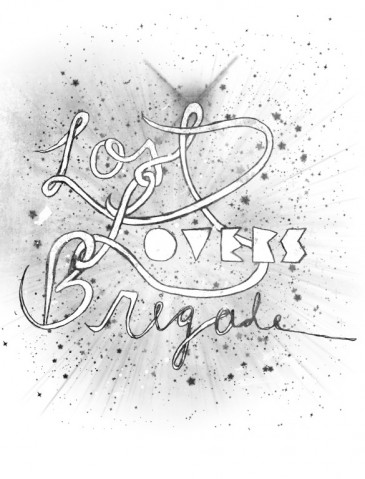 On the edge of the Downtown Eastside, up a musty old staircase above the Red Gate gallery, hides a handful of humble, ramshackle rooms. Home to artists' workshops, recording studios and rehearsal spaces, a heady atmosphere of creativity and history hangs in the air. Among these rooms is the rehearsal space of the Lost Lovers Brigade. This is where magic happens.
Just across the hall at JC/DC Studios, the band recorded their forthcoming album, Little Skeletons, with experienced local producer and studio co-owner Dave Carswell. The New Pornographers' bassist John Collins, the other owner of JC/DC, also lent a hand production-wise.
"It was great to have both of them in there because they had a lot of input," explains singer/guitarist Elisha Rembold from the comfort of the band's jam space. Though Rembold was at first unsure about the sessions, the result, she says, was a pleasant surprise. "After we recorded I took a long break from listening to it. Dave went away and when he came back he said, 'Come into the studio and we'll take another listen together,' so I went in and I was like, 'Oh my God, this sounds glorious!'"
Among Little Skeletons' many highlights is "Lonely Neighbour," a track that marries heart-aching melodies to longingly romantic lyrics. "Tonight's the night I'll call to you / The moment that I see darkness / Arms open, the alley, don't forget the door," sings Rembold, her powerful voice as evocative and affecting as Joni Mitchell's or Patsy Cline's.
Elsewhere, the iridescent lilt of "Tigers" exemplifies the band's flair for crafting all their influences—from the dusty, old-time country of Dolly Parton to the angular indie stylings of Guided By Voices and Sleater-Kinney—into a sound that has both the worn character of the old and the bright lustre of the new.
Considering that the band's current lineup first met in 2001 (completed by Adrian Teacher on drums and Jason Oliver on guitar), their debut full-length has been a long time coming. Having played together in various guises—including the wildly exciting, though short-lived Eastern European folk ensemble Caravan—the group didn't begin writing songs as the Lost Lovers Brigade until around 2005.
Live performances have always been sporadic and until now the only available recording of the band was a CD-R of some basic four-track recordings distributed at shows. Following that, Rembold briefly retreated from the Vancouver music scene. "I felt like hibernating for a while… I'm a little bit shy, a little bit nervous," she admits. Her reprieve led Teacher and Oliver to start rambunctious local favourites, Apollo Ghosts. While Rembold is now back in action, the band recently suffered the departure of a fourth member, Jenny Morgan, who contributes organ and backing vox on the album but made her exit to start a family. Despite all of these diversions, the remaining trio's love of playing together, not to mention their friendship, has kept the band going.
With work on Little Skeletons now complete, the band is looking towards the future. A split seven-inch with fellow locals Shimmering Stars is set for release sometime this fall, and there are also plans for a short tour of the Pacific Northwest. Considering all of their previous setbacks, the band is ready to go full force. "I wanna do another record and just keep it going, instead of pausing," Rembold says with a laugh. "We've already done the pause, there's only room for one of those!"
Unfortunately, there are other concerns the band has to face, as the future of their beloved jam space is in jeopardy. Due to numerous building code violations, the city has issued the Red Gate an order to vacate. The spot is currently fixing itself up to avoid eviction. "If we lose this space, which has been really integral to everything we've ever done, it would be really devastating," says Teacher. "It's ironic too that the city just celebrated its birthday [with free shows in Stanley Park] with Neko Case when she's wandering the halls here and recording here too, and they're trying to shut us down."
"A lot of what you saw at that festival started here," Teacher continues. "On the one hand the city's saying, 'Hey! Wow! Look at all our great Vancouver artists we're showcasing on this stage' but then, 'OK guys, you've gotta shut down' because of some violation," he adds, "it's kinda messed up."
As ever, the landscape of Vancouver is in constant flux—its music venues and other buildings have been endlessly torn down and replaced. Just like in our own lives, it's a series of beginnings and endings. As individuals and as communities we find these conflicts often hard to come to terms with; we romanticize the past and attempt to preserve the present. Sewn deep into their rich, timeless melodies, the Lost Lovers Brigade manage to convey all of this pathos.