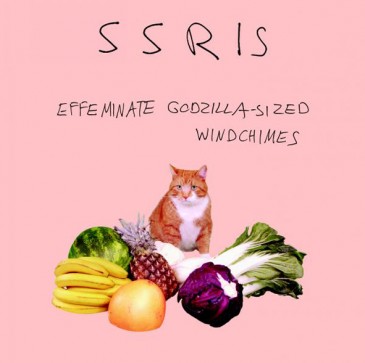 SSRIs has undergone a transformation since their runner-up status at Shindig 2007. The death of their drummer, Tommy Milburn (whom the album is dedicated to) forced a reconstruction project for Joseph Hirabayashi and crew. The band has added a few new faces and a more complex refinement of unpolished bedlam, which conjures up the theory of chaos, and order from disorder. File Effeminate Godzilla-Sized Windchimes under art-punk, synth-punk, jazz-punk, death-punk and psychedelic avant-garde musings. At first, the record feels random and chaotic, but with listening demonstrates compositional brilliance and lyrical depth.

Upon successive spins, the songs seamlessly blend into each other to the point where
listening to a track out of sequence feels awkward. Every note, whether in tune or chaotically out of control, seems placed purposefully and skilfully.
There is no room for ballads or any kind of formulaic pop. Perhaps, for only brief moments, the furious rhythms of Tony Dallas, and abusive guitar/synth tracks give way to a softer side of the band. There are no catchy pop riffs or choruses (the band boasts of being chorus free since 2006 on their MySpace page). Instead, you will find intricately arranged, complex patterns that produce a restless yet completely satisfying record.
The songs dabble in perfection so much so that after successive listens, it is difficult to imagine any of the tracks performed differently. Play it loud, be prepared to get charged up, and place it in your 'favourites of 2010' playlist.