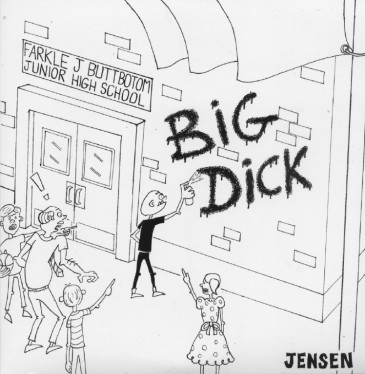 Holy hell, another summer been and gone and I feel like I didn't do enough to enjoy it 'cause now we are heading for the inevitable change to the colour grey and the rain. While most would agree this is not welcome in our daily planning, one such group will relish in the switch to soggier climates and they are Sex Church. We have extolled the virtues of this combo before in this column and will happily do so again based on two more prime examples of why it's good to huddle in the basement and make a darn good racket to keep yourself from going crazy knowing that we'll have a solid six months ahead of dismal weather. Both "209" and "Paralyze" clock in over six minutes of noise-laden drudgery, with riffs heavily on repeat, but with enough flourishes of melody to keep things from going stale. Don't bother trying to decipher the lyrics, unless you want to be depressed even further. Just enjoy it for what it's worth: an audio capsule of anger management therapy wrapped in a paper sleeve. Vancouver, this will cure what ails you.
For those still feeling down, you're in good company with a certain troubadour-bout-town, D. B. Buxton. This captivating crooner and his backing band the Orpheans sing and play the blues like the legendary ghosts of many who have come before them—with soul, conviction and balls. "Ellison's Tomb" tears a page from the Howlin' Wolf songbook, both in Buxton's vocal delivery and in composition, and "Keep It Slow" channels Steve Marriot's raspy tenor quite nicely thank you very much. Lest you think this is simple rehash though, D. B. Buxton has his own M.O. in giving people an education in the music that makes him move and seeing the man live is a true treat, so don't miss his next musical sermon. Meanwhile, best to pick up the Orpheans debut single to tide you over.
Another debut comes to us from the Valley—not California mind you, but the Fraser and keeping it real for the kids are the Split Up's [sic] with their pogo-inducing prankster Nick Newtown (formerly of the New Town Animals) at the helm. With a voice that lies between a helium-chugging Leonard of the Dickies or Olga of the Toy Dolls, the Split Up's pack a punch with their whip-smart guitar licks and churning rhythm section. "Action Man" and "No Future Calling" are the two faster numbers that bring to mind Rezillos' or the aforementioned Dickies' playful punk vibes, while "Televisual" turns it down just a hair with more of a Vibrators "Baby Baby"-style approach. Pretty solid debut I have to say, and with a handful of shows under their studded belts already, they are poised to take on all comers—you've been warned.
Finally, we are venturing all the way to the capital city of Ottawa for the sounds of Big Dick, who unfortunately are not a Dickies cover band, but a two-piece bass and drums maelstrom, who, according to their very nice hand-written letter to me, state that they "sound like Jesus Lizard or maybe No Means No." Well they lack the acerbic tones of Mr. Yow [ed. Not me! (Jordie) He means David Yow.] and company and the quirkiness of the brothers Wright, but they're on the right track. In fact, after listening to the three tracks on their Jensen EP, "Bodies" could be a lost track from the Jesus Lizard circa the Liar album, but I liken them more to the Edmonton two piece the Famines, especially with "Aria," as the bottom end is really cranked but melodious and straight ahead. If you need extra incentive to check this out, can I shamelessly name drop the Million Dollar Marxists? A cool-as-hell band that features one member of that group in this current outfit—now you know, son.
As always, thanks for reading!
Sex Church: Hozac Records www.hozacrecords.com
Orpheans: Neptoon Records www.neptoon.com
Split Up's: When's Lunch Records www.whenslunchrecords.com
Big Dick: www.myspace.com/bigdiiiick