Recorded live off the floor while contributing musicians played in a communal circle, this cozy setup has permeated the sound of Hannam's fourth release—and you'll find yourself intuitively singing along to songs you've never heard before. Although Hannam resides in Fort MacLeod, Alberta (of which vintage photos grace both covers and the liner notes), Queen's Hotel has quite a connection to our precipitous city. In addition to being recorded here, his label, publicist, recording engineer and producer/contributing musician Steve Dawson all call Vancouver home.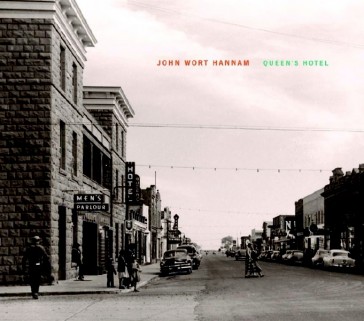 As you might expect from a man who was once a language arts teacher (until hearing Loudon Wainwright III inspired him to pursue a career in music) storytelling played a huge role in the formation of this album. Opener "With the Grain" is a song about forging your own path in life, while "Worth a Damn," an upbeat duet with Torontonian Jenny Whiteley, effectively utilizes metaphor to communicate need. But like all good storytellers, Hannam realizes that skill lies not just in the tale, but in the telling as well. "Come Back to Me" offers the poetic line "Where you stood the stars would shine just a little bit brighter" but when he sings the poignant chorus "Come back, come back, Oh come back to me my dear," the moment is so exquisitely beautiful in its simplicity that it almost breaks your heart.
While Hannam's music is classified as folk, it definitely has at least a few toes tapping the country border. Atmospherically Queen's Hotel shares that sense of heartfelt integrity and compellingly immediate familiarity that has made Blue Rodeo a national treasure. It's country music's timeless heroism of the working class, but coupled with enough folk inspired idealism to dispel any notion of bar room brawls from creeping in.