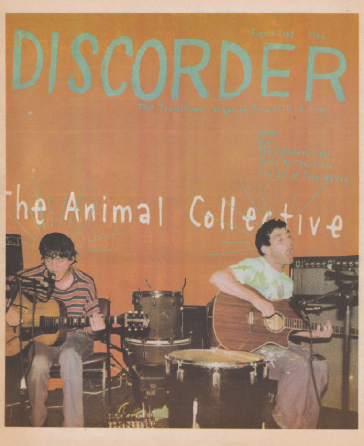 In February 1983, Jennifer Fahrni and Mike Mines published the first issue of Discorder. That means we are nearly 30 years old. In the next five issues, we'll tell tales that harken back to the days of Discorder yore. Here's one from 2003, as relevant now as it was then.
_________________________
A sepia-toned photograph shows two men, aged 24 and 25, sitting in black metal folding chairs, wielding acoustic guitars. One wears a red and blue striped t-shirt and jeans, the other a green and white tie-dyed number and faded, torn denim. Their mouths are wide open in exaltation, belting out silent lyrics. If the camera shot were wider, one could place the two around a blazing campfire; like camp counsellors strumming kumbaya to an enthralled youth group. But the two are surrounded by microphones, drums, and cords. If there is an audience, the likelihood of it being more than a dozen is slim, as is any of them being under 19. Besides, back in 2003, how many people could an Animal Collective show at Pat's Pub on Hastings attract?
Take a picture with the same two men — David Portner, a.k.a Avey Tare, now 33, and Noah Lennox, a.k.a. Panda Bear, now 34 — in 2012 and a few things would be different. Trade the acoustic guitars for electric ones; trade sitting for standing; pan out to show thousands in the audience; add sequencers, synthesizers, samplers, and percussion. And place the other two members, Josh Dibb, a.k.a. Deaken, and Brian Weitz, a.k.a. the Geologist, on stage to complete the quartet.
The funny thing is that Animal Collective then, even through a different lens, is not all that different from Animal Collective now — except for a few million fans, or so. So, what has happened between August 2003, when Discorder was the first magazine to feature the Baltimore-raised quartet on the cover, and September 2012?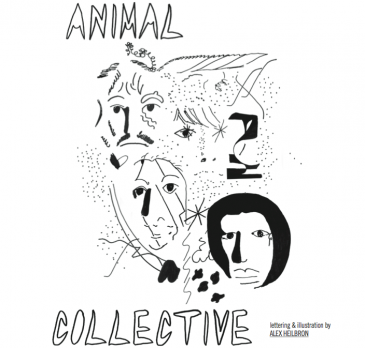 "That's a lot to comment on," Weitz, now 34, tells Discorder by phone from Florida beach, where he's on vacation with his family before setting out on a two month tour through North America and Europe. "We were still working day jobs at that point. I don't think we could have ever imagined it would turn into this."
And "this," is pretty big.
When Discorder's Marek Cooper spoke with the group in August 2003 when they toured for Here Comes The Indian, the group's fourth full-length release, they were about to play a show at Pat's Pub, where Portner and Lennox wailed out a stripped down set with an acoustic guitar two mics each, and a few drums. Weitz split time between hanging with some friends and manning the merch table, and Josh Dibb, a.k.a the Deaken, was "suspiciously absent."
Or maybe not so suspiciously. Over the course of the four friends playing music together — since high school — it was never a plan or expectation for music to be a full time job, and so not every album has included every member. 2000's Spirit They've Gone, Spirit They've Vanished, was recorded with Lennox and Portner; 2009's widely acclaimed Merriweather Post Pavillion saw an absence of Deaken.
Since that show at Pat's, there isn't much time for anything but the music. In those years, they started as playing for "sometimes 50 or 60 people, sometimes maybe eight or nine, and now it's sometimes eight or nine or ten thousand people," Weitz says of audiences at Coachella in southern California, and Primavera Festival in Spain.
After eight studio albums, two live albums, heaps of solo side projects, and an audio-visual performance for the Guggenheim Museum's 50th anniversary in 2010, all four have reunited for Centipede Hz, including Dibb, after his hiatus from the last album.
"[Dibb] was part of all those things and projects during Merriweather. We were all doing a lot [of other projects] at that time. He was involved, just not as noticeably and physically, because Merriweather was the most visible, physically, of those projects."
The band's latest, Centipede Hz, premiered on Centipede Radio, an Internet collaboration with The Creators Project, on August 19. Every Sunday evening from July 29 to August 19, the band members each took a turn hosting an online broadcast, which included mixes with new solo tracks and new songs from Centipede Hz, followed by mixes by guests like Atlas Sound, long-time friends Black Dice, and Haunted Graffiti. On August 29, Weitz hosted the final the installation, starting the first hour with what Weitz called their "inspirational mix," a collection of songs that shaped Centipede Hz for them. In the final hour, Weitz premiered the album in its entirety.
In contrast to MPP's terrestriality, Centipede Hz is a trip through space, and still Animal Collective through-and-through. Part of its influence is from something like a transmission from outer-space that, funnily enough, Cooper discussed even when talking about the band for this show nearly 10 years ago. The nostalgia of AM/FM radio permeates one part, while a varied collection of music influenced the other.
"[During Centipede Hz], we listened to a lot of old psych music, electronic, a lot of [UK experimental band] White Noise, [psych electronic band] Silver Apples, cumbia. Not recent cumbia, but a lot of Peruvian cumbia from the '60s, and reggae."
If the past nine years are any indicator, Animal Collective will continue mind-bending, evolving and creating as always, whether two, three, four, or ten thousand or millions, are in on the music. Both now, and another 10 years from now, Discorder will be pleased as can be to keep saying, "We were there."
_________________________
Animal Collective do not play at Pat's Pub this month. Catch them at the Malkin Bowl on September 19.