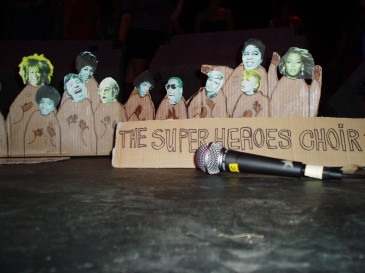 My love for music has long been entwined with my feminism. It probably wouldn't be much of a stretch to say the two are inseparable. I found my feet as a music geek in high school, using music by women as a place for myself: I adored Tori Amos for her difficulty and epic range of emotion and disliked Jewel for her obviousness. The distorted sound of PJ Harvey's To Bring You My Love made me uncomfortable, but I was glad that she existed. My dad started buying me music books for Christmas and The Rolling Stone Book of Women in Rock probably sealed my nerdly fate. Flipping through its glossy pages, I began the process of realizing that the trends of 1997 didn't exist in a vacuum—women had a short but fascinating history in pop music, a history made all the more accessible to me because it didn't take much time to learn most of the important names: Loretta Lynn, Bessie Smith, Siouxsie, Janis. Eventually,
I started exploring outside this niche, but music made by women (of any genre) will always be especially compelling and close to my music geek heart.
So, given my long-standing fascination with girls 'n' tunes, I couldn't possibly forgo July's Ladyfest Olympia. This four-day weekend of bands, crafts, workshops, and fi lms marked the fi fth anniversary of the very fi rst Ladyfest, also held in Washington's state capital. Since the beginning, Ladyfest has been defi ned as "a non-profi t, community-based event designed by and for women to showcase, celebrate and encourage the artistic, organizational and political work and talents of women." Festivals are put on all over the world by different groups of volunteers. In this month alone, Ladyfests are happening in Ottawa, Singapore, and Zurich.
It meant abandoning the magazine halfway through production and skipping two days of work, but I couldn't give up the opportunity to glut myself on art, DIY politics, and K Records bands. Thursday, July 28, the DiSCORDER team arrived in Olympia rushed, cranky, and ready to soak up everything we could in four short days.
Thursday
The Thursday line-up was half the reason we decided to go: Tender Forever, The Blow, Anna Oxygen, and the Rock 'n' Roll Camp for Girls in one night? Hell yeah. We entered the Capitol Theatre at about 6pm, not fully realizing that we would spend the bulk of the next three days in its dark, velvet-chaired interior. First on stage was Plasmic Stallion, a foursome of pre-teen Rock 'n' Camp attendees. They ran through two original compositions, "Shut Up," and "You Suck," both of which involved choruses of cathartic yipping: "Shut up! Shut up! Shut up!" and "You suck! You suck! You suck!" Nevertheless, we were totally in awe of the 11-year-olds onstage who were clearly cooler than we were ever going to be.
I was excited to see Tender Forever after glowing reports brought back from friends who went to Anacortes' What the Heck Fest in July. According to the Ladyfest Program, "Tender Forever is a girl performing alone with her DIY crafty sounds, a cardboard laptop, a very personal body language, tears, cut-outs, spasms, and more." This sounds a little obscure but is completely accurate. I'll elaborate: Tender Forever is a boyish French girl, singing songs about long-distance love while coaxing sounds out of a duct-tape and cardboard laptop. She performed with a fi ve-inch tall choir of cardboard cut-outs. Choir members included Stevie Wonder, Calvin Johnson and Beyonce. Tender Forever fully owned the stage, stalking back and forth wildly, sometimes laying on her back as she pressed the microphone to her mouth. It was as wonderful as it sounds, perhaps more so.
I missed most of Anna Oxygen when we ducked out to get tacos, which was a shame since I really enjoyed her debut album, All These Faded Things. We returned halfway through her set and Anna was onstage, dressed all in white, in the middle a hard-to-follow conversation with a prerecorded voice claiming to be a giant fi sh. I didn't get it either.
A devoted fan of Poor Aim: Love Songs and The Bonus Album EP, I was elated at another chance to see the Blow on their native turf. Beatsmaker Jona Bechtolt was touring in France as Y.A.C.H.T. at the time, but he joined in via speakerphone. Singer Khaela Maricich queued up the beats on her laptop, invited everyone to dance onstage, told some very engaging stories, and sang a lovely little song about sex, in French.
Friday
While DiSCORDER's Caroline Walker took some instrumentation workshops (see sidebar), I elected to explore downtown Olympia's thrift stores and book shops. I managed to miss a lot of great-sounding workshops during the weekend, probably because I never actually sat down and read the program guide from front to back. Among my regrets: missing the Radical Cheerleaders performance, the sound tech workshop, and the K records zine-making session. Among my complaints: Dame Darcy's doll-making workshop required you to bring all your own materials, including toaster oven (!), and the unfortunate circumstance of the Ladyfest program guide being completely disorganized and impossible to read. (Should anyone ever organize a Ladyfest Vancouver,
I offer my layout services now.) Nevertheless, one could do a lot worse than spend a Saturday morning sauntering around sunny small-town streets.
At about 3pm, we headed to the Capitol to check out more bands. I've been intrigued by Dame Darcy ever since unearthing a book of collected Rollerderby zines so I was disappointed with her band, Death by Doll, and their synthy dirge-pop. One goth girl danced rapturously, wheeling in circles and tossing her hair, but most of the audience seemed underwhelmed.
Their set was followed by Kimya Dawson, another artist who concerns herself with mortality, albeit in a completely different way: where Death By Doll are removed and affected, Kimya is immediate and utterly, heartbreakingly real. On this occasion, the former Moldy Peach was fragile and worried about her mother, faraway and ill in New York City. Kimya's fl ight east had been delayed for a few days, freeing her to play Ladyfest, but she clearly wasn't in the mood and couldn't keep herself from weeping at one point. Her sweet, quick-paced songs are largely concerned with grief, hardship and hope: one line stood out in particular, "I will lose my shit if even one more person dies, so please don't die." I left with the feeling that Kimya writes because if she doesn't
she will seriously lose it, and more than anything I just wanted to give her a hug and say, "My mom's been sick too."
We took a break after that, and returned to watch San Francisco four-piece Von Iva. Something about their lead singer seemed familiar to me, and for a while I just watched her spinning and preening in her glittering fringed cocktail dress. Then it hit me—it wasn't just her height and glamour, but the way she moved: her stage act had all the camp and posing of a drag queen's but with twice the ease on heels. It was distinctly reminiscent of Vancouver's Carlotta Gurl, and this comparision is all I can actually remember of the band. (They also featured 7 Year Bitch bassist Elizabeth Davis, apparently).
Saturday night was Soul Night at Ladyfest, featuring soul and blues pioneer Barbara Lynn and her backing band of local musicians (including Chris Sutton and Olivia Ness of C.O.C.O.). Barbara (b. 1942 in Beaumont, Texas), was discovered while still in high school. She became one of the fi rst female instrumentalists to hit the charts, wrote a number of her own songs, and did the whole thing playing guitar left-handed. She seemed as amused by the obvious generation gap between her and the Ladyfest attendees, asking the crowd to thank their parents for making "You'll Lose a Good Thing" a number-one hit in 1962. After
launching into the story behind the single, (apparently, the guy's real name was Sylvester) she looked to the audience (at least 30% young, mohawked lesbians) and told us to insist that our men treat us right. "If he don't come home on time, give him hell." She was at home on the small stage in a way that none of the younger performers had been, and I just kept thinking, how much has women's place in pop music changed during this one person's career?
The Gossip were up next, rocking the stage in matching camoufl age outfi ts. This was only my second time seeing the Portland powerhouse in action, but I feel like I learned a few things. Gossip Lesson #1: Gossip songs, no matter how good they are on CD, will always sound better live. Gossip Lesson #2: Even if she's sick, in debt, or recovering from gall bladder surgery, Beth Ditto will always, always bring the house down. Gossip Lesson #3: until the Gossip are international superstars, the world will be a cold and unjust place. For everyone.
Saturday
Worn out by Friday's marathon of band watching (nine hours!), I basically went AWOL on Saturday. I hid in the zine library at The Last Word book store, surfacing only to drink coffee and watch Hide and Seek, Su Friedrich's absorbing fi lm on lesbian girlhood.
Although people at Ladyfest were friendly, there was this pervasive feeling of being at a big party where everyone knows each other but you don't know anyone. And there's no liquor. To complicate things further, most of the people associated with Ladyfest—organizers, workshop leaders, performers, and audience—dressed in that thrift store, rockstar accidental uniform. It made it diffi cult to tell who was doing what. On the plus side, there was almost none of the intense psychological divide between musician and regular citizen that saturates most gigs.No one seemed particulary invested in the normal roles contemporary music is fraught with. When a girl cimbed onstage to sing harmony during Liarbird's set, a few people on the fl oor yelled, "Yay, Lindsay!" For
the short time we spent there, the Olympia scene seemed refreshingly without pretense. It reminded me of something Khaela Maricich (the Blow) said to Vancouver Ion magazine this summer: "I wouldn't have made music if I didn't live [in Olympia]. I never thought of myself as being a musical person. I think that in Olympia the standards of what you have to do to be considered a musician are really broad, you know? You don't have to be a musical person. You could be a person who has a lot to say."
However, not everyone fi nds Olympia as nurturing: when we ducked into a cheap, colourful student bar to cure our exhaustion with beer, I spotted two paintings for sale on the wall. One depicted a few stylized birds along with the words "Birds are so scene," and the other showed two girls frowning and said "My subculture is better than your subculture."
Sunday
I made it to my one and only workshop Sunday morning: the Reel Grrls video workshop. A teenage girl with braces taught me the basics of using a video camera before I returned to the Capitol Theatre to watch more bands.
Back in the HQ, Mirah was experiencing serious sound trouble. She ended up scrapping her mic completely. "Be very, very quiet," she said, "and I'll sing without one." We sat on the fl oor, crowded as close as we could. She perched on the edge of the stage and played a very intimate set of delicate folk songs.
Mirah's quiet strumming made an incongruous prelude to the evening's rockabilly headliners, but Ladyfest had been fi lled with unlikely pairings. To be fair, though, I don't know that it would have been possible to really prepare yourself for Wanda Jackson.
Like Barbara Lynn, Wanda Jackson was discovered while still in high school, singing country songs on an Oklahoma City radio show. A year later, she was touring with a then-unknown Elvis Presley, who urged her to start playing rockabilly as well as country music. Wanda liked Elvis, and the world liked Wanda: she became star, and Elvis's girlfriend to boot.
A vision in pink polyester fringe and big black hair, Wanda was the absolute peak of the weekend. She was sassy, sharp, and comfortably chatty between songs. She praised the curves of her pink Daisy Rock guitar for being "cut in just the right way … I bet even my friend Dolly Parton would like this one." She even talked about meeting Elvis for the fi rst time: "Now, I know you all wouldn't fi nd this strange, but when I saw him for the fi rst time, he was wearing a yellow sports coat. I had never seen such a thing on man! And he had a pink convertible. This was back before Mary Kay, now." Her singing voice has changed over the years, but her signature nasal bleat was still intact for her renditions of "Fujiyama Mama" and "Mean Mean Man." The crowd went quiet
when she started to talk about Jesus, but the singer knew she was on contentious turf: afterwards, she graciously thanked everyone for listening, "even though it's a very personal thing we all have our own opinions about." Classy lady, that Wanda.
Dusk fell as the DiSCORDER crew walked out of the theatre and into the cooling streets. We were just thinking that our Ladyfest experience had come to an end when we heard the sounds of live drumming coming from an alley. We poked our heads in to see a pickup truck with a piano on the back. A sweaty young man pounded out a jaunty tune, while his female band-mate battered a drum kit next to a well-tagged dumpster. A happy audience had gathered around them, cheering and swatting at fl ies. Ladyfest wasn't over, and somehow, in Olympia, it never really is.
L a d y f e s t D r u m W o r k s h o p
I was really excited about this workshop; I mean, what could be better than taking a traditionally sweaty male musical activity and putting it in a relaxed communal art space with a bunch of women who love feminism and music?
Arriving at the workshop early I got my pick of the well-worn pieces of percussion. I was drawn to combo of floor tom and warped crash symbol. Our instructor, sporting a rockin' boot-n-short combo, went by the name Drummer, a well-deserved moniker considering that she has played for most of her life. After handing out the donated plastic head drum sticks we did a round of introductions. I was relieved to find out that most of the group was equally as inexperienced as I. While I was the only technical foreigner in the lot the rest of the group was a good mix of local Olympians and gals from Los Angeles, Seattle, Portland, New York and Colorado.
Drummer gave us an intro to time signature, drum notation, proper holding technique, and how and where to strike each piece of the drum kit. Finally we were ready to tackle the coordination challenge of the full kit. I respected the first brave soul not only for her sacrifice of dignity, but because her lack of coordination put me immediately at ease. As others tried to beat out the provided rhythm of tom, tom/snare, tom, tom/snare, I air-drummed to get the pattern into my muscular memory. When my turn came around I eagerly sat behind the kit. After a little bit of fumbling my nerves dissipated in the supportive atmosphere and by the end of my brief stint my head was bopping along with the beat I was holding.
I came out of the workshop with one of the most giddy feelings I've ever had: on par with that of my after-school checker matches with the boy of my dreams in grade four. Having always revered the female drummer it was shocking to consider the possibility of actually becoming one. Drums now join violin and cello in the instruments-Ineed-to-learn-in-order-to-die-happy list.
Caroline Walker