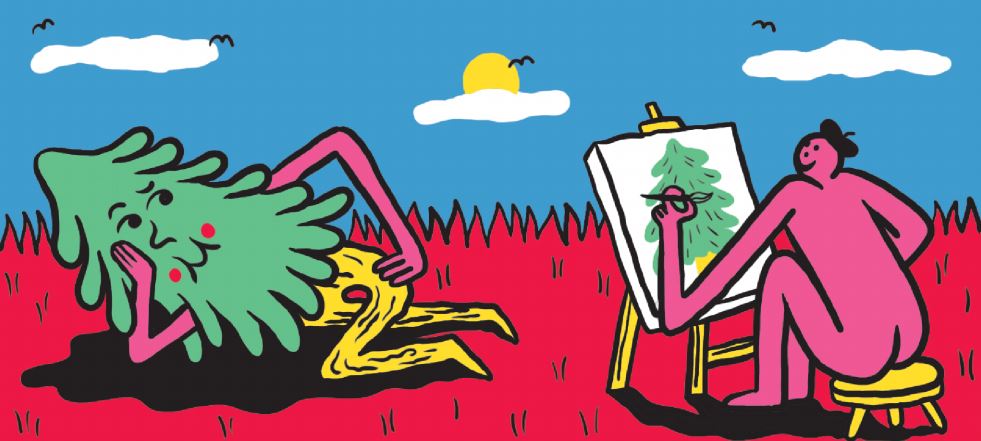 I was greeted by a sculpture of a miniature baby man with a fashionable baby pink headband and what looks (to me) like a lucha libre body. I smiled back. According to the bio, the artist, Mike McNeely: "…makes clay sculptures and has been practicing as an artist for all of his life. In order to survive as a youngster, it was vital that he tried his best to observe the expression in people's faces, which he then started to draw & sculpt. He believes that memories can be manipulated, molded, fired and glazed. Mike would like us all to be aware of what we are molding, before we put it in the fire."
I visited the 12th Annual Oppenheimer Park Art Show at Gallery Gachet, on the corner of West Hastings and Carrall. This year's themes were centered around virtual reality, the art of the natural world, changes, attraction, and the rules of engagement, all of which were topics chosen by the community. The pieces range from nameless sketched portraits, to hundreds of popsicle sticks that are painted to create images when put beside one another. Bright greens, dark blues and soft pinks bounce off the walls. All of the art pieces come from community members local to the Downtown Eastside.
I spoke with Amal Rana & Erv Newcombe, who are the Artists in Residence at the Carnegie Community Centre as part of the Vancouver Park Board's "Artists in Communities" program, who helped with the Opening Day Parade of the show on September 13th. Rana & Newcombe's role within the Carnegie Community Centre, is to sustain a space of creative release, and explore art in ways others might not have because of access to resources.
Newcombe: Our role there was primarily to fit in, augment and support that. We are looking to activate the spaces and support communities. Personally, a big drive is to primarily engage with people who are creative but have been convinced otherwise and find ways for them to
make art.
Rana: When we were first selected we made it clear that we are not from the community and our primary role has been to learn, listen and then facilitate kinds of art making based on what they want. Because of our background in street art, we helped out with the Opening Parade
with the Oppenheimer Art Show, that this year started at the Carnegie Centre and ended at Gallery Gachet. We created art banners with the community and a key piece of the parade was to welcome and share multiple mother tongues, greetings & words to honour multiple Indigenous
languages and so many other languages people speak in the Downtown Eastside.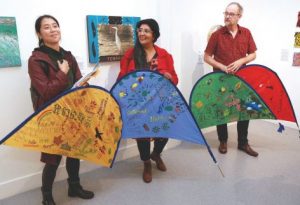 Discorder: What were some of the sayings on the Banners?
R: Greetings in various languages, Hello, Salam; Bengali, Cree, Blackfoot, Chocktaw and more. Whatever people wanted to put. The idea was that there are other ways to make relationships and connections that might not start with 'Hello'.
N: Doing it on the streets was a highlight in my residency, the energy in front of Carnegie — seeing people walking past and then joining in because it looked fun, lovely and inviting.
R: Making the banners lightweight and accessible was important to us because of our experience with resistance art and the feedback we've gotten from past marches, so we used bamboo poles. People stuck them to wheelchairs and scooters. People with mobility and access needs as well as elders marched with us. It was beautiful to see the accessibility.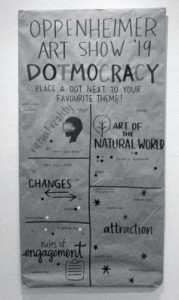 They explained how the energy on opening day was vibrant, positive and joyful—emotions that I had felt through passing the gallery before I had spoken with them. It's the type of unspoken sentiment that doesn't need to be mentioned in the shows title because it's simply a way of life within the community— to want the best for others, to be happy.
Amal Rana and Erv Newcombe are not directly a part of the local community, but through participating in events, felt changed by it.
N: Every time I leave one of the events we participated in, I feel exhausted-(laughs) but also happy, fulfilled and inspired by the people and the process I've met. Universal Access Art: meeting people where they are, in all respects, and jointly exploring ways to create meaningful art — meaningful for them. We're trying to provide ideas, inspiration, materials and methodology, and some assistance, but really we're just following people's ideas and inspiration and being overjoyed by these experiences.
R: I'm blown away and continuously surprised by the boundless creativity and innovation by people in the DTES. I feel like I'm learning and growing as an artist in the DTES. It's like a lesson and a release, because the art world can feel at times pretentious and hard. But we're in
a community of artists that are authentic and expect you to be authentic as well, otherwise they will see right through you.
Why should people check out the show?
R: The diversity of art, multi-media, painting, the community piece made of popsicle sticks.
N: When I look at the show in its entirety, I think it does a great job at amplifying the brilliance of the Downtown Eastside and really challenges the narrative of the Downtown Eastside. So even if people don't buy anything, they are going to be inspired and changed by it.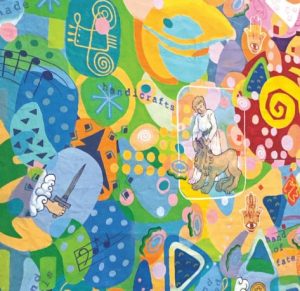 The show is running until October 26th, so stop by because either way, I guarantee you will not leave empty handed. The 12th annual  Oppenheimer Art Show is a reminder that art is not so much of what you say, but what you make of it. The power that lies within the artwork in this exhibit speaks to the gallery's motto in that art is a means for survival. A survival that looks like bright greens, dark blues and soft pinks
that just might bounce off the walls.
Editor's Note: On August 19th, the park board manager ordered a mandate to evict approximately 240 people living in Oppenheimer Park.
The Vancouver Park Board had an emergency meeting late September and voted 5 – 2 in favour of a motion to support the voluntary collaborate decampment for residents livingin the park, meaning at this time they will not seek an injunction to legally remove campers from the park. As Pivot legal society pointed out on their Twitter account, residents ask: decampment to where? There are no actual affordable & safe housing options. They say city pushing decampment is settler colonial violence on unceded Indigenous lands.