The heart of the Summer may be festival season for many, but there are those among us that look to early Fall for exploring art and culture. In recent history, SWARM, New Forms and Destroy Vancouver served as bastions of art and esoterica, to name but a few of the city's autumnal offerings. This year marks the return of Wrong Wave, a festival organized by UNIT/PITT that has intermittently showcased independent and experimental art in Vancouver for over 30 years. Despite its longevity, 2018 marks only the sixth installment of the festival, and its irregularity is in many ways a part of its appeal: a snapshot of the city in a specific moment, as captured by the artists who operate within it.
"The approach to Wrong Wave is really different every time," says KC Wei, the curator for this year's Wrong Wave no. 6. "The first one was in 1984; Jim Carrico from Red Gate was one of the organizers, which is an amazing historical throughline."
For those unfamiliar, Wei has become a mainstay of Vancouver's independent art and music communities over the past four years. From numerous bands (Late Spring, hazy, Kamikaze Nurse), to performance and experimental art/music projects (art rock?, Kingsgate Mall Happenings), to her own music and printed matter label (Agony Klub), it feels unjust to distill the body of her work into such a simple list.
"It was very underground, punk for that time, experimental and performative," Wei continues, recounting her own research on the festival's first ever installment. "It's had those qualities that I was interested in for art rock?, and I think that's why I was asked to curate it [this year]."
The disparate nature of Wrong Wave, both in what the festival has offered over the years and in its actual occurrences, is something Wei had to consider in her role as curator.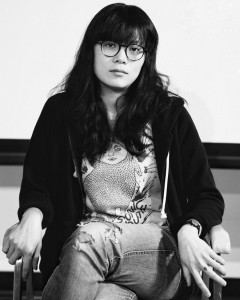 "Every time it happens it's a completely unique scene or moment in time," she notes. "In 2012, it was at The Waldorf and it was way more electronic music-based. I guess it ebbs and flows in trying out what experimental art music is and isn't."
The programming of Wrong Wave no. 6 feels very much like a consolidation of Wei's interests and expertise as a creator, and a representation of experimental art in Vancouver today. In particular, the inclusion and focus on experimental film separates Wrong Wave no. 6 from its predecessors.
"I think this Wrong Wave is responding to other forms of media that exist in relation to the music that's happening, because if it is an art rock practice there's usually a visual or a written element alongside the performance of [music]," Wei says. "I don't want my practices to exist in separate boxes. I want all the practices to be speaking to each other, and this is a great platform to do that."
The festival will premiere Wei's own documentary, art rock? The Popular Esoteric, and Myles Black's Virga Soundtrack, a documentary surrounding queer expressionism across several artistic communities. With both projects having taken multiple years to complete, Wei felt a belaboured kinship between her and Black's work and saw fit to present them together within the unique staging of Wrong Wave.
"In his mind, he'd never finish it," Wei says of Black's film. "It's very experimental, creating spaces that feel very safe and then collaging them together in this pursuit of what otherness and queerness can be in the music scene."
In regards to art rock? The Popular Esoteric, Wei explains that she began recording performances during her monthly series without too much thought as to what they would become. In part sparked by Wei's dissatisfaction with previous documentaries surrounding Vancouver's music scene, she began to see the footage in a new light and with a newfound purpose.
"It was a really long learning process; I was learning the techniques to make a music documentary and learning that I wanted to make a music documentary at the same speed," Wei notes.
Scenes include performances of artists and musicians in spaces pivotal to Vancouver counterculture, from The Astoria to Red Gate to the Toast Collective, spanning from Kingsgate Mall Happenings in 2014 to art rock? in 2016 to its finale in April 2018.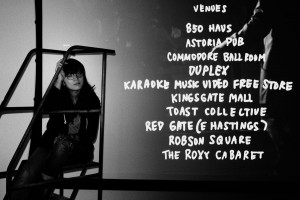 "It takes a space to make a community happen, and it takes a city to support these spaces to allow a scene to happen — to allow experimentation to happen," Wei posits. "It's kind of a portrait of that: this moment in time in Vancouver where every conversation is about how unaffordable it is, and how impossible it is, and how all our friends are moving away. But at the same time, we still have a lot of fight in us."
In addition to the two film screenings, Wrong Wave no. 6 will feature two nights of live music, at Red Gate and 8EAST respectively, with the latter also serving as a book launch for the companion piece Wrong Wave 666.
"It's a book, a publication, a collage," Wei says of the printed material. "I asked all the performers and musicians to send me various ephemera they had [collected] over the years: setlists, posters, prints, tour diaries — anything that's related to their practice that they haven't thrown away for some reason. Then, I collaged them altogether in page form."
Between the book, the documentaries and the live music performances (of which her band Kamikaze Nurse is a part), Wei's interdisciplinary contributions and connections are central to the newest installment of Wrong Wave. What's most important for her, however, is the issue of visibility: the need to be witnessed by those apart from the scene.
"Just because we're underground and experimental doesn't mean we don't need to be seen by the status quo, because that's how we maintain our community," Wei opines. "Contributing, for me, means doing something that will be seen or heard at some level. I don't care if only 10 people come to the show. To know [that] the world — the world outside — is seeing that something like this is happening is more important."
Wrong Wave no. 6 may be yet another festival for Vancouver's independent and esoteric crowd, but Wei's vision for it goes further. It is a portrait of the city's best and strangest in this moment, and it's integral that those with the power to support or extinguish the celebration of experimental art take heed of what have creators like Wei have to offer.
x
Wrong Wave no. 6 begins with a screening of new works by KC Wei and Myles Black at VIVO Media Arts Centre on October 10, doors at 6:30PM and screenings starting at 7PM (with free pizza). It continues on October 12 at Red Gate with music by Kamikaze Nurse, Crotch, Maskara and Vomit Fraud. The finale is on October 13 at 8EAST for the launch of Wrong Wave 666 and live performances by Dashes, Julian Hou & Tiziana La Melia and My Name is Del.