The seventh installment of the Vancouver Art Book Fair (VABF) is an event designed to showcase the talents of Vancouverites who use publishing as an artistic vehicle, and to incorporate their perspectives with those of international artists. It's on from October 18 to 21 at the Emily Carr University of Art + Design campus; and Lisa Curry, VABF's Executive Director, and Erica Wilk, VABF's Marketing & Publicity Coordinator, have been working their butts off to make it happen.
Curry says that the organization's mandate is to "foster access and deepen engagement with publication as an artistic medium and as a social practice." Part of this, according to Wilk, is to "overlap all these different communities of art, design, music, print, and comedy. It's the merging of everything into one."
But as broad as this objective may be, it only describes half of VABF's mission. The other prong of its work is to foster an accessible community around publication.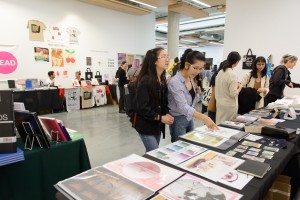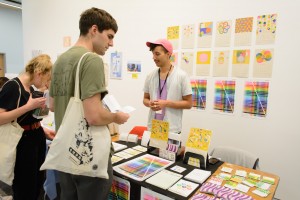 The folk behind VABF know that publishing can be an exclusive medium: art books can be incredibly expensive to produce. The organization is actively trying to break down those barriers by prioritizing diversity and accessibility, as opposed to the more conventional emphasis on the art objects exhibited. Wilk emphasizes this, saying "We're going to be re-evaluating things and making it a lot more available for people […] what we're looking for is diversity, trying to include as many diverse perspectives as possible."
This priority is structurally ingrained in VABF. For one, the organization is a nonprofit. It is volunteer based and sustains itself through grants and memberships. For another, it will now have a new curator every year, beginning with this year's event curated by Sylvana d'Angelo and Jeff Khonsary. This change in curation symbolizes a dedication to broadening the perspectives showcased and present at the fair. Wilk hopes that "it will be a different vibe each year, which will bring in different communities." 
This year the fair also moved from the Vancouver Art Gallery to the less exclusive institutional space of Emily Carr, a shift that suggests VABF's seriousness about taking action towards these priorities.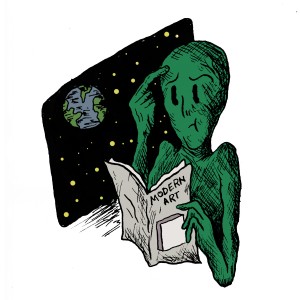 VABF's organizers also want to bring more people into their community because they are excited about the open possibilities of publishing as a medium. "Art book" describes a huge range of artworks, and even Wilk and Curry had difficulty deciding on a definition. Curry settled on "where various practices intersect and create something new," but both acknowledge the mutability of that definition, which is part of what makes the area so exciting. It's full of possibilities.
These possibilities help make VABF more inclusive. While some art books may be costly, others can be very inexpensive to produce. Broadening the definition removes previous barriers to the medium and community, and that's exciting for VABF's future.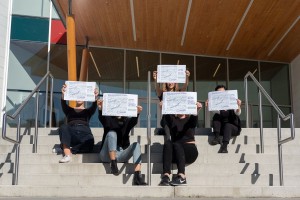 Curry explains that a motivation of VABF's founder, Tracy Stefanucci, was to "make Vancouver a centre for artist publishing," an impetus that was well placed because "Vancouver is a very political climate. People don't have a lot of money and artist publishing is a great way to disseminate ideas." VABF wants to foster this practice with the Zine Zone and Art Book Week, two festival initiatives providing platforms for the sharing of ideas.
The former, where zines can be traded or bought, takes place at the fair; and the latter is a week-long series of events that VABF promotes. They aren't curated by the fair – anyone can participate from any space – but, as Curry puts it, "[VABF] creates a platform for local venues and artists" to express their ideas to each other and the broader community.
Besides being a space to interact with art books and art book artists, the VABF also has a really incredible roster of programming. This year's keynote speaker is Andrea Fraser, who will speak on her recent book 2016: Museums, Money, and Politics. The work looks at the "intersection between electoral politics and private nonprofit institutions and campaign finance," according to Curry, the exploration of which illustrates really well the massive range of topics that art books can investigate.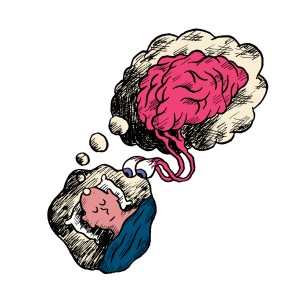 VABF is both an organization and an event, and is still finding the balance it wants to strike in how it distributes its resources and the type of work that it does. That lack of rigidity and undefinedness makes the book fair exciting to engage with each year.
x
Reading this too late to make it to the VABF? Never fear! CiTR also ran a special broadcast of content from VABF artists from 3-4pm on Thursday, October 18.
Tune on to the audio stream below to hear Vancouver-based designer and musician Courtenay Webber's audio version of How to Shoplift Books, as well as an audio drama by Toril Johannessen, whose book was released by Fillip at the VABF.