On September 30, local glam punk rockers Prxncxss Aprntly came to the CiTR studio to showcase their frenetic live performance, and to sit down with CiTR's Music Director Myles Black for a chat about their music. Scroll down for the audio stream of this event!
x
"Did someone spike the Gatorade?" I hear over the wall of feedback, as Prxncxss Aprntly ready their instruments in the darkened lobby of the CiTR studio. Despite some of the band members just shaking themselves free of the flu, the room carries a giddy energy. Ryan, the guitarist, comes to introduce himself before hustling back to further tweak his tuning.
As they launch into their set, "Hot $ex II" builds up into a chugging anthemic collage of moans and bass-rich chords. Lead singer Danielle raises a open palm to the air while singing "hot sex on a platter," and bassist Nick chants "sex" in a desperate, yet somehow indifferent manner as the song rises to a ravenous, frenzied pace.
By mixing a sense of broken sensuality with nihilistic lines such as "you know that nothing really matters," the band evokes a tone that is simultaneously intellectually reflective and depraved. "Hot $ex II" has a droning element that keeps the listener entranced, even when the track breaks into a caustic, paranoid clatter of noise. The finest parts of this song are when the chaos melds with the voices of both Danielle and Nick, creating a vocal roar with all the emotive anguish  of a singer like Thom Yorke.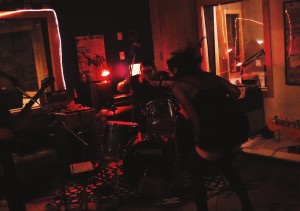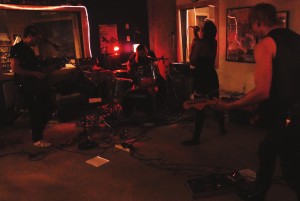 Prxncxss Aprntly were at their best, however, when this whirling elongation gave way to scathing precision.  Their punk material is top notch, and the band is capable of some incredibly tight and synchronized break downs, as evidenced by the second song, "OWL". It's on cuts such as these where Danielle seems most emotionally invested –  and energized by the other members of the band – and their performance really shines as a result.
Indeed, the whole band is fantastically entertaining, and with Danielle sliding heels across the floor as if testing the solidity of ice over a lake, it's hard not to be impressed. In a perfect example of why a give-a-shit attitude can be a great thing, Prxncxss Aprntly doesn't make their performance look effortless: they put on full display all the passion required for such a weighty and impactful sound.
Before the band finish their setlist, they settle down for an interview about the inspirations that help cultivate their music. Passing around a communal bottle of Gatorade and wiping sweat from their brows, they launch into a conversation about a movie they went to see last night: Gasper Noe's Climax. In this discussion, there's a sense of that constant, gleeful, push for discovery that is evident in their music; as they fire back and forth questions about the film in a Socratic manner.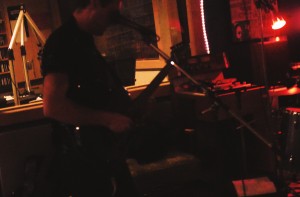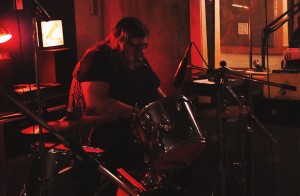 When the band return to their instruments to complete their set, drummer Penelope constructs the warlike beckon that underpins perhaps the heaviest, most adrenaline pumping intro to any of their songs. The singing on "No Fucks" adopts a sort of drawl that makes me think of Nancy Sinatra's "These Boots Are Made for Walkin'" –  conjuring the image of blowing dusters, unwavering cowboy hats, and drawn guns: Tarantino in your mind. Ryan's guitar, which hollers through two amps, churns with the heartiness of beef stew on this cut, and shakes the room with the depth of its bass. "I give no fucks today" is chanted with the ring of an incantation, the significance of this declaration entrancing the listener.
The next song is the bands most agonized and melancholy. There's a yearning in Nick's vocals here that reveals a hidden layer behind the veil of detachment. When the song slows down it leaves a creeping feeling of menace and foreboding, like an vision of some inevitable future tragedy. Alone in the room with just the band, the world starts to feel like it's crashing in around me –  I fumble and drop my notebook, letting my camera swing around my neck. The song ends with a machinated drone that harkens back to the industrialized fervour of Iggy Pop's "Mass Production," and as Danielle chants "Death Disco, " I feel as if the doomsday clock has struck twelve. There's a nightmare contained within their soundscape, and a grave warning that if society doesn't fix itself in a jiffy, we're wishing hell upon ourselves.