Do you ever have a stupid moment? Where do you sing? Are we using the word "guys" properly? If there's anything to take away from Neetu Dha's radio show Convictions and Contradictions, it's that there are a lot of curiosities about our society that we don't always notice or contemplate. Neetu hosts a comedy program that airs at 8AM on alternate Thursdays on CiTR 101.9FM, where she explores humorous social observations. The following is an interview with Neetu.
Who is Neetu Dha?
That's a difficult question. I guess I could define myself by my roles. Like, I'm a student; I'm Sikh; I'm Punjabi; I'm Canadian; I'm a daughter and I'm a sister. I also feel like I'm intelligent too, though one of my shows is about how everyone has a stupid moment – I definitely have my fair share of those, but I don't think I really know who I am. Neetu Dha is something in the works.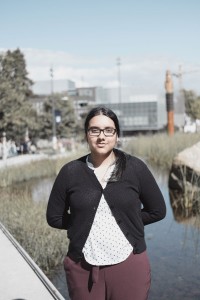 How would you describe your show?
The show is about how everybody has their convictions – you have your convictions, I have mine – but there are contradictions to our convictions, we just don't know about them yet. I always describe the show in the same way: it's about social observation and I want it to be funny.
Why is it important that the show be funny?
I'm making social observations and when I talk about them, I don't want it to feel like an essay paper. I don't want to make a documentary, I want to make a funny documentary.
Who are your inspirations for the show?
I feel like I draw from my high school teachers a lot. In high school we'd spend whole classes just talking about things like concrete. *Laughs* There's something about teachers where they want to make things funny because I think they have a belief that more students will listen. I guess that instilled something in me to try and make things funny.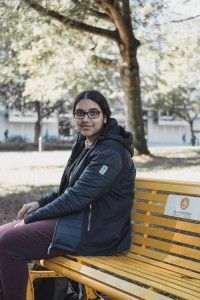 Do you think of yourself as a teacher when you're on the air?
A little bit. I'm trying to teach everybody something, but at the same time I also want the audience to understand that [they] probably already know this, I'm just pointing it out to [them].
As a student, how do you balance your academics with your commitment to radio?
That's always something that weighs on my mind, it is difficult to juggle everything. I have five courses, I have an internship, a part-time job, I illustrate, I have this show and I try to exercise, although that's not going so well. *Chuckles*
Is there anyone else involved with producing the show?
It's all me. Although, sometimes I ask people at the station, "what do you think about this?" because I think another sub-meaning of this show is that I have all these observations that I've made and I find important, but I can't experience everything and I would still like to articulate the experiences [of others] and therefore I need to go to other people for that.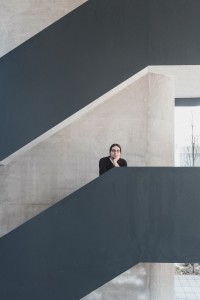 Are you ever hesitant about sharing yourself on the air?
I feel like I'm not scared to share myself, I think sometimes what pulls me back from sharing something personal is that it might veer from what the show is about. It will no longer be about social observations, it'll be about personal observations and the show isn't about me. But I do always try to bring in my observations and my perspective. The one thing I think that really brings me back is that my parents listen to the show, very frequently, and there are some things you don't want to say in front of your parents. *Laughs*
Why do you only play instrumental music on your show?
I've always been drawn to instrumental music. I feel like music today is just so focused on the words but really when you listen to the song, you're not focused on the words. I don't play an instrument, I don't know how music works, I just know that I like the sound of instrumental music. I play video games and video games have instrumental music most of the time. I feel like it's just so underrepresented and I feel like we're losing music to the lyrics that we don't actually listen to. Instrumental music is an abstraction that needs to be used more and made aware of more. That's what I try to do with the show.
x
You can catch Convictions and Contradictions every other Thursday at 8AM. on CiTR 101.9FM or listen to past episodes on CiTR's website: citr.ca/radio/convictions-and-contradictions/