Type "Sawdust Collector" into an image search engine, and you'll see a variety of industrial and D.I.Y. vacuums that suck up airborne particles in woodshops. Scroll down a page, and you may see some cryptic text on a photograph or collage. Those images, those weird ones, are event posters.
If you've been around a woodshop sawdust collector and have also been to a Sawdust Collector event, you may grapple to find parallels. Curated by Barbara Adler, James Meger and Cole Schmidt, Sawdust Collector is a weekly event series that sees music, theatre, dance and other disciplines sharing a spotlight in the intimate setting of Gold Saucer Studio. There is a certain vibe to Sawdust Collector events that isn't easily summed up, though many of the performers come from backgrounds in experimental, improvised or new music and dance.
…You get the idea.
The three began organizing Sawdust Collector in 2016, following years of performing in Vancouver's music scene. The simplest explanation for the series is that Barbara, James and Cole wanted to do their own thing on their own terms. Cole explains, "I think this was maybe a way to stop asking permission from people who own these venues, […] and being able to fully curate what we wanted to."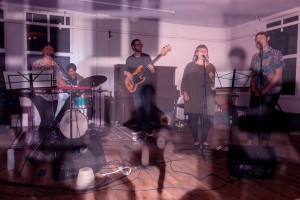 A lot of the timing had to do with Gold Saucer, itself. "I heard about this space opening up and the collective needing more people, and I pitched it to James and Cole thinking, 'wouldn't it be cool if we started performing regularly in this space, and we can form a series around us performing regularly, and just do whatever we want,'" expresses Barbara, "and of course, what has developed is that we stopped performing almost entirely, and have just gotten into […] trying to build an audience around it."
Although Sawdust Collector was intentionally created around Barbara, James and Cole — who perform music individually and collaboratively — the series now features other local and touring artists. Speaking to this shift, Barbara describes it as "part of maturing something that you have started on. […] It is better to be cast by someone else, than to be constantly writing for yourself." James adds, "Lots of nice connections have been made that wouldn't have been made if we had just been playing every week."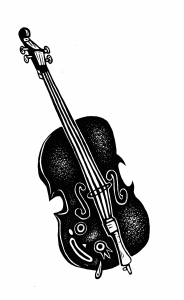 The emphasis of Sawdust Collector is to develop a sense of shared experience between the organizers, the artists and the audience. Barbara recalls feedback from a recent performer: "I think what Aram Bajakian said at the New Works show is something worth putting out there; he felt that it was a safe space where he could […] let himself be creative. And that's not just us, that's the kind of audience that has been attracted to [Sawdust Collector] — that openness to be curious, and allow themselves to be sucked in."
Expanding on this concept of creative space, James explains, "A few people have expressed to me […] that they really liked being put in a context where they were sharing a bill with music that they might not otherwise ever share a bill with. […] We really put care into putting those bills together, and thinking about what interesting combinations are, and some different ways of presenting things we have maybe seen before."
A reputation for thoughtful, intentional programming has paid off. "Some people say they just come here without even checking what's going on. That's flattering," says Cole.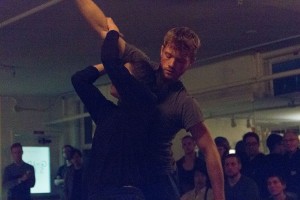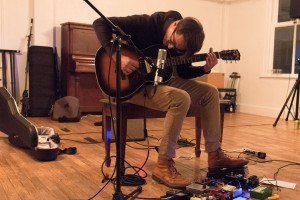 September 2017 marked "Season 2" of Sawdust Collector, borrowing terminology popularized by serial television and podcasts. What makes Season 2 different?
"I think for me, I'm just trying to be better at all the things we were figuring out last year," says Barbara. "Some of the things I want to be better at is reaching out to people we don't know yet, and trying to look at who is in the room in terms of musical or artistic genres, but also in terms of gender and cultural background, […] thinking about what kind of space we are making available."
Cole chimes in, "I think we have a good balance right now, because we also balance the programming [between ourselves]. We're always looking out for things. […] I feel like that's getting more dialed, and we're off to a pretty good start."
Sawdust Collector is fortunate that it doesn't face a lot of obstacles that other Vancouver event series do, but it is also limited in its ability to expand. Barbara explains, "I guess as long as we're okay with [the events] being this size, and being this sort of secret that people in 'the know' find out about, […] and as long as we're not having any guaranteed sources of money, then there are no roadblocks. When we start thinking about being bigger, there are a lot of roadblocks."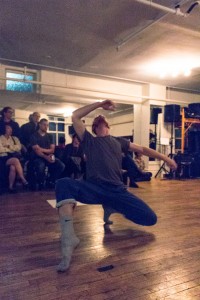 Their position taps into an issue facing similar-scale events across the city — with a shortage of affordable and accessible, medium-sized venues for alternative and experimental programming, there is very little room for audience growth. Other events that the organizers suggest checking out include Merge, hosted in a building at the corner of Powell Street and Clark Drive, Lights Out at China Cloud, "and everything at China Cloud," says Cole.
"I think it's really exciting that artists are becoming producers of events," exclaims Barbara. "I have noticed that in our peer group, a lot of people are getting more interested in D.I.Y. and making shit happen. I think it would be cool if we started talking to each other more. If people think what we're doing here at Sawdust Collector is interesting, or what Colin [Cowan] and Dan [Gaucher] are doing at China Cloud is interesting, let's have a conversation about how we can work together. […] It's great to imagine people working together instead of competing against each other for the same sliver."
Sawdust Collector. Wood slivers. There's a great closing line in there somewhere.
x
Sawdust Collector is a series hosted weekly on Tuesdays at Gold Saucer Studio in the Dominion Building, admission is pay-what-you-can. For more information, and to see upcoming events, visit their Facebook page, where you can also sign up for a weekly newsletter.