Harm reduction has arguably been a contemporary tenet within Vancouver's public health policy. Most of these programs have been targeted towards addressing chronic drug users and are based in the Downtown Eastside — programs such as InSite, which offers safe injection sites for intravenous drug users. However, the scope of harm reduction in Vancouver is being broadened thanks to Karmik, a local grassroots organization. Founded just over two years ago, Karmik is an initiative that works towards creating safer nightlife and festival communities within British Columbia and internationally. The organization has attended numerous music festivals, including Pemberton Music Festival, Electric Love, and Bamboo Bass Festival in Costa Rica.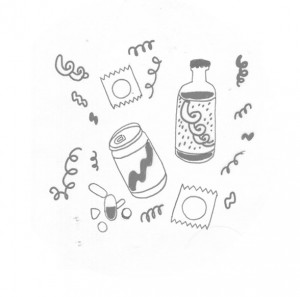 Munroe Craig and Alex Betsos co-founded Karmik with the intent to fill a much-needed gap in Vancouver's public health system. As Torontonians, they had been exposed to Toronto's TRIP Project, a harm reduction initiative that played a positive role within Toronto's rave scene. Vancouver lacked any sort of similar program that focused not only on chronic drug users, but also on casual or recreational users. Karmik's focus, therefore, is on promoting safe and healthy lifestyle practices across a broad range of communities.
Karmik's purpose at music festivals is to create sanctuary spaces that work in tandem with the medical and security team, by encouraging positive mental spaces for attendees — whether that be simply talking with a sober person, sleeping off a negative encounter with drugs or alcohol in a warm cot, or working through a challenging psychedelic experience. These spaces are equipped with Karmik party packs, which include straws for snorting drugs, condoms and lube, among other items that promote safer practices. The sanctuary spaces also have LEGO, colouring books and other creativity-enhancing items to help individuals work through difficult mental or drug-induced experiences.
During our interview, Alex, Munroe and Cameron Schwartz (administrative coordinator of Karmik) emphasized how different social norms within the festival and the urban nightlife communities, respectively, lead to different opinions towards harm reduction initiatives like Karmik. It is more or less acknowledged that drug use is common-place and unavoidable at festivals, which increases the need for organizers to utilize the services that Karmik offers. However, within the context of urban nightlife, harm reduction is often stigmatized due to the politicization of substance use. Promoters face increased licensing fees if the paramedics are called to their event, and it's often difficult for them to find safe and reliable after-hours venues to host events. This can limit the ability for promoters to offer harm reduction services, as it may be perceived that they are in fact encouraging substance use or other illegal practices.
Karmik is adamant that their organization does not promote drug use. As more people become educated about substances, they can make better decisions for themselves that safely suit their individual lifestyles. "We don't condemn or condone any substance use. We come from a completely neutral point where you do what you want to do, and you make the choices you make in life. When people come to us, they often come having already made a decision. We exist as a neutral party to support whatever choice you make," says Munroe.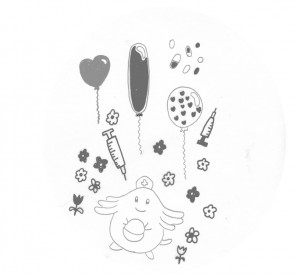 Within the Canadian sociopolitical landscape, attitudes are changing. On a federal level, the impending legalization of cannabis is a sign that opinions towards drugs are somewhat moving towards a less authoritative stance. Alex mentioned that on a municipal level, the City of Vancouver has made it easier (albeit, only somewhat) for arts-based venues to hold after-hours events. This reduces the number of unregulated parties that are held in the absence of safe and legal late-night spaces. Perhaps the City of Vancouver could take a cue from cities in Europe like Amsterdam and Groningen, which have night mayors* wholly dedicated to governing safe night-time communities in urban areas.
Whatever it may be, the City of Vancouver has a long way to go in terms of implementing harm reduction on a broader scope. Organizations like Karmik are here to help facilitate that process and reduce the burden associated with unsafe practices within all communities around the city. Munroe explains, "We genuinely care about the people we help and we're really knowledgeable about what we're doing. We wouldn't be here if we were trying to fuck the system, because we're working with the system and we're doing it for the better good of everyone involved."
x
Karmik will be running 5 volunteer training sessions within the month of October, in addition to facilitating Naloxone training sessions for interested participants. Visit karmik.ca for more information.
*For more information on Night Mayors, refer to Brenda Grunau's article in the May issue of Discorder, "In Praise Of Night," with illustrations by Sharon Ko.