"I think that any artist would be thrilled that anyone is still even listening to you after you're dead," explains Sam Davidson, the man behind the moniker Skim Milk. "I don't see how an artist in any medium would not like that." And in his latest genre defying record Ghosts of Jazz, the issue of musical legacies is at the forefront of Davidson's mind.
Yet for Davidson, the "Ghosts of Jazz" aren't intangible or abstract concepts buried in his music, but samples of actual jazz records incorporated into his songs. "I feel like these little sounds are the legacies of these musicians that have been dead for decades and decades," says Davidson. By using these antiquated sounds in his own music he's "kind of bringing them back to life."
And mining music's past for gems to embed into his own music is what Davidson does best. "In one song I'll have the thumb snap of Miles Davis, or a ride cymbal that Jo Jones played on a recording in 1942, and then there's a bass part from Paul Chambers from 1957," he explains. His songs are sprinkled with musical allusions to the jazz era, quoting some of the artists that embody what he sees as "the true flavour of jazz."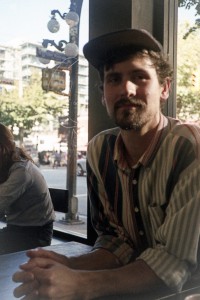 "What I'm really after when I'm looking for a sample is something that captures that early jazz essence," Davidson states. Even with the title Ghosts of Jazz, he is   clearly calling back to the jazz era, yet the sound of his music is undeniably contemporary. Sample-heavy and synthesizer-steeped with driving hip hop beats, Skim Milk synthesizes the legacies of Miles Davis and Pete Rock, of Jo Jones and Dabrye, of yesterday's jazz giants and today's hip hop icons.
In fact, Davidson claims his music is most akin to hip-hop than anything else. "The last two records have been focused around a lot of sampling of older records. So that sort of falls in line with hip hop," says Davidson. However, his passion for more experimental hip hop and electronic music developed later in Davidson's career.
Graduating from the UBC School of Music with a degree in orchestral clarinet, Davidson found himself at an impasse. "A good decade and a half into learning [the clarinet] I realized that it's essentially irrelevant unless I choose to do something else with it," he explains.
Aimlessly surfing the internet, as one does in times of crisis, Davidson came across videos of esteemed saxophonist Michael Brecker playing an electronic wind instrument (EWI), a wind-controlled synthesizer. "It just seemed like the logical extension of woodwind instruments," says Davidson. Quickly getting his hands on one, he began to learn and develop his own style with the instrument. While for some it may be hard to recognize the sound of the EWI, Davidson says "it brings sort of this ambient, ethereal synth quality to it…It's a light glow that you might not be aware of."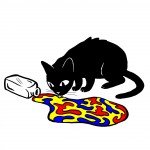 In addition to incorporating the EWI into his own music, Davidson brought it to other acts. "I got accepted to a three month residency [at the Banff Centre for the Arts] just to study this instrument," explains Davidson. "It just so happened that Brasstronaut was doing a recording residency then." Joining the critically acclaimed indie rock band and touring across Europe and North America with them, Davidson's approach to making and interacting with music was fundamentally altered. "It was just realizing that there are so many ways to go about music, different ways to understand it."
His time with Brasstronaut, however, was not the only major shift in Davidson's musical development. He credits his time living in Montreal as pivotal in his musical change of direction. "Montreal has a much deeper electronic and hip hop scene than Vancouver… I got exposed to Madlib and J Dilla, and all this hip hop, and it really changed the way I heard music. It really resonated with me."
For Davidson, hip hop became a way to connect disparate musical influences. "It became a way to explore old jazz music that I had grown up loving, and had really vested a lot of interest in," he says. "Hip hop has allowed me to really go back and take those old recordings and turn them into something that's really meaningful for me."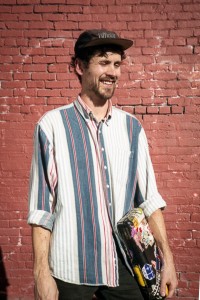 And that's what makes Skim Milk such a captivating project. By reaching across genres, instruments, technologies and eras, Davidson not only evokes impressions of past greats, but asserts his music as a new synthesis of these far-flung elements. As he explains, "I think today it's really hard to be a very specific artist, or specific musician. If you're going to pursue it at any length, you kind of need to be diverse and  expand your abilities if you're going to cut the mustard."
Even though Ghosts of Jazz is an homage to the jazz era, it is not a jazz record. As Davidson expounds, "I feel like jazz is a huge part of me, but I hate to pigeonhole myself." Instead of creating a modern interpretation of the genre, Davidson adapts some of the techniques, instruments, and sounds of jazz to create something altogether different. "I feel like I'm sort of on the outskirts of several scenes," he explains. "I'm just dabbling in where I fit in, but I'm not solely vested in one genre."
While utilizing those "beautiful, classic sounds," those legacies of jazz, Skim Milk slips between the spaces that separate musical styles. "We're moving so far beyond the past and technology is advancing rapidly," says Davidson, yet that doesn't mean that the past can be abandoned altogether. For Davidson, Ghosts of Jazz is "trying to communicate that the stuff back then is just as hip as the stuff now, you just have to figure out how to work it."
At times, it can be hard to hear the EWI in Skim Milk's music. The clarinet is rarely, if ever, the centre piece of any track. Even the samples of old jazz records can become lost in the mix of Davidson's new record—but he seems to be alright with that. "It's my secret little trick, getting people to listen to Art Tatum again, whether or not they know it."
X
Ghosts of Jazz will be released October 17. It is also worth noting that February of this year Skim Milk played a Sofar Sounds show in Vancouver, a concert series also featured in this issue of Discorder.