Under the cover of darkness of the brisk Vancouver night, the Biltmore offered an oasis for those looking to shake off the weekday blues. Despite the fact that it was a Tuesday night, the Gregorian calendar didn't seem to be much of an impediment to live music fans. Particularly, King Gizzard & the Lizard Wizard fans — because really, with a Dr.Seuss-esque band name like that, your fans are going to be anything but blasé. On September 1, the ever-popularizing psychedelic rock orchestra from Down Under were going to make Vancouver a little bit louder and a little bit more hungover.
First to grace the stage with their cool-kid presence were Sh-Shakes, a local garage rock band. They had great energy and set a very lively precedent for the rest of the night. Sh-Shakes were your typical four piece band, looking like they were having a grand old time jamming out together. They were the guys in high school that you'd find smoking weed behind the bleachers and cracking jokes in class. The drummer looked like Jack Black from School of Rock meets John Lennon, which is always a bonus. Musically, they were forgettable and unfortunately, being the first band on stage, were the ones to take the blow for the sub-par sound quality that was being toyed with during their set. Despite this, the band was incredibly personable and constructed synergy among the audience.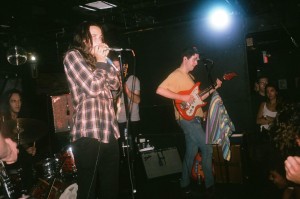 Mild High Club, a Los Angeles-bred experimental rock group, was up next up. They were snazzy in a grungy way, with the lead singer donning an oversized blazer and a sparkly purple cap, while the girl playing the synthesizer exuded laid back sexiness with her grey beret. The acoustic-electric guitar player was reminiscent of Riff Raff from the Rocky Horror Picture Show, wearing an all-black suit and a shock of white-blonde hair. They fit the stage like a display at a contemporary art museum.
Mild High Club's music was amazing, to say the least. It was imaginative and vast, embodying a multi-faceted and broad-reaching approach to songwriting. Their music had a very distinct sound, one that lingered on your eardrums long after the show was over. The combination of instruments was like a smoothie, blended together to perfection. It was hard to make out the sounds of each individual instrument, but boy did it taste good. After their set, it felt like the audience had come to some kind of realization, like a light bulb had somehow switched on. The crowd was both plentiful and thirsty. They were undoubtedly ready for King Gizzard.
There are few bands that can get away with having two drummers. There are also few bands that have a full time harmonica player. Needless to say, King Gizzard & the Lizard Wizard is one of the ballsiest groups out there. They encompass a free spirited attitude when it comes to their recorded music, and this was reinforced by their performance. There were guitar strings coming out at all angles of the lead singer's guitar and lots and lots of long-haired head thrashing. The harmonica player stole the show in terms of visual appeal and audience reception, as he had the liberty of dancing on stage and interacting with the concertgoers since he wasn't tied down to a heavy instrument.
King Gizzard had utter control over the audience, which was feeding off of their energy like leeches sucking blood. The audience was incredibly rowdy; two thirds of the Biltmore was a frenzied mosh pit, with half-full cans of PBR being tossed and sprayed onto audience members. It was as though it was a King Gizzard rite of passage to have something or someone hit you when you see them live. There was crowd surfing like never before — literally, one guy was attempting to walk on the ceiling. Good luck to you, my friend.
Musically, King Gizzard played a great set, showcasing a healthy variety of songs from their prolific portfolio. There were almost no breaks in between songs, which made it sound more like King Gizzard was playing one long continuum, rather than a collection of different songs. Interestingly, the two drum sets seemed to fade into the background and were hardly distinguishable against the concoction of the seven instruments playing together. If one thing can be said conclusively about their set, it's that it was loud. So loud, in fact, that the quality of music was diluted by the sheer volume. But hey, you win some, you lose some.