When I heard that Chad VanGaalen and Hayden were co-headlining a Vancouver show, I was surprised to find out they weren't playing a larger venue than the Imperial. When I arrived at the venue, I was even more surprised to see VanGaalen, Calgary's DIY king, at his merch table, selling his mountain of records, tapes, shirts, and frisbees.
His presence at the table, fronting the line of artist-fan interaction, seemed to set the tone for the rest of the night. It was to be a casual show. Throughout the course of the night, it seemed the preparedness of the acts steadily decreased, while the amount of fun they were having steadily increased.
Starting the evening off, Samantha Savage Smith took to the stage. Her songs were comfortable at their core, despite Smith herself seeming somewhat stiff and nervous on stage. While the audience warmly praised throughout her set, it was clear she was not what they were there to see. After a handful of songs, she made way for the roadies to set up for Chad VanGaalen.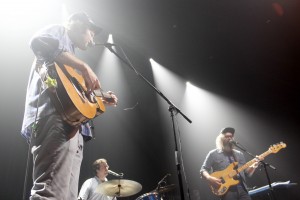 Knowing his music, his recording techniques, and his unique approach to instrumentation, I was excited to see which of his homemade instruments he would bring on stage, and how he would manage to do it all himself. Surprising me again, Chad VanGaalen showed up with a band, instead of his array of homemade noisemakers.
But his unique approach to instrumentation wasn't completely foregone. With his acoustic guitar rigged to sound like the grittiest electric, VanGaalen plunged into a set almost entirely devoid of his back catalogue. The only song I recognized from one of his past releases, which he played more than halfway through his 45 minute set, was "City of Electric Light," from his 2008 LP, Soft Airplane. The rest were entirely new.
It seems that songs just pour out of VanGaalen; he seems never to cease composing. In a break between songs, after a brief aside about sleeping in his van the night before, VanGaalen starting improvising a song on the spot, with his band catching on just as he began to sing "Vancouver / I'd rather move through ya," only to apologize to the crowd for putting down the city.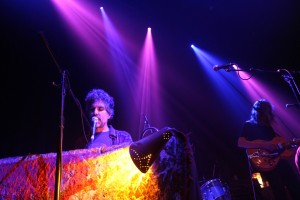 If their blatant disregard for preparedness or professionalism wasn't undeniably charming, Hayden might have been a disappointment for some. Yet the prolific Canadian alt-folk act tumbled through their set with ease, trying songs they were completely unprepared to try, switching instruments as if they were in their jam space, making fun of their bass player for being single, and asking the audience for glasses of water.
While their set trailed on long into the early hours of the morning, the audience welcomed it, albeit sleepily. Hayden broke down the divide between the performers and the audience, even closing their set with an unplugged sing-along. A resounding level of intimacy, built over the course of four hours, had invaded the Imperial that night.