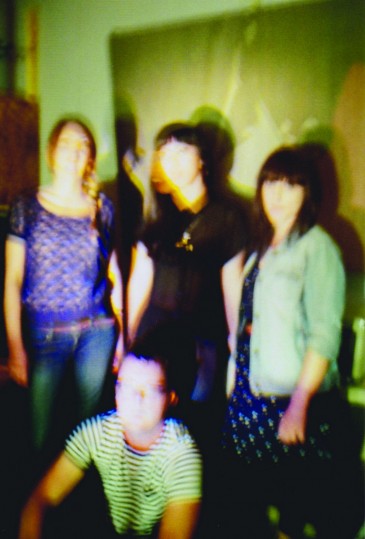 I first met Jessica Chau about eight years ago in high school, when she took on the daunting task of tutoring me in math. Today, I'm sitting beside her in a Tim Hortons, interviewing her as the lead singer and keyboardist for Vancouver dream pop band Village. Partway into the interview, I hear guitarist Alex Smith say her Casio VL-Tone keyboard has a built-in calculator, and I experience mixed feelings.
Chau says the idea for starting Village came to her in 2009, with Smith clarifying the group didn't officially start until 2011. The two have a constant back and forth, and it's easy to see that they've been with Village the longest. Lindsay Partin, who initially joined as a keyboardist and now plays bass, and drummer Ina Vukmirovich became involved last year. Smith notes the current lineup is a change of pace from their original setup as a five-piece group.
Much of their time with me is spent reminiscing on their year together. Not long into the interview, Smith offhandedly mentions their experience at this year's disastrous Sled Island. But the group wants to keep their minds on more positive festival experiences from this year, such as Khatsalano! and Music Waste.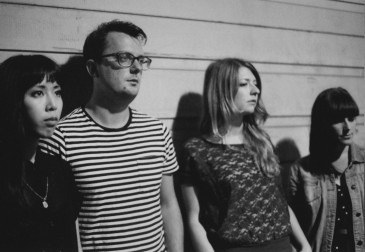 Looking to the future, we discuss Village's upcoming sophomore seven-inch release of "Stranger Thoughts," with a B-side remix by the Passenger. Their previous seven-inch was released last November with the songs "Nowhere" and B-side "Claustro."
"'Stranger Thoughts' is an older song," Smith says. "It used to be really slow, right?"
Chau responds: "'Stranger Thoughts' was originally written in Tokyo by me and [Count Oak] collaborating over the Internet. It used to be really slow, and really soft sounding. I wrote this song to be very minimal, everything was super lo-fi. I recorded on GarageBand, and then… sent the files over to [Count Oak], and he'd put his own bits and pieces into it.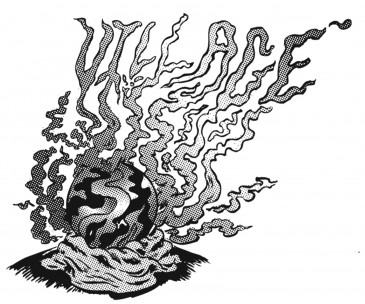 "Since then, Smith and Andrea Wan [original keyboardist] came in, and 'Stranger Thoughts' started to change a bit, and got noisier."
"I don't think it got noisier," Smith cuts in, "it just got faster and it's a more focused, indie-pop kind of song now, sort of indie-rockish."
Collectively, the group points out specific moments in "Stranger Thoughts" development. Added textural parts here, additional drums there, and, at one time, multiple keyboard parts.
"'Stranger Thoughts' is actually one of the two songs that were already there when we came together as a band," Smith adds. "Everything since then, we've all kind of worked on."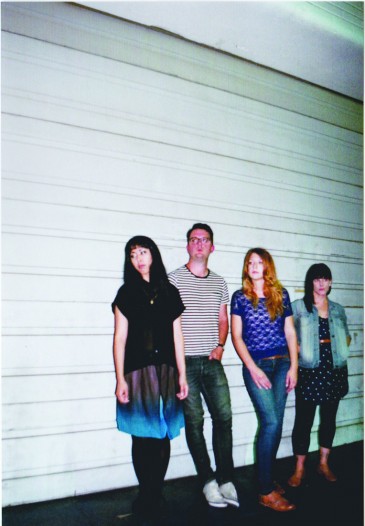 Chau remarks on how "Stranger Thoughts" has changed, and how the group's sound on the whole has started morphing from gentle dream pop to a livelier sound: "I think it's really just finding our own style."
"Initially it was all very quiet," Smith says. "I also have a theory that it has to do with how we used to rehearse in my house. It was a different vibe than rehearsing in a gross, cavernous jam space; I think that maybe affects [the sound] a little bit.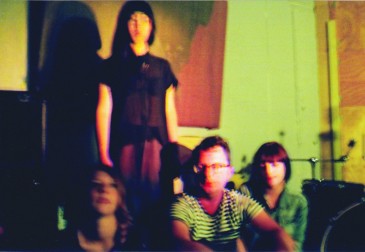 "I live in a house where the owners live upstairs, and they were away for a year, so we just jammed in my house… hung out, made dinner, played some music, and it was all chilled out. Now we rehearse in your standard, gross, East Van cavern-like underground shithole. And we're competing with a million dad rock bands who are playing in the same space. The walls are really thin, and if we were right next to a metal band, they would completely drown us out, so I think that maybe we got louder just as a way to compete with all these fucking super loud bands."
Smith mentions plans to record a full-length album by the end of the year for a spring/summer 2014 release. Considering how Village's sound has grown, an album at this point might be a good idea.
"Our newer songs are a bit different," Smith adds, "things have changed a bit, things have gotten… heavier, louder, which I think everyone's pretty excited about. Makes for a more fun live show too."
____________________
Experience Village's evolving sound in-person on October 5 at Electric Owl, where they'll be opening for Houses.