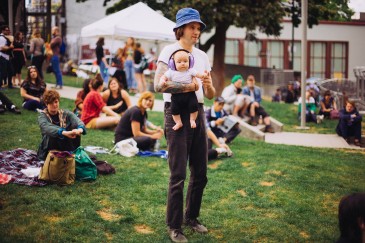 Every year, the Victory Square Block Party signals the end, by pessimistic standards, of summer and its particular seasonal brand of enthusiastic beach tunes. Put on by CiTR and the fine folks that run the Music Waste festival, it is at once a wind-down and a spin-up, celebrating the end of sunshine and dandelions while giving savvy listeners a glimpse into what they can look forward to over the winter months.
Despite a frightening early morning downpour, Supermoon's afternoon kick-off was met by an energetic and mercifully dry crowd. Three-quarters of yesteryear's Movieland, Supermoon's vibrant pop swirled alternating vocals with Slint-y guitar lines to churn out a combination of new originals and "technically covers" of Movieland's catalog. The timid inter-song banter between bandmates was at odds with the powerful delivery on many of their tracks, particularly the ones in which drummer Selina Crammond helped belt out the words.
Nervous Talk struck a chord right from the get-go by… striking a chord. From bar one of the quartet's Brit-punk set, the nostalgic guitar tone alone was enough to endear this band with the park they were playing in. Straightforward songs weren't shy in their references, leaning heavily on Ireland's Stiff Little Fingers for their grime and bite along with a healthy smattering of the requisite Sex Pistols. Guitarist Todd Taylor (of the horrendously under-appreciated Timecopz) stood out with restrained shredding and a healthy dose of sweat.
For a day that had started out swinging with an obvious bias for rock and/or roll (and promised to end that way, too), Purple Hearts Social Club was a serious and obvious misstep. The hashtag-spewing hip-hop group stumbled their way through a cliché set of iPod-backed tracks, trading off lyric-slinging duty between members while awkwardly moving to the beat on the cramped stage. Their energy was admittedly impressive, blowing through songs even in the midst of some pretty massive technical difficulties that routinely robbed the dominant speaker of their microphone power, but even the late-stage appearance of a guest rapper only further mired the Social Club in contemporary mediocrity. Throwing the hip-hop group in-between two loud guitar bands was an unwise move by the Victory Square organizers, but an even bigger one was including them at all.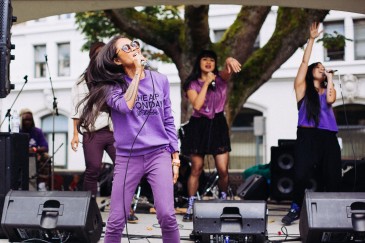 As clouds continually spewed empty threats of violence, Fountain took the stage and nearly tore it apart in their 30-minute allotment. This year's obligatory Victoria band, defining the city's penchant for unique sounds just as much as last year's Slam Dunk, the post-punk British-invasion knuckleheads in Fountain started with a yelp and didn't slow up for a second. Wire-snapping Fender tones bore the brunt of Fountain's sonic assault, with a pair of competing vocal chords chanting away lyrics as a thoughtful aside. Comparisons to Women are inevitable, and spot-on, but the band really shone as a uniquely youthful affair. Definitely not the kind of band Vancouver tends to breed, but the kind that Vancouver greedily inhales, either they'll start playing more shows on this side of the Strait of Georgia, or they'll be living in someone's basement here by the end of the year.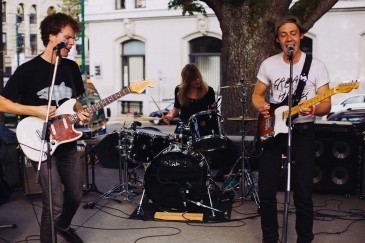 Coming off the high of their recent LP release, Dead Soft poured through a captivating collection of overdrive-alternating grunge rock. Their most recent offerings, mainly culled from their self-titled record, are the tightest and also the most dour collection of songs the trio have shown off since moving to Vancouver from the island a few years ago. Guitarist Nathaniel Epp's wicked yowl was in great form, although it was disappointing to miss out on the songs in Dead Soft's repertoire sung by bassist Keeley Rochon. The band sat somewhere in-between serious and goofy, and even at their grungiest the giant grins from up on stage mellowed each fuzzy guitar solo in just the right way.
Either I still haven't come to terms with just how country The Shilohs are, or the band is progressively getting more and more twangy with each performance. The Light Organ Records alumni were particularly sincere at Victory Square, parading a steady stream of relaxed rock taken mainly from their sophomore self-titled LP. It's easy to see why The Shilohs have garnered so much attention recently, as they jammed their way into and out of each song with a metered attention to both groove and funk. The unhurried way in which each band member wrapped their instrument around the tune at hand was both fascinating to watch and great to listen to, and even if the volume levels were seriously reduced over the previous acts, the crowd was no less rapt with attention.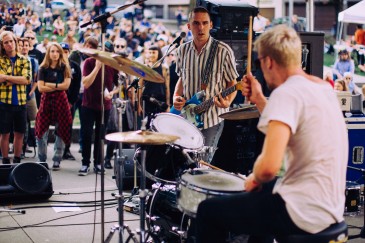 Tough Age's we-promise-this-is-the-actual-last-time set was a great look at exactly what we'll be missing when frontman Jarrett K. moves to the East Coast later this year. The band, who had a fairly interesting, if short-lived, tale both before and after being signed to Mint Records, put on one hell of a show for their last act in the Pacific Northwest (for now). The crowd, which swelled with Tough Age's initial onslaught of garage rock to the front of the stage, was treated to a pretty sweaty half-hour stint. Hardcore fans were close enough to the amps to hear each instrument clearly—which included a tiny army of guitars and an honest-to-God organ—but everyone else still up on the lawn was treated to a whitewash of muddy PA noise and the occasionally-audible kick drum stomp. With so many different sounds in the mix, it's the fault of nobody that even Victory Square's fairly beefy sound rig couldn't keep up, but it was unfortunate for so many people to miss such a good set purely based on their location on the grass.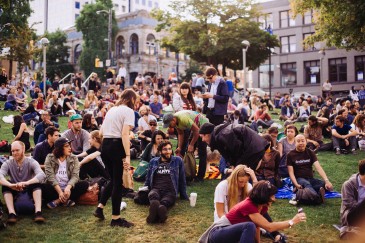 Cool TV, the newly-rebranded funk-rock band led by ex-Apollo Ghosters Adrian Teacher and Amanda Pezzutto, closed the night the only way they knew how: with extra-heavy helpings of fun, dancing, and general joyousness. The band leaned heavily on their discography of funk-heavy, crowd-surf-friendly beats, avoiding most of the indie art-rock tunes that still share an edge with the late Apollo Ghosts. Between Teacher's ridiculous, but heartwarmingly honest, antics as a frontman and drummer Shawn Mrazek's absolutely bestial timekeeping, there was nothing keeping giant, stupid grins from overtaking the faces of everyone on the block. Even kept to a strict half-hour window, Cool TV managed to spur on crowd surfing and giant piles of dancing teens. As the last note rang out and Teacher said his thanks and goodbyes, there wasn't a single frown for a hundred meters in any direction. It could have been pouring rain for the last hour, but no one, at least not in Victory Square, would have noticed.