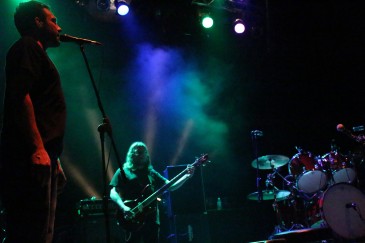 It's tough to believe that a quarter century ago seminal math-rock group Slint quietly issued their debut album Tweez to the world. Even more remarkable was the turn they took for their second and final album, Spiderland,just two years later. Having toured sporadically for nearly the past decade, the now five-piece found a welcoming crowd at The Rickshaw's stage on August 29, the last date of this year's North American tour — where the venue's distinctly large gills had been filled.
Only one opener, Tropical Trash, an up-and-coming Kentucky trio bent on their own approach to deconstructive avant-rock, was needed to prove the lasting legacy of such a small yet influential catalogue. Working-class Midwest energy and tireless devotion to chaotic punk spasms fired up the crowd just enough to overlook frontman Jim Marlowe fighting with recurring technical difficulties throughout their set. Thankfully this issue had been dealt with by the time the headliners hit the stage.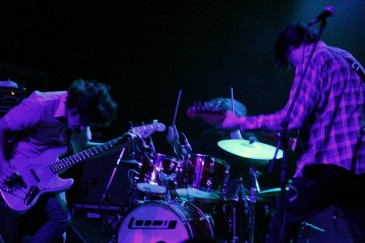 In the 20 or so minutes between sets, the crowd had easily doubled. An older crowd comprised mainly of retired rockers and blue-collar semi-intellectuals packed in at the front of the stage. Someone next to me shouted, "Open with 'For Dinner!'" And seconds later, by pure dumb luck, his request had been met.
After a few excited whoops, the hundreds in attendance became silently transfixed on the stage as Slint began to unfold the eerie intensity created by the negative space David Pajo's guitarwork on 1991's Spiderland so artfully balances. The album's opener "Breadcrumb Trail" came next, followed chronologically by "Nosferatu Man."
With the unassuming jean and T-shirt presence of an auteur, vocalist and sometimes guitarist Brian McMahan held to the emotionless, repetitive sing-talking of "And I railed on through the night" as crashing cymbals and poignant snare hits wailed over him. The song came through with album-like clarity and strict adherence to its original form, without giving a note extra.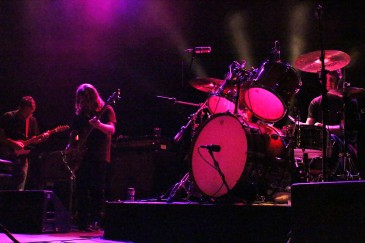 Throughout the night, where every modern pop band would have stopped, Slint kept going: extending a hook's predictable end, prolonging a bridge with another four bars and shirking the verse-chorus-verse-chorus-verse song structure. It would have been too predictable to simply play through their seminal math-rock album in order though, so the Louisville, Kentucky outfit moved on to earlier material from their scrappy debut Tweez with the relatively uncomplicated boy-meets-girl song, "Darlene."
They began to shuffle back into their better known material as "Good Morning, Captain" segued into the melodramatic "Don, Aman." Bouncing between the more straight-forward and louder cuts from Tweez kept the energy high enough and crowd enticed enough to demand an encore of both "Glenn" and "Rhonda," the entirety of their oft-overlooked self-titled EP. It closed out a night that, as Pajo carried the five-piece along from behind the shadows, Slint played everything as you remembered on the album, and nothing more.