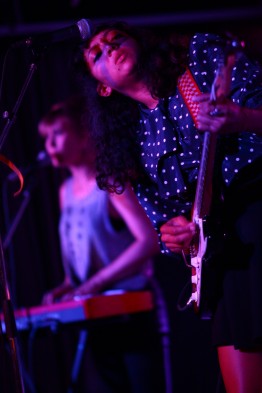 Hot off the heels of a successful summer — with festival dates scattered across the Pacific Northwest that included Sled Island, Sasquatch!, Bumbershoot, and Bartfest — Hardly Art darlings La Luz are showing no signs of slowing down. The Electric Owl was buzzing on September 8 as the synth-driven surf rockers prepared for the first stop on their 40-date tour that spans North America ocean-to-ocean before crossing over to Europe. Riding the wave of '60s surf revival, it's no wonder local bubblegum-pop outfit Les Chaussettes were enlisted to help them kick the tour off in style.
Opening with the true-to-bubblegum-form sexually suggestive synth-pop of "Volcanoes," frontwoman Jovana Golubovic chanted "Volcanoes, volcanoes, volcanoes / Oooozing, oooozing" as bodies began to pour into the Electric Owl. Playing with more confidence than the last time I saw them — at SBC Restaurant for the opening night of this year's Music Waste festival — the band commanded the stage as they moved through their short but sweet catalogue, including an overly casual, almost disinterested, performance of the ballad "Bunky" as Golubovic absently swayed back and forth from behind her Gretsch.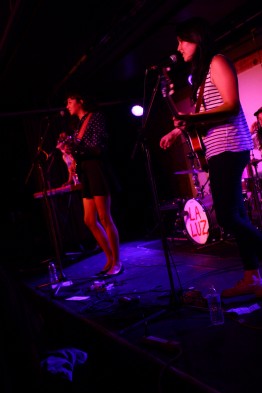 Starting without warning, La Luz, an all-female outfit from Seattle, was 10 seconds into the fiery surf licks of the Brainwash seven-inch b-side "T.V. Dream" before the blue velvet curtain had even been drawn. Heads turned as audience members quickly vied for a front stage view. Weaving between unassuming hits like "Big Big Blood" through to the high energy doo-wop of "Pink Slime," the ladies pulled off four-part harmonies reminiscent of the Shangri-Las with ease. It was a skill that rang through particularly clear on the meandering "Clear Night Sky" from last year's Damp Face EP.
By this time the band was truly enjoying themselves, playfully throwing in a couple extra bars on their solos and burning through the bulk of their full-length debut It's Alive with ease. As fans began to bob around on an impromptu dance floor, La Luz announced "Sure as Spring" would be their last of the night and flung themselves into the crowd pleaser, whose thick retro synth drove the crowd into a '50s sockhop.
The audience, completely enamored by the American surf-rock tones, showed no signs of slowing down, however.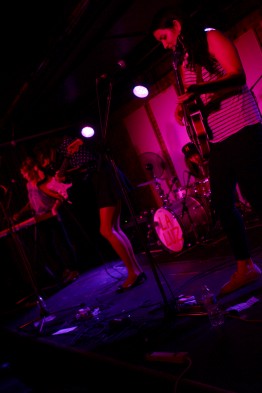 It didn't take much convincing to get the quartet back on stage for the desperado twang of "Damp Face," to which frontwoman Shana Cleaveland explained that Soul Train was possibly the best thing Americans had ever invented. Without hesitation the crowd followed her instructions to clear a path and make way for those who had the guts to pull off their best Worm, a challenge that a few brave audience members took on, before closing the night on the raucous "Brainwash."