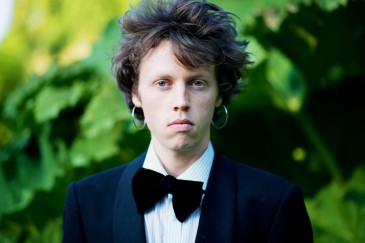 "Art doesn't have to be a certain way; it doesn't have to be perfect. The beautiful thing about making art is you can do whatever the fuck you want."
Johnny de Courcy is nothing if not outspoken — and at this point, he has every right to be. At only 26, de Courcy has accomplished a remarkable amount as an artist. From operating his own screen-printing business to releasing what will be his second solo album, it's understandable why he might be tired of being known exclusively as "that guitar player who was in Black Wizard."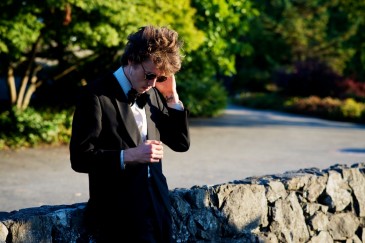 In the three years since leaving Black Wizard, de Courcy's been as active as ever. In 2012, he released his first solo record, Johnny de Courcy and the Death Rangers, which will be succeeded next month by his second, Alien Lake. However, his sophomore effort didn't take an obvious shape until part-way through production. "Alien Lake wasn't a concept I came up to the studio with, it happened when we were up there," de Courcy explains. The end product came from eight days spent in a Kelowna studio where de Courcy and his band recorded nearly the whole piece live and walked away with a fully-fledged album.
But the songs, de Courcy contends, are as far apart from one another as they could be. Despite having been played and recorded by the same people in such a short span of time, de Courcy describes each song as a representation of the many splits in his personality.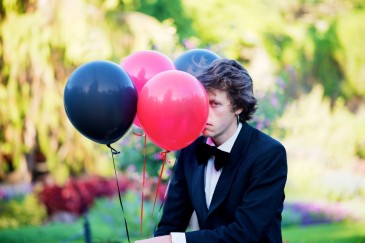 Alien Lake certainly has common threads between its 10 tracks that make it successful and a great listen. The record is ripe with dulcet melodies that bear resemblance to the late Elliott Smith, and groovy guitar riffs that could have come straight out of Laurel Canyon. Yet the whole album growls with certain instability, as bits of de Courcy's identity battle each other for their time in the spotlight. In "Southern Plain," he's Johnny the Family Man, reminiscing about his mother making coffee and the paintings of his father; in "Steely Down," he's Johnny the Monk, contemplating a Vipassana meditation retreat during which he did not speak for 10 days and meditated for hours on end; and in "Turkish Freakout!," he's barely even comprehensible.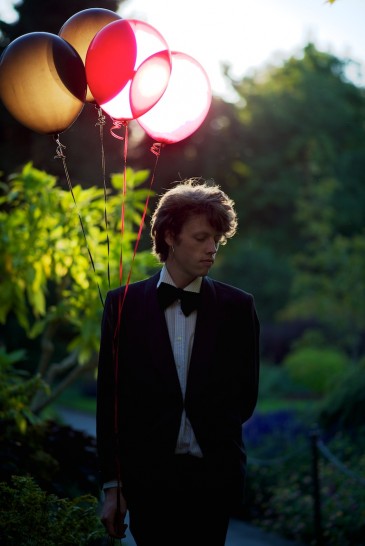 It all speaks to the type of artist — and the type of performer — de Courcy has grown into. Over the years, de Courcy has developed a reputation not only for creating poignant pieces of music, but also for putting on engaging live acts. As an artist, his philosophy is that it's just as important for an audience to have something to look at it is for them to have something to listen to.
"I'm really interested in performance and drawing from theatre and plays and musicals," says de Courcy. "People have eyes, they also have ears: that's why I like to dress up and give performances. I want to give people a visual representation as well as an aural representation."
With Alien Lake nearly ready for release, de Courcy has set his sights on a solo tour — a venture with its own share of creativity and weirdness. The tour, which kicked off last month at POP Montreal, features de Courcy alone on stage, without the support of a live band behind him. This unusual decision has a bevy of reasons behind it, including the way he originally wrote and envisioned the new songs, and his respect for musicians like Bob Dylan who are known (often notoriously) to change the way their music sound once they're in front of a crowd.
"It's cool to do a live representation of the album with the band, and I really like doing that too, but I've been doing that a lot for the past two years from the last record," de Courcy posits. "Now I just want to do something completely different and completely out there."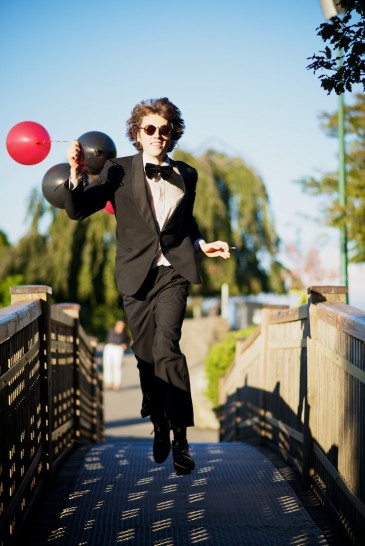 Five years ago de Courcy might have been more worried about what people thought of him and his ability as an artist, but those insecurities have dissipated with time. Fans not receiving his one-man-show as warmly as they would hearing the songs as they sound on the album is not something that fazes him. The choice to dress up and put on a persona is no longer a mask to shield him from scrutiny, but rather the call sign of a confident performer, and it's taking him further and further.
On top of what's already an overflowing schedule, de Courcy is soon to release his second music video with local talent Owen Ellis, and is also in the process of writing a four-part musical, which he's planning on performing at the Lido over the course of four weeks sometime in the near future. The reason for all of this? It's what de Courcy was made for.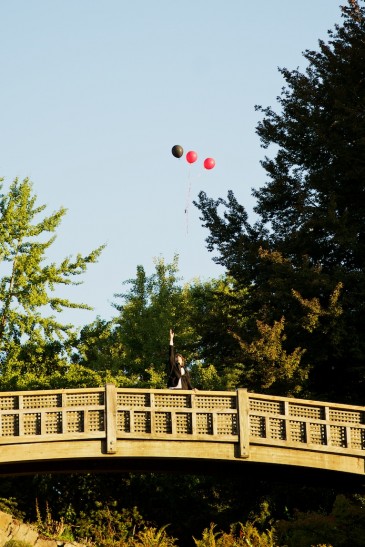 "I first and foremost make art for myself. I do it because I can't not do it; I don't do it because I'm trying to make something for somebody else." He pauses as he considers what he wants to say next, and you can almost see one personality changing hands for another.
"It's like taking a shit," de Courcy continues, "sometimes you take a shit and it smells good, and sometimes it smells fucking bad. And that's what art is — it's an expression, it's an excretion of all the things you intake in your life."
Alien Lake will hit shelves this November, courtesy of Neptoon Records. Be sure to pick up your copy at the album release party, date and location TBD.