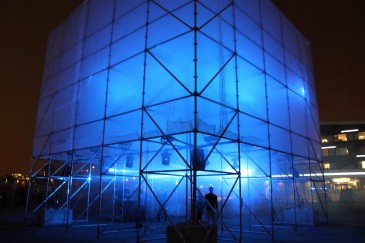 Having enjoyed a memorable Saturday night at last year's New Forms 12, my excitement and expectations were lofty for this year's installment. Compared to previous lineups, New Forms 13 was more rooted in New Forms' local, West Coast origins, and brought to its stages a veritable dim sum of artists for a variety of tastes.
The VIVO Media Arts Centre on Main Street, returning after a 3-year hiatus from New Forms' catalogue of venues, housed a rare performance by synth pioneer Donald Buchla on Friday evening. In a small room adjacent to an exhibit showcasing his many creations, Buchla was joined by Vancouverite Sarah Davachi to create audiovisual treats for attendees able to reserve a spot and squeeze into the space. Tweaking parameters on a modernized version of the Buchla 200 Series modular synth developed during the late '60s, Buchla displayed his delight in playing with sound. A Q and A session followed his performance, during which the 76-year-old Buchla seemed rather bemused by the academic interest both the audience and interviewer had in his life's work. His soft-spoken answers revealed a man immersed in the process of creation, far more concerned with the intrinsic value (and pleasure) of experimentation than his personal legacy, or the historical significance of his achievements.

After leaving VIVO, a 10-minute walk took me to the multipurpose Centre for Digital Media, which reprised its role as the festival's nucleus. The CDM features one large warehouse stage (the Hangar) and a smaller, tented space (curated by New Forms Festival), as well as an outdoor area across from a train yard, lending New Forms an appropriately industrial atmosphere. Outside the venues was also a building-sized light cube made of scaffolding, pulsating to music from a DJ booth within the structure, developed by French artists 1024 Architecture. Upon arriving at CDM, I almost immediately dipped into the eatART tent, which kept me hostage with analog goodness for the remainder of the night (though, by all accounts, the Hangar was just as enthralling, with a set by the ever-elusive Dopplereffekt standing out as a highlight for anyone who saw it).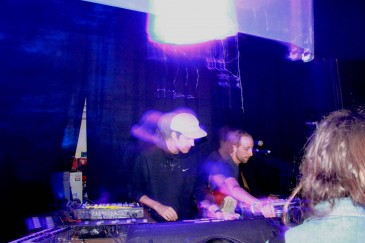 Pender Street Steppers, a local duo affiliated with Mood Hut, started the night at eatART with their own brand of raw house music. Their tunes blended into each other masterfully, creating a steady flow of swinging beats layered with organic samples, Chicago-inspired bass lines, and warm synth chords that permeated the brain. Their live performance also contained, as a pleasant surprise, an effects-laden 12-string guitar, and spoken word, stream-of consciousness vocals.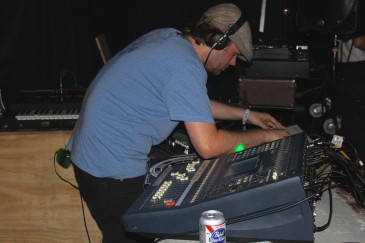 Their set was followed by what I assumed would be a taste of the Vancouver ambient scene. Having significantly progressed from the downtempo soundscapes of his 2011 eponymous debut album, the Passenger (a.k.a. Jesse Creed) no doubt caused several neck cramps with a high-octane, acid house-infused live set. Piercing beats from a TR-909 and heavily filtered sequencer loops provided enough momentum to keep the eatART tent going into morning hours, but after the Passenger's departure I reluctantly forced myself to call it a night.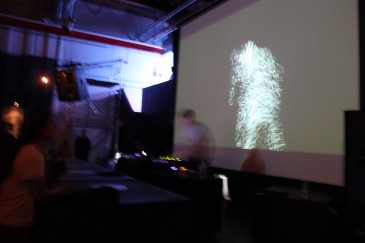 Saturday proved an interesting time to thoroughly check out the Hangar stage. There was a distinctly different feeling from what eatART, only a few steps away, had been the night before. Next to the stage were three large tables entirely covered by a jungle of digital mixers, control pads, and Macbooks.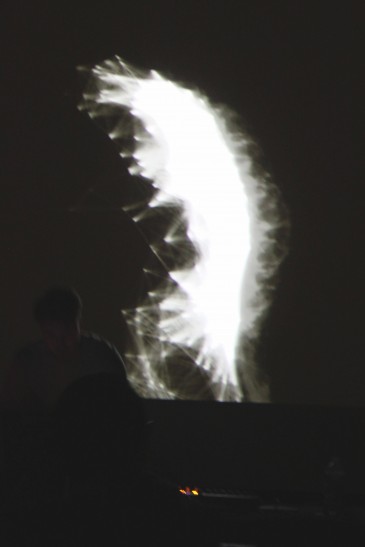 Chapel Sound integrant Kline kicked off the MIDI-fueled night, and his laptop hip hop did not disappoint. Reaching across the spectrum, Kline's creative beats carried bass and hi-hats in balanced proportions, setting the mood for hours of head nodding and sub frequencies. Tied for the highlight at the Hangar, though, were West Coast staple EPROM's mind-melting sub bass experiments, and the captivatingly clever live visuals that were done from the start of the night.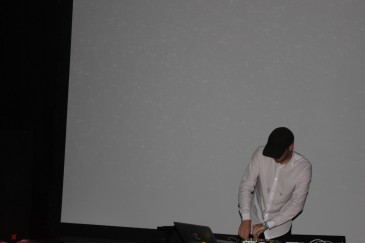 As EPROM hunched over his MIDI controller, twisting knobs and bouncing to the wonky beats emanating from his setup, an abstract black-and-white figure on a screen behind him ethereally mimicked his actions, a simple yet effective use of commercially available motion-capture technology.
Meanwhile, the eatART tent maintained its live performance feel, with local duo Evy Jane performing soulful tunes featuring the human touch of live vocals, and an austerely analog techno set by veteran Kassem Mosse, banging out percussion hits on a pair of Roland drum machines on the spot.
New Forms has traditionally included in its schedule a daytime Sunday event, since last year tying into the VUSI (Vancouver Urban Space Initiatives) Special Summer Series at New Brighton Park, located East of the festival's core venues. Despite some inconvenient (yet predictable) rain showers, a comfortably sized group of people and families showed up. Neu Balance, composed of local beatmakers Sam Beatch (of Plays:four) and Se Virtua, played glitchy beats over solid kick drums that kept people dancing in the rain that poured through the first few minutes of their set.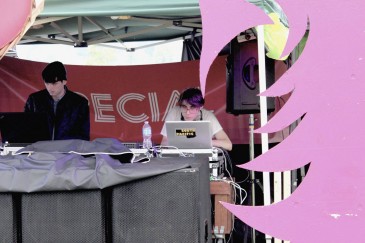 New Brighton Park overlooks the Vancouver Harbour and its grain elevators, which, combined with the overcast skies, created a fitting atmosphere for sparse electronic music. With final performer Daniel Wang moved to an indoor venue, the day at New Brighton Park finished off with an enormous cargo ship floating by to a feel-good DJ set from Toronto-based Rod Skimmins, a surreal closing to the weekend.