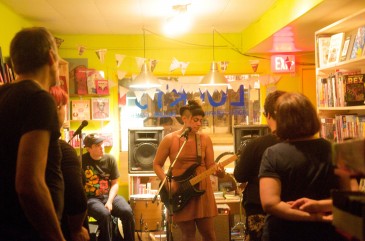 Across the street from the legendary Army Navy and Airforce Veteran's Unit 298 Canteen (a.k.a. the Main Street Legion) sits a store by the name of Lucky's. It's easy to spot — look for the yellow door against a blue wall with a large green cloverleaf above it. A comic book store by day, at night it will occasionally become a d.i.y. music venue; the kind where you enter through the back door and make sure it's closed so the neighbours don't complain.
On Saturday night, Lucky's hosted indie-pop duo Imaginary Pant's seven-inch record release party. Opening was KMVP, a band named for frontwoman Kristjanne Vasper's initials combined with a designation she says she's never been awarded in sports. Vasper dominated Lucky's, bringing a punk-rock howl to a small space, but layered it with a faux-girlish pop delivery and some truly cheeky lyrics. One song, entitled "Nobody's Down with Sexist Movies" spent some time analyzing the sexist overtones of absurd cult classic gang-war thriller "The Warriors."

Next up was Mi'ens, pronounced like Mittens but without the "tt." Mi'ens is Kim Glennie on guitar, Evan Heggen on drums, and nobody on vocals. Instead, Glennie spoke through her guitar with complex conversational playing. It was reminiscent of math-rock bands like Hella or Don Caballero.
Try the Pie is the solo project of Christine Tupou of San Jose '90s "pop-worship" band Sourpatch. And solo is the right word; Christine performed with nothing but a guitar, amp, and her voice. Her songs are downbeat reflections sung with an eerie wistfulness and a longing in every strum and tone.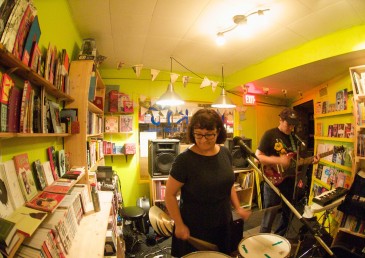 Last up was Rose Melberg and Jon Manning, who are Imaginary Pants but wear the real things. They spent the beginning of their set dabbling in older material, including spooky lullaby "Oh My God the Moon" from their self-titled cassette release back in February. The song's contemplative lyrics and stage-whisper delivery recalled moments standing in a field under a full moon far from city lights and noises and perhaps ruminating on the vast emptiness that surrounds us; or perhaps not.
Next, the band broke into the first of two songs on their seven-inch: "Channels." While the track is another haunting work perfect for keeping one company on a long walk home, Imaginary Pants showed their range with companion piece "Seacliff." It's an upbeat rocker of a track that they followed up with and even more upbeat "Bus Driver," a ballad to a bus driver who may have been having a bad day.
Unfortunately they ended their brief set after the last refrain of "You were the driver." No doubt the enthusiastic crowd crammed into Lucky's that night would have allowed a few extra songs. Melberg blamed the abbreviated set on a forgotten capo, but it was partly due to Lucky's 10 p.m. curfew in consideration of being in a residential area. Such are the sacrifices of running a indie-music-venue-by-night on Main Street in Vancouver.