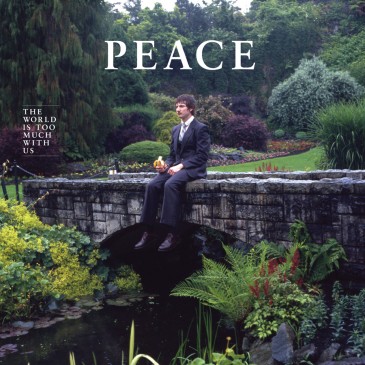 On their sophomore release, The World Is Too Much With Us, Vancouver's Peace vault the turnstile with barn-burner opener "Your Hand in Mine," launching a truly riveting and on-target record. Their momentum doesn't slow a for a moment on this, their Suicide Squeeze debut, proving they will be a tough act to follow for the foreseeable future. In fact, these unassuming lads seem poised to prevail and destined to conquer, as one of the more creative and consuming bands to come out of Vancouver's sizeable punk/new wave scene.
While Peace may wield familiar post-punk musical tropes (high-energy introspection, fist-pumping angst, angular rhythms, and fluid leads), who's to say that the familiar can't be refreshing?

Singer and lead songwriter Dan Geddes' sing-speak snarls and charmingly off-key vocals may read like Mark E. Smith of the Fall (minus the douchebag disdain), but the strident melodies, especially on tracks like "Fun and Games" and "Winterhouse," deal exclusively in exuberance and wonder. The rest of Peace's line-up is rock-solid, too. Geoff Dembicki's drums rattle with feverish intensity, anchoring tracks like "Free Time" into a window-rattling tribal march, evenly matched by bassist Connor Mayer's full-toned fervour and Michael Willock's ringing guitar. They've got all their proverbial bases covered, ensuring no infirmity and destined to bring about buzz.
Drawing mostly from art-damaged post-punk, Peace doesn't squander a single minute, raising a sophisticated song cycle free of leftovers. There are moments, sure, where Joy Division's autumnal, angst-ridden pull seems most apparent, particularly on "Black Cocaine" and album closer, "Tattoo," but such influences only add to the band's literate impulses and affectations.
Geddes proves to be a natural raconteur, cerebral and suitable, as in the Soft Boys-esque "Kissed Dust," which proves him to be lyrically lean, à la Robyn Hitchcock.
The crazy-quilt emotionalism and passion on display here is indicative of a band of prominence. Even on a perfunctory listen, The World Is Too Much With Us assays a certain symmetry and a relevance most bands lack. Rest assured, Peace will prevail in our time.