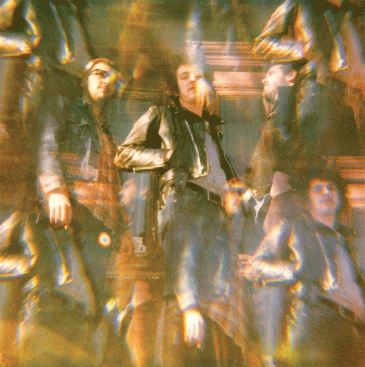 You could be precise and term Nude Beach's new LP, II, beach-pop, garage-wop, surf-punk, candy-grunge, low-fi-country, even rock 'n' roll. But I would simply call it good. Very, very good. The album's ten tracks were recorded in Manhattan's magical Hit Factory on 54th Street, where timber walls and brick ceilings have witnessed the likes of the Rolling Stones, John Lennon, Billy Joel, and Stevie Wonder. Having stayed just minutes away recently, amongst the jazz clubs in Hell's Kitchen, I can say it's worth the stop.

II begins with drummer Ryan Naideau's messy thrashing and the perky, steady guitar strums of singer Chuck Bentz. Maybe I'm stretching it, but Bentz's voice could be compared to Joe Strummer's on the Clash's "Straight to Hell," his choppy aloofness piercing like icicles through the speakers. The album's second track, "Walkin' Down My Street," sounds just like a low-fi love song song should, with pleading vocals and raspy sleepiness. "Some Kinda Love," is slightly less alluring, with country drawl similar to Punks on Mars.
The low, dog-tired pulse of bassist Jim Shelton makes it seem that the band would be ever-so-lovely to see live: greasy hair being tousled to-and-fro, dirty floorboards, and rusty instruments—this is how I imagine a Nude Beach show. Either that, or just three chums throwing down honky tunes on the shores of Rockaway Park.
This album is an array of nostalgia, created by country feel good tunes akin to Riding September's tropical-punk party sound, and Rock n' Roll High School-era Ramones. After several soppy songs, the band rolls in with nippy and hard-hitting drums in "Cathedral Echoes" and a peachy, Beach Boys-flared track with "The Endless Night," also my favorite.
Nude Beach ends II with vibrant guitar picks and a sturdy tambourine in "Loser in the Game"—an appropriately abrupt and content tone. By the time the album has finished, I feel like I've listened to druggy ragtimers who play guitar instead of piano, leaving little more to say of the Brooklyn threesome, other than their 2012 release is a fine, shameless listen.