September 14 @ Centre for Digital Media:
Art can be very, very fun. Especially when it's presented in a warehouse rave. That's the message I carried home from the twelfth installation of Vancouver's New Forms Festival's meticulously curated selection of electronic music and audiovisual installations by artists from Vancouver and the internet-connected world. The festival challenged, and sometimes strongly disoriented, all the senses of its guests with a variety of forms. Based in the cavernous hangar of the Centre for Digital Media, this year's festival fit well amidst the industriality of Great Northern Way.
With cultish headlining acts such as Actress and Kode9, the organizers aimed for quality over popularity, which drew a crowd well-immersed in the type of culture that was showcased.
Starting the night in the Hangar was Vancouver's own Cloudface. At home in front of his arsenal of synthesizers and drum machines, he orchestrated a minimal set of music that stayed within the bounds of house and techno, while banking on the warmth of analog synthesized sound that gave birth to the genres in the first place. The subtle and slowly moving progressions in his compositions didn't make the audience go wild, but were perfect for a laid-back swaying crowd to soak in the otherworldly environment.
Next door was the smaller, eatART-curated space which featured interactive visual projections, where I ventured in to catch a glimpse of Pilooski, a French producer playing a groove-heavy set of something electro and funky.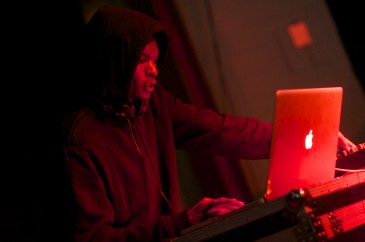 I wish I could have stayed longer in the more intimate setting, but the sensation that you're missing something important happening nearby (which happened a lot during the whole weekend) beckoned me back to the main stage, where Actress was already unloading his catalogue. Building grooves out of samples stretched and deformed into a very different place altogether, the London-based producer felt raw and different. He showcased a range of versatility, from spawning dreamy Boards of Canada-reminiscent soundscapes to building a compelling house track out of the bare minimum of elements. With the ten-ton bassline of "Maze" stuck in my head for most of the next day, this was one set that will be hard to forget.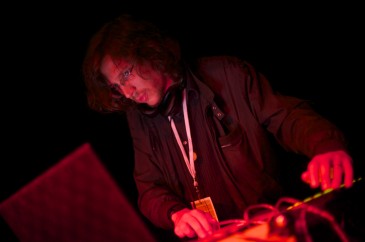 Shifting the night into a Detroit-house direction was Legowelt, playing hard hitting lo-fi compositions that came together in his studio in the Netherlands. By the time DJ Stingray 313 began his set around 2:30 a.m. I was spent. With a glimpse of the dark and uptempo place the music was headed, I would have gladly stayed if I had the energy, which the pretty sizeable crowd that stayed till the 4 a.m. end clearly did.
by Christian Voveris
_________________________
September 15 @ Centre for Digital Media:
It's easy to argue that London has been a mecca for electronic music producers from around the world, at least in the past decade. But in our digital jet age, artists can pack entire set-ups into their carry-on luggage, and play gigs on other continents, organized entirely on the web. Now in its twelfth installment, New Forms Festival in Vancouver — about as far from London as you can get — has become an example of globalization at its finest. On the third night at the Centre for Digital Media, a variety of international and local talent, created a dynamic atmosphere that only grew denser as it lasted into the morning hours.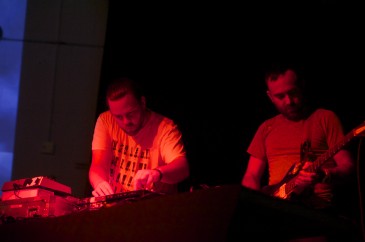 The night kicked off with the soundscapes of Chambers, whose self-described "minimal dub" helped to set the mood for the night. The Vancouver-based duo played drawn out, sub-laden beats to a steadily filling room — a great choice for the job, as people sat on the floor and settled in, giving the Hangar a distinctly underground vibe.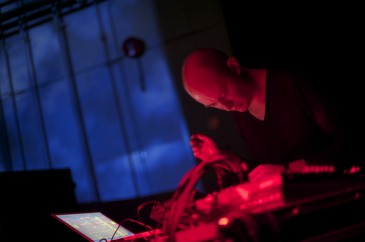 By the time Kangding Ray came on stage, anyone still sitting was quickly put on their feet by his enormously heavy, no-nonsense IDM. Around midnight, the Berlin-based Frenchman's dark, shuffling drum patterns were replaced by the lush beats of Sinjin Hawke's live set. Currently based in Barcelona, the Montreal native doesn't disguise his hip-hop roots and influences, and played a very energetic set in the total absence of a laptop.
Hailing from Northern France, Canblaster followed up with a variety of heady club bangers, giving the crowd a much-needed dose of four-on-the-floor. The night then took a quick breather with Berlin-based Kuedo, whose unique blend of electronica combined sparse, but driving beats with warm pads and embracing synth patterns.
Kode9, undeniably the main attraction of the night, came to the stage around 3 a.m. and the crowd was ready. He sported a Hyperdub tee, reminding everyone that they were in the presence of the legendary UK label's owner. His set was nothing less than would be expected from a founding father of the multi-faceted global phenomenon known as dubstep. Floating effortlessly between styles and BPMs (even dropping a juked-out remix of Lil Wayne's "A Milli," much to the crowd's delight), Kode9 finished the night off masterfully, and could have easily kept the dance floor going well past dawn.
Unfortunately that didn't happen, but like a true veteran, he hung around outside the door, talking to fans and generally being a friendly dude. This went on until people finally started making their way home, full of good memories and anticipation for the festival's fourth and final day.
by Daniel Lins
_________________________
September 16 @ New Brighton Park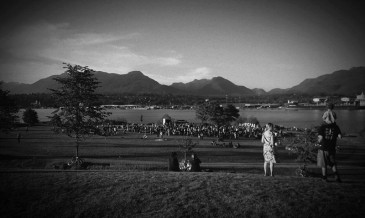 Against the backdrop of the North Shore, six bands shuffled through a lazy Sunday of New Forms Festival that seemed the perfect night cap for the impending end of summer.
First up in the mid-afternoon was Evy Jane, the duo blasting through most of the songs on their self-titled LP with a ferocity not usually heard at this time of day. Evelyn Mason and Jeremiah Klein are honing in on a sound that borrows from R&B, '90s trip-hop, and down-tempo. In a musical landscape accepting of acts like The Weeknd and How to Dress Well, don't be surprised if Evy Jane pick up more buzz heading into 2013.
Next up was the intriguing Aquarian Foundation. The mysterious collective, named after a now defunct early-20th century cult based out of Nanaimo, bills itself as a multi-medium free-form extravaganza. In this sun-soaked environment, the Aquarian Foundation laid down a hazy set of analog beats and non-committal melodies.
Falcons, a duo of TightMike and KayleoStocko, were next on the mixers and turntables, who took things in a hip-hop, four-on-the-floor direction. Weaving a tight mix of electronic music and in-and-out hip-hop samples, the Vancouver/Oakland-based group kept the party moving, whether through the grass dance floor in front of the tent or by soundtracking the various volleyball and frisbee games. Of particular highlight was new song "Nigeria," whose glitches went off without a hitch.
Vancouver veterans Larry James are composed of Ryan Trann and Max Ulis, who have been involved in various projects around Vancouver for the better part of a decade. Their set was powered by funk, a bit of hip-hop, and heavy dubstep associated with acts like Burial.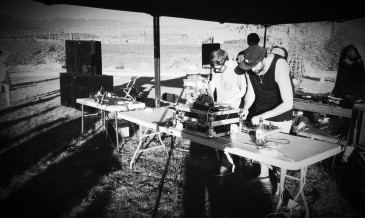 UK dubstep was explored further in the next set, as Kevin McPhee joined forces with Ronnie Falcon to celebrate the sunset over New Brighton Park. McPhee, a Toronto native, has been garnering buzz in the world of house, especially in the UK where legend DJ Distance has taken him under his wing. The Ryerson student is only 22, mere years removed from making beats in his bedroom. Considering his set at New Forms, it's stunning to imagine where he could be in the near future.
Finally, the afternoon was capped by Beautiful Swimmers. The Washington D.C. duo of Maxmillion Dunbar and Ari Goldman came up during Washington's hardcore revolution of the late '80s, adding a unique sensibility to their electronic house set. Though technically the headliners of Sunday, the day resembled more of an open house as people came and went throughout, leaving Beautiful Swimmers to mop up the fading sunlight and wrap up a successful day and a successful festival.
by Richard Hodges