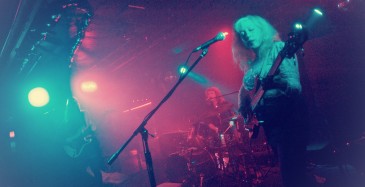 Tuesday night at the Biltmore began like an old Western: at 9 p.m., the venue was a ghost town, saloon-style tables empty, and cans of $4 Cariboo untouched. The woman running the door was unsure what time the first band would start. "Nine, 10, whenever." She yawned, then apologized.
Slowly but surely, though, a crowd filtered in — by 10:30 p.m., it was busy enough for Vancouver's Yung Mums to begin. The all-girl three-piece launched into a peppery, punky set, almost rousing enough for the weekday crowd to exchange their beer for Jim Beam. Lead vocalist Amelia Smith relayed tales of breakups and scoring pot over quick, grimy chords. The venue played up the ghost-town vibe by setting a smoke machine on overload — drummer Mandi got the worst of it, complaining of dried-up contacts — but if the band's lyrics are to be believed, it was nothing a stiff drink couldn't fix.

Next up were local surf/garage rock outfit Korean Gut. Singer-guitarist Jarrett Evan Samson began with a nod to "Vancouver, the city we live in… unless you're visiting to do the Grouse Grind." While there were no Lululemon sweatpants in sight, the four-piece still got the audience to break a sweat. As they tore into "Gingold," dancing, shaking, and even a thrash or two were attempted. The spotlight beamed off the tuning keys of Tom Whalen's bass as though he was wielding some kind of thunderous lightsaber. As their set drew to a close, Samson ruminated on the pitfalls of punk rock: he'd thrown his eyeglasses to the floor, only to worry they'd get crushed. When an audience member slurred, "Someone step on 'em!" Samson said indignantly, "What are you, a bully?" Korean Gut, newfound inspiration for nerds worldwide.
After a short break, San Francisco's Grass Widow took the stage. Again an all-female three-piece, they showcased haunting, layered harmonies and intricate guitar work. The crowd, so energetic before, fell into a sort of spellbound hush as the eerie, spacey "Goldilocks Zone" echoed through the half-full room. The band employed little distortion or reverb; their jangling guitars and raw vocals were refreshingly unedited. While Grass Widow were somewhat self-contained on stage compared to the prior two bands, they added a layer of complexity and mystery to the lineup — though still with a punk flair. Guitarist Raven Mahon bid the audience adieu shortly after midnight, and the crowd quietly dispersed with the last swirls of the fog machine, empty beer cans scattering the floor like tumbleweeds.