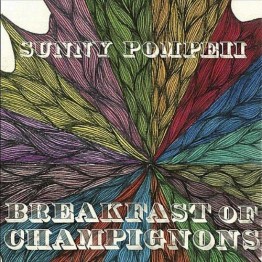 Though still a budding young band, the cheekily titled Breakfast of Champignons EP represents the first 18 months or so of Sunny Pompeii's dynasty. As it stands, the Vancouver quartet have been ripening graciously into the sunny climes of psychedelia-soaked pop.
The five songs on Champignons share a rather radiant disposition that sparkles with a relaxed and laid-back pop affection that fans of The High Llamas or The Sea and Cake could easily approximate and appreciate. Amiable and nostalgic mini-anthems like "The Death of Death" bring a bucolic glow to neo-psych chestnuts like layered vocals, gliding guitars and uplifting orchestral embellishments.
"Who Knows Who Knows" advances more ELO-style searching in the warm atmospheric waters of art rock. "6 & 5" wanders off in chamber pop directions with an indie rock proclivity that would well suit the Elephant 6 roster most favourably. In fact, "Feeled" has an inescapable Olivia Tremor Control air to it, with it's jazzy guitar variations and lo-fi lay.
As an introduction to their musical mettle, this EP is a brief and breezy batter that's sweet in most of the right places. It's an easy and rewarding listen, one that is smooth, earnest and unpretentious. It doesn't come across as overly elaborate or snippy (which can't be said for some E6 artists who share a comparable sound) but it does appear a little anaemic in places ("Spacey B" sounds like a by-the-numbers Sam Prekop B-side). All told, Breakfast of Champignons is one meal that shouldn't be skipped over. It might even become a dietary staple.