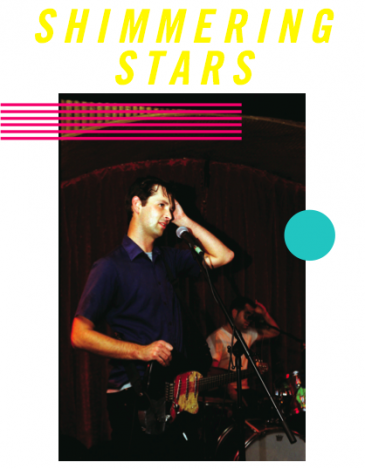 September 16th: the basement of the Waldorf Hotel is packed for the release of Shimmering Stars' debut album, Violent Hearts. The faux-tiki decor of the venue, like the band's early pop-inspired tunes, appears to have come from a different time. A bartender who strikingly resembles Buddy Holly takes my order. Drink in hand, I dance the night away.
Eight days earlier, I met with the band's frontman Rory McClure for a drink at the Railway Club. Arriving for our meeting after class on UBC's campus – where he's a newly enrolled student – he takes a hard look at what's on tap before having a seat and ordering a beer. Putting down his bag, he casually mentions, "I don't have a place to live right now," and then says something about a rat infestation. Despite having recently returned from a European tour, being in the midst of "trying to find a new place to live, figuring out student loan shit, starting new courses" and prepping for the impending release of Violent Hearts, he doesn't seem too stressed.
"It feels great," he says of his hectic schedule. Most students would say this with a heavy sarcasm, but McClure's actually pleased. "If my experience is any indication," he offers, "two years of floating in the post-university void is enough to scare the shit out of you or, like, inspire you to move in a completely different direction."
Over the next hour, he tells me about the direction his musical career has taken, from Shimmering Stars' early days to his relationship with his bandmates, drummer Andrew Dergousoff and bassist Brent Sasaki.
Before Shimmering Stars, they were just three boys growing up in Merritt, BC, a city three hours east of Vancouver with a population of roughly 7,000. Having known each other since they were young, McClure explains that their common bonds included "making fanzines, indie music, skateboarding, punk-rock and drinking 40s of Olde English."
Years after each made the move from their small town to Vancouver, they're still drinking beer together, only now they're touring Europe and playing shows while they do it. Fittingly, one of the highlights of Europe was touring the breweries of Brussels, home to the suds-savvy McClure's favourite beer: Cantillon. He carries on for a few minutes, thoughtfully describing the brewing process of the brand before getting back to the topic at hand: his band.
Things weren't always as gratifying for the three-piece, who first teamed up as Bedrooms of the Nation (a Pierre Trudeau reference that McClure admits only some Canadians understood), whose more abrasive indie style contrasted the poppy, '50s and '60s-inspired sounds of Shimmering Stars. The band failed to make it beyond the local scene.
Though Bedrooms of the Nation was initially their focus, McClure recorded some songs on his own as Shimmering Stars, amongst them an Everly Brothers cover and "I'm Gonna Try." Soon after putting the tracks on MySpace, he was contacted by a blogger in London about sharing his music. Following the initial online exposure, they linked up with European label Almost Musique and Seattle-based imprint Hardly Art, with both of whom they've issued Violent Hearts.
The album's simple arrangements and pleasant harmonies are frequently compared to the Everly Brothers and Del Shannon, but McClure tells me "that's only a third of it." When I ask about their other influences, he vaguely references "an amalgamation of songs on FM radio that I heard growing up." He chalks up the album's darker sounds, tracks like "Believe" and "Did I Lose You," to the influence of the Beach Boys album Pet Sounds and the more sombre work of Phil Spector.
The album has been criticized for its production quality, recorded in McClure's parents' garage in Kamloops, B.C., where a gaudy painting of a dragon, a working traffic light and strings of chill pepper lights take the place of acoustic foam wedges and soundproof booths. But like the earliest rock 'n' roll records, Violent Hearts is all about the songs, the melodies and lyrics— not audio sheen.
The simplicity of the album matches the band's uncomplicated demeanour. Despite fitting in with the current climate of retro-minded indie acts, Shimmering Stars' style came quite by accident. "People are always surprised that we're not a bunch of flaming hipsters," McClure says with a laugh. "Apparently we've tapped into some trend completely unwittingly, but we're just, like, pretty uncool people."
Cool or not, one thing is for sure: the trio are more conscious about their melodies than their image, just like their influences. Of the Beach Boys, McClure said: "[they] looked like a bunch of fucking losers and that's of great consolation to me. Image has nothing to do with it and, like, that guy [Brian Wilson] wrote Pet Sounds, so who gives a shit?" He delivers this statement with conviction. "If you're not writing good songs, lyrics and melodies then you're missing the point."