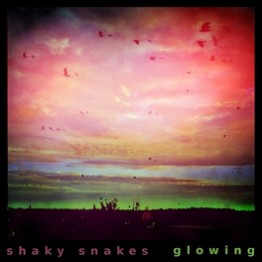 Shaky Snakes- It Sure is Fun in the City
Shaky Snakes, aka Ian Johnston, is Vancouver's newest chillwaver. He spent a decent chunk of the summer crafting washed-out electronic music from his apartment. He's now put the feeling of those sunny days and warm nights into music just in time for the autumn rain.
The five-song Glowing EP—his first release—opens slowly with "Ozone Exciter," which is like what Boards of Canada might sound like if they were high on opiates. Gradually, it gets more exciting. It peaks twice with "Hold On To Yr Rock N Roll," a spacious dance song that moves exceptionally well, inviting the listener to move with it. The second peak is closing track "Seventeen," which features a catchy hook and a tight rhythm. Overall, he'd fit nicely on a concert bill with fellow local Teen Daze.
What Johnston does best is play with space—the less is more approach—and his songs benefit from long rests between melodic hooks. Every beat, every word, every keyboard stroke has space around it. Nothing fights for the listener's attention, so the listening experience is quite relaxing. Actually, it's almost too relaxing; around the third time listening through the EP I started nodding off… but it was a nice feeling.
This EP has a good mix of restraint and rhythm, especially considering it is Johnston's first. It's available on Shaky Snakes' Bandcamp website on a pay-what-you-want basis. Thanks to Shaky Snakes, we can keep that summer feeling going while the leaves are changing.