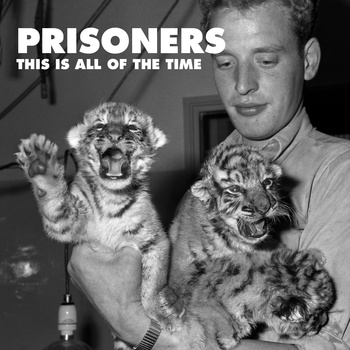 This is All of the Tim opens with the dirge-like "Do the Wrong Thing" — that's not to say that being dramatic is the same as being dull. Far from it, actually. The seven-track debut EP from Vancouver's Prisoners contains manifold musical pleasures, not the least of which being their Cure-like flare for the melodramatic. Vocalist Tim Gunderson (formerly of The Christian Science Monitors) has an evocative baritone that adds to the expressive theatrics, particularly in that opening track where a Stephin Merrit echo seems to settle and haunt over the proceedings.
Prisoners deftly blend indie rock and some of the sad-core underpinnings that acts like The National are usually identified with. It's a reflective school of rock, sure, but it never ceases to excite and awaken the listener. The title track is the centrepiece of the EP. Clocking in at under three minutes, it's an exceedingly bittersweet mini-paean to love lost anchored by some lovely harmonies and an irresistible bass line. It's a tiny jewel of a song, followed hotly by the keyboard-driven "Raven," which taps more pathos from a well of heartbreak.
The quartet packs considerable punch into "Without You," which goes off on a few interesting musical tangents, adding some soaring guitar solos (I couldn't help but picture Slash noodling away at a cliff's summit, having just driven his sports car off it) before returning back to more honeyed lyrics of heavy-hearted despondency. "Bonfire" is an evocative and chilling finish to a well-hewn collection of songs. It's a somewhat sinister sign-off with a chilling crescendo of crashing drums and rousing guitar.
If This is All of the Time has any weakness in it's operation it may just be that it takes itself pretty seriously. Over the course of its seven songs, there is ample indication of a band possessing sizeable skill and a lot of vim. With a long player already in the works, it will be interesting to see what else Prisoners can unleash.