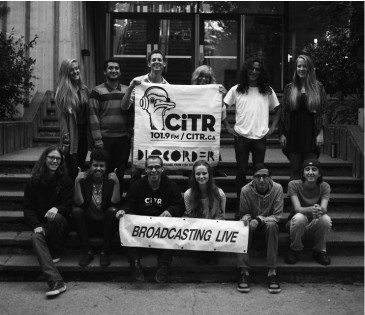 CiTR has a long and decorated history of providing savvy listeners refuge from commercial radio. The station has been broadcasting from the sacred heart of UBC's Student Union Building since 1969. Over the decades, music has changed and people have come and gone, but the station's mandate has remained the same: CiTR is a student-run, community-supported organization. Grace McRae-Okine is the current president of CiTR's volunteer-run student executive and one of the rotating voices of two new student exec-hosted CiTR shows, It Ain't Easy Being Green and The Student Special, designed to increase student involvement and minimize the time it takes for new volunteers to get on the air.

Discorder: How many episodes of The Student Special have aired so far?
Grace: It's been running for about two months. It's about eight or ten [episodes] in. It's still pretty fresh. It just got a name.
D: What sort of music gets played on the show?
G: There's a definite focus on [what's] local or new.
D: If you had to choose, what would you say is your all-time favourite album?
G: It would be Prince's Purple Rain, because the first time I saw the movie my mind [was] blown and my heart was stolen.
D: Of the rotating cast of student executives that host the shows, has there been a best host or guest so far?
G: My personal vote for best host would be [CiTR Sponsorship Coordinator and Business Manager] Hugo Noriega. If you count the number of times he says rad or awesome…It's positively infectious. It definitely makes me smile when he's on-air.
D: What's been the most memorable on-air moment so far?
G: I think all the memorable moments are when voices will show up [on-air] as kids walk into the room. It's like listening to us meet up and hang out in a room for an hour.
D: What does the future hold for The Student Special and It's Not Easy Being Green?
G: The future holds so much. They're supposed to be ever-evolving shows. The executive comes and goes and there will always be fresh new people at the station. Hopefully every time you listen it changes a little bit. Five years from now I hope it's totally different and we have a totally different executive and lots of brand new kids trying to get on-air. That'd be nice.
D: What is the wait time for getting your own show these days?
G: I'd say you could get your own show within a month of training to getting your demo in and getting some feedback. You could be filling-in as soon as you finish your training, which takes a week. It's quick and easy.
The Student Special airs Wednesdays from 11:30 a.m.-1 p.m., and It Ain't Easy Being Green airs Friday from 12-1 p.m.